Loukoumi the Lamb Inspires a Good Deeds Movement, Encouraging Children to Make A Difference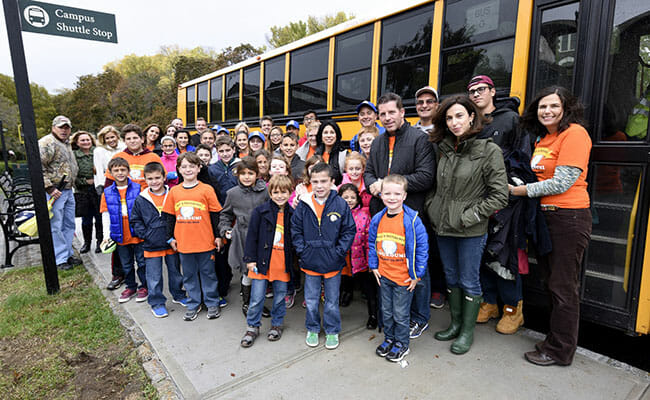 Nick Katsoris is today's Daily Point of Light Award honoree, and one of the winners of the 2016 Make A Difference Day Awards. Each year, TEGNA recognizes 14 outstanding leaders of Make A Difference Day projects, awarding $140,000 in grants that are donated to the charities related to the winning projects. Learn more about Make A Difference Day and register a 2017 project at www.makeadifferenceday.com.
An attorney by day, Nick Katsoris' childhood dream was to become an author. Some 15 years ago, the Eastchester, New York, resident was inspired to write a series of children's books featuring Loukoumi, a cuddly lamb named after the sweet Greek candy. His dream of becoming an author realized with his award-winning book series, Nick knew he could help others achieve their dreams as well.
In 2009, Nick released "Loukoumi's Good Deeds," with an accompanying CD narrated by supporter and A-list actress Jennifer Aniston. The book encourages children to make a difference by pledging to do good in their communities. After receiving a 2014 Make A Difference Day Award, Nick put the grant money toward starting the Loukoumi Make A Difference Foundation – a nonprofit focused on teaching children to make a difference in the lives of others. Through his foundation, Nick offers a number of programs beyond Make A Difference Day, such as the Dream Day contest that gives children the opportunity to spend a day in their dream career. And each year for Make A Difference Day, Nick organizes a Good Deed Bus Tour in his New York community, making stops at various locations where the children do good deeds. Stops have included donating books to the Westchester Children's Museum for their literacy program, bringing supplies and food for animals at the Rye Nature Center, and one year, encouraging fans attending the Fordham University football game to make cards and give donations for young patients at St. Jude Children's Research Hospital. According to Nick, more than 100,000 children now participate in his programs through Make A Difference Day, their school curriculum, and general philanthropy.
Nick won the All-Star Make A Difference Day Award in 2016, receiving a $10,000 grant that he is contributing towards his Good Deeds projects, using the extra money to grow these programs so that kids can make a difference all year long. We asked Nick to tell us more about his Make A Difference Day projects, and the Loukoumi Make A Difference Foundation's ongoing dedication to encouraging children to give back while having fun.
What was the original inspiration behind the "Loukoumi's Good Deeds"?
I'm an attorney by day and I've always loved to write. I wrote some legal thrillers when I was younger, thought I was going to be the next John Grisham overnight, which never happened (laughs), so I went back to the legal practice. About 15 years ago now I was in the kitchen with my wife, and someone had brought us back a box of Loukoumi candy. And I asked her, "would you please hand me that box of Loukoumi, Loukoumi?" We just looked at each other and I said, "wouldn't that make a cute name for a children's character?" Loukoumi actually means "sweet" in Greek. Then I started writing the children's book. I wrote the first book, simply called "Loukoumi," about a little lamb that comes from Greece and gets lost at airport, and I self-published the book. The next thing I knew, we sold out of our first printing, The New York Times wrote a story about us, and it hit the Barnes & Noble bestsellers list, and that was my dream come true.
Tell us a little more about what your history with Make A Difference Day, and what you did for your 2016 event.
2016 was our second bus tour. We made stops at the Children's Museum in Westchester and brought books to promote literacy. We went to the Yonkers Animal Shelter and brought supplies for the animals. And we stopped at Fordham University. We'd found a school in Jamaica that had been battered by a hurricane, and didn't have any money for recreational activities, including baseball – a beloved sport down there. We started a baseball equipment drive, working with the Fordham baseball team and, during a football game last year, we stopped to collect the donations. We just wanted to collect enough equipment for this one school, but we had such a great response that we collected enough for six schools, and now they were able to form the Make A Difference Baseball League on the island. Things like that, when people just rise to the occasion and things exceed your expectations, it just shows you the power of making a difference. And that's what we're all doing, we're just trying to teach kids at a young age, so that these are things they can do throughout their lives.
What has been the most rewarding part of the experience? A favorite memory?
There was a little boy named Lionel, he won our second Dream Day – he wanted to be a soccer star. I arranged for him to play soccer with the New York Red Bulls, a team that's in New Jersey. After that he started coming to all our Loukoumi events, we got to know his family well. But then he stopped coming for a couple of years. I didn't know why – I thought he got older, and wasn't interested. I found out he was diagnosed with cancer, he had lymphoma. After two years, his mother reached out to me and she told me, "You know, I'm sorry we haven't been around, but Lionel was very sick, it got really bad for a while." Thank goodness his cancer is now in remission, but his mother told me a story that while he was in the hospital, the Make-A-Wish Foundation contacted him, and they said, "Lionel, we'd like to make a wish come true for you – what would you like?" He said, "I'd like to go to Disneyland Paris." Two years go by, his cancer goes into remission, he's ready to go, and they say, "OK, we're going to send you to Disneyland Paris." And he said, "When I was in the hospital, there was an organization called Friends of Karen that helped me and my family through this ordeal. Instead of spending the money on a trip to Disneyland Paris, I want to make a donation to Friends of Karen for all that they did for me." His mother called me up and said, "Nick, the reason why he did this is because, at a young age, he learned about doing good deeds through Loukoumi and the Loukoumi Make A Difference Foundation. That's why he wanted to give back, because people helped him and he wanted to give back." I never expected to hear a story like that. When you reach a child like that, without even realizing it, and they're giving back in the world – that's what it's all about, that's what we're all trying to do.
Why do you think it's important for others to get involved and make a difference in their community?
The simple answer is, it just is. It creates good values for these kids, it creates lessons and memories that they'll remember. It's also a lot of fun. When we're on our bus tour every year, the kids have a blast. They learn that doing good is fun. It makes you feel great. The world is a tough place and there's a lot of crazy things going on in the world, I feel like we're here to help each other. And if you can't help one another, then what else is there? There's a lot of power in banding people together to do good deeds. I'm just seeing the results over the last three years. It's become my mission to help children continue to do good deeds.
As a 2016 Make A Difference Day Award Winner, you were awarded a $10,000 grant to donate to a charity of your choice. What will that money go toward?
We're working on several projects – the baseball project, also our bus tour, plus the exhibit at the Westchester Children's Museum. (The Loukoumi Foundation sponsors an exhibit at the museum that promotes literacy and offers a "Book Nook" for children.) All of the money, and the money we have raised through the foundation, is going towards growing our programs so that it's not just one day a year, so that kids can make a difference with Loukoumi all year long. Our next stop is to have these museum exhibits, our school curriculum and these bus tours not just where we are in Northeast, but all across the country.
What do you want people to learn from your story?
I want them to realize that nothing is impossible. That if you have a goal or dream, you need to go after it and you need to follow it. And also to realize that that dream or that vision may take a different path, something that you never imagined or something you never expected, kind of like what happened with us. This all started because I wanted to be a writer when I was younger, never in a million years did I think that I'd write a book series about a fluffy little lamb that just wants to make the world a better place. Look inside your heart and figure out what it is that's important to you and then go out and do it. Follow your passion, because that will make you a happier person, that'll make other people happier and then – the sky is the limit.
What are your plans for Make A Difference Day 2017?
We're doing the bus tour again – making several stops within the community to share contributions the kids have organized, and end with a Good Deeds celebration in New Rochelle, New York. In addition to encouraging the kids through this charitable day, we have 25 to 30 partner organizations that we work with and support, including St. Jude Children's Research Hospital, Kiwanis International, PACER's National Bullying Prevention Center, and Matthew McConaughey's Just Keep Livin' Foundation. Loukoumi is also a part of the curriculum in more than 200 schools. We're encouraging students to read "Loukoumi's Good Deeds," and think about a good deed that they want to do, something that means something to them.
Volunteers across the nation will come together again on Saturday, Oct. 28, to improve their communities for Make A Difference Day. Project organizers are encouraged to register at www.makeadifferenceday.com to be eligible to win a $10,000 grant to donate to a charity related to their Make A Difference Day project.
Share this post