Volunteer Travels to Disaster-Affected Areas to Rescue Animals, Reunite Them With Their Owners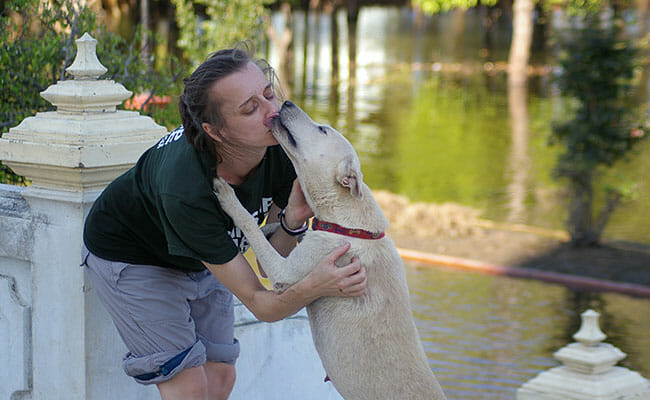 As Texas, Florida and Puerto Rico face the aftermath of Hurricanes Harvey, Irma and Maria, Points of Light is honoring everyday citizens who stepped up to serve their communities during the immediate response and to embark on the long road to recovery. Meet Daily Point of Light Award honoree Cheri Deatsch, and nominate an outstanding volunteer you know as a point of light.
When Hurricane Katrina hit New Orleans in 2005, Cheri Deatsch returned to her hometown to help rescue pets that were impacted by the catastrophic storm. In the years that followed, Cheri has continued to travel to communities affected by natural disasters to rescue animals in need. Through Kinship Circle, an all-volunteer animal advocacy and disaster rescue nonprofit where Cheri serves as disaster field response manager – she has stepped up to volunteer in the aftermath of Hurricane Sandy, the Fukushima earthquake in Japan, severe flooding in Thailand, the Oklahoma tornadoes, and many more.
When Hurricane Harvey hit Texas, Cheri once again traveled with Kinship Circle, spending four days performing search and rescue missions to save animals from the floods and other detrimental conditions in Houston.
We asked Cheri to tell us more about her experience rescuing animals affected by the natural disasters.
What inspired you to volunteer in response to Hurricane Harvey?
My initial inspiration to help animals in disasters was Hurricane Katrina. Since then, I have responded to nearly every major natural disaster as animal rescue volunteer. When I saw the images of animals affected by Harvey, I knew that I had to go.
Describe your volunteer role during Hurricane Harvey with Kinship Circle.
Myself and my team responded to displaced resident requests to save their animals that had been trapped in the flooding. Most of the rescue work was done in flooded neighborhoods that were only accessible by boat. Many of those people had been rescued and were forced to leave their pets behind.
What has been the most rewarding part of the experience so far?
The most rewarding part of animal rescue work is when you are able to reunite a rescued pet and its owner.
What have you learned through your experiences as a volunteer?
Generosity of spirit in times of extreme stress. I've seen the worst of times brings out the best in people. Often people not affected by the disaster feel helpless when they see television images of the pain and suffering of others, and volunteering allows one to channel those feelings into actions, which can really make a difference in the lives of persons who are in a time of need.
Why do you think it's important for others to get involved and make a difference in their community?
Volunteers are really invaluable for almost every nonprofit, regardless of the type of assistance they provide. As a volunteer, not only is your work really needed, but you form bonds that last a lifetime, and the end result is that you enrich the lives of others and yourself.
What do you want people to learn from your story?
Everybody has a skill, and there are always circumstances where you can use your skill to make a difference in the lives of others. Not only will your work be greatly appreciated, but you will learn a lot about yourself and others. And, that learning experience is invaluable.
How can people support Kinship Circle's work moving forward?
As a nonprofit, Kinship Circle always appreciates donations. Be informed in your community and learn about smaller organizations that don't have the budgets to do the advertising to make themselves as known as some of the larger nonprofit organizations.
Share this post