Vietnamese Immigrant Founds Organization to Connect, Help and Inspire Children Globally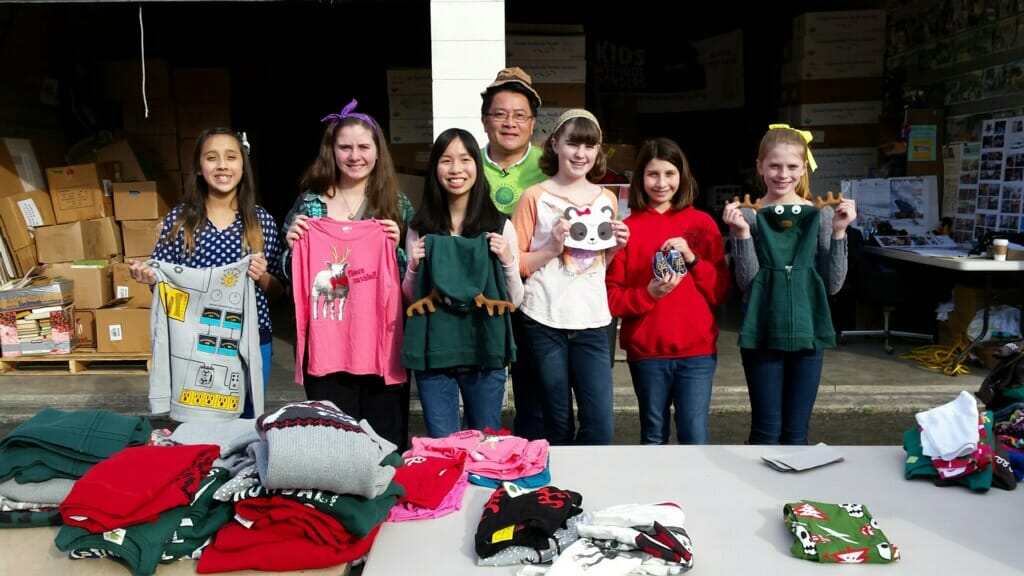 Son Michael Pham immigrated to the United States from Vietnam in 1975 as a refugee on the last day of the Vietnam War. Arriving in the U.S. with "nothing," Son Michael says he was on the receiving end of the kindness of others, slowly working his way up in the community. Now a successful businessman based in Sammamish, Washington, Son Michael runs Kids Without Borders, an organization that supports and works with children in more than 30 countries. Son Michael is making a difference by encouraging children and youth to give of themselves through service to others in their communities and is today's Daily Point of Light Award honoree. Points of Light spoke to him to learn more about his service work.
Why did you start Kids Without Borders?
Children always have a big part in our lives. Early in 2001, we were contacted by an organization out of New York to be a recipient of a donation – five pallets of children's pajamas. One thing I'm not too smart of, I always say 'yes', I never say 'no'. My thought at the time was involving children in our community to be involved in a working project, volunteering their time, and they would sort, and they would identify recipients (for these baby pajamas), and so that's how it started. We didn't plan to do anything big, we just launched an organization.
Beyond clothing, how are you making an impact?
Clothing is only a resource that allows us to develop that human contact. For example, I work in Vietnam, we work with a lot of orphans. They come from all different circumstances. On my last trip, there were two young women – they were orphans from the same orphanage where we work. They were adopted to France, and now they are back in Vietnam, retracking their roots. [They] came back to the same orphanage where they came from, became volunteers there, and they fell in love with life there. I'm helping them now finding work so they can stay in Vietnam. There's just so many, every story is unique.
What have you learned through your experience as a volunteer?
Everyone is unique, that's probably the best thing I've learned. Every person, every kid, every adult has his or her own life story and is unique in his or her own way. It never fails – sometimes you just walk up to this individual, you don't think much until you take time and listen and learn from that person. That makes us better every day, because we never look at anyone else differently. You always know behind what you see outside and what you hear and what you witness, there's always something unique and something extraordinary inside of that human through that human life.
How can people give back in their own communities?
One thing that we work very hard and we try to promote a lot – you don't have to have materials, or you don't have to have money in order to reach out and be kind to somebody else and to help somebody else. A lot of time, that's the obstacle, the reason, "well, I can't help anyone, I don't have anything." We teach the kids to get rid of those barriers, the reasons why they can't do something for somebody. It's more about the quality versus quantity of giving. Giving can be the simple act of kindness.
How do you use your experience as a refugee to give back?
I use my story. When we first arrived in America; we arrived in Chicago. It's a very tough place. For every bad thing that happened to us, ten good things happened to us. It might not be a big deal now, but back in 1975, our country was torn apart with Watergate, the end of the war, all these soldiers came home and couldn't find jobs – it was a pretty tough time back then. But no matter what happened, we were new in the country and so many strangers just reached out and showed us what America was about. Now I'm an American, and I live the American dream, and I just want to make sure that I do my part to be a good American and help other people.
What do you want people to learn from your story?
Being unconditional is important. Let's not worry about what you're going to get out of it. Working with children is important. They are the next generation. A lot of the time they happen to be the ones that are setting examples for us. It should be the opposite. Hopefully we do things right, we live our lives right – they can learn from us and benefit, that's for adults. For kids, if you're given an opportunity to be good, to help each other – if you create opportunity for them to do that, it's automatic, they get very good at it. Sometimes it's a lack of opportunity to be involved and to do things for others. Everyone can do the same thing that I do for others in their community.
If you had an autobiography, what would the title be?
'It's easy to be me.' I don't think I do anything extraordinary. I'm not a medical doctor, I don't save lives. I'm not a war hero. I'm just an ordinary person doing ordinary things. There's nothing I do that somebody else couldn't do.
Do you want to make a difference in your community like Son Michael? Visit All For Good to find local volunteer opportunities.
Share this post