Middle School Student Gives Back By Helping Kids Discover the Joy of Creative Expression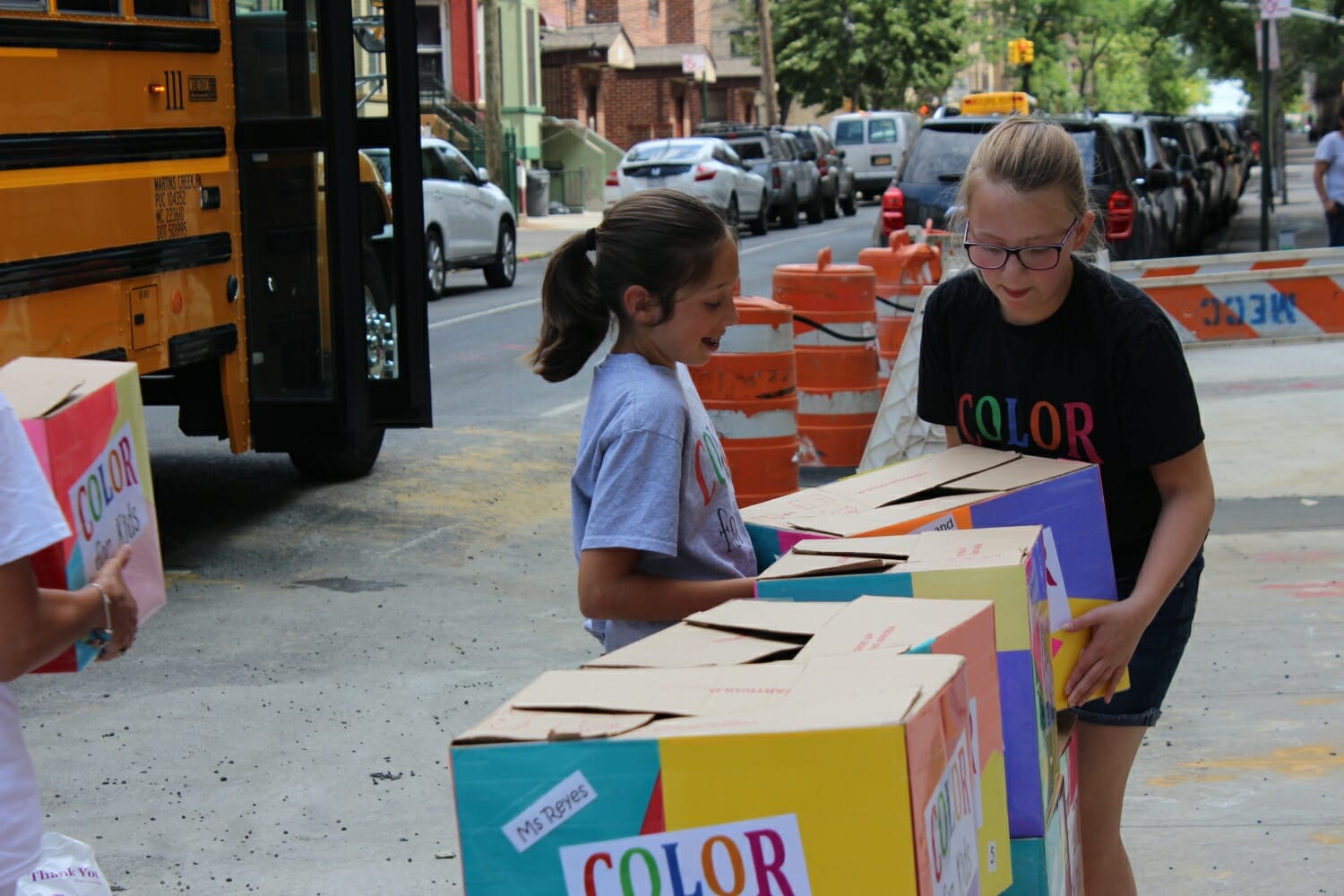 Coloring can be therapeutic. It can bring joy. Or, it can just be fun. That's why Bethany Kuster founded Color for Kids as a fourth grader. Once she realized that not all children had access to art supplies, she wanted to change that, helping as many kids as possible enjoy the freedom art can provide. Now, she coordinates school- and city-wide efforts to collect and send donated art supplies to schools across the country.
Points of Light talked with Bethany about Color for Kids and why she feels providing art opportunities is so important.
Why did you decide to start Color for Kids?
I started it when I was 9 years old. I have a pen pal named Elsa [Brule], and she goes around the world to do a lot of things to give back. She makes a lot of donations. She helps build schools and libraries. She does a lot, and I want to be like her. I thought I had to wait to be like that when I grew up, but I realized kids could make a difference.
I talked to a teacher in the fourth grade and asked him if I could talk to my class. I wanted to know if we could collect art supplies for kids who don't have any. I made a PowerPoint presentation with my brother and presented it to class. We gathered two boxes [of supplies] and sent them to a class in Alabama. I think coloring is something every kid should be able to do. It helps express their feelings when they're mad, sad, or excited. They can color – it's easier to write things down or color sometimes instead of talking to someone.
How did you get the program going? How do you collect?
Now, businesses and schools all donate. Sometimes, I personally go pick up items, and sometimes we'll come home, and there will be boxes of coloring supplies on the porch. Sometimes, we don't know who they're from. I was on the Steve Harvey show in September, and received a big box of supplies from that appearance.
Sometimes people contact us and ask if they can donate. An insurance company is collecting for me right now.
What do you do to get art supplies to kids who don't have them?
My mom does that part. We get suggestions from schools and from my pen pal because she donates to schools across the world. She gives us the names of schools that don't have anything. We also use a website, DonorsChoose.org, and check to see what teachers need. They put what they need there, and we can contact them. We package up the supplies and mail them off. Sometimes we will personally deliver it, but usually, we send it out.
How many people have you helped?
It's my organization, and I like getting other people to help. I've gotten a lot of kids to help. I talk with my entire school during the morning announcements. They collect art supplies for me. Two months ago, a big group of us – my friends, my parents and their friends, and my brother and his friends – rented a bus and delivered to two schools in New York. Overall, I think more than 5,000 kids have received arts supplies.
Do you ever hear back from any of the kids?
Usually, they send thank you letters or they give the letters to me if I go to them. But, there was one boy I remember. I gave him colored pencils, and he had no idea what they were. He was so happy he tried to give me his hat. He lived in a shelter, and that hat was all he had.
Why do you think it's important for young kids to volunteer?
I think that it's important because some kids don't realize they're lucky with what they have. Some kids don't have anything, and they're living on the streets or in shelters. It's important for kids to realize that they're lucky, and I think it's a great experience to volunteer.
Do you want to make a difference in your community like Bethany? Visit All For Good to find local volunteer opportunities.
Share this post