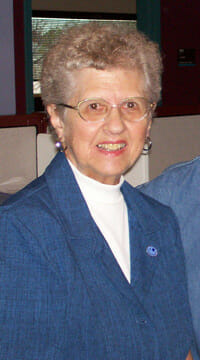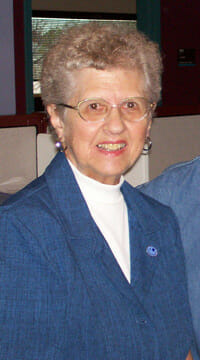 Lucille Elrite of Anoka, Minnesota has a rich history as a genealogist, both tracing her own roots and helping others do the same. For more than 20 years, Elrite has volunteered each week at the Anoka County History Center where she has assisted hundreds of individuals trace their family history in the most intimate of ways.
Through the years, Elrite has collected newspaper clippings, marriage certificates, death notices, letters, photos, and other ephemera organizing them into binders. They contain information that may not wind up in history books, but bring family histories to life across generations, often in rich and personal ways.
Vickie Wendel, the program manager at Anoka historical society, remembers when Elrite helped a couple break through a genealogical wall that had stopped them for years. The couple was so grateful that they wrote Elrite a thank-you note, with a $100 check enclosed as a donation to the history center.
Additionally, she has worked closely with other volunteers taking on major initiatives such as copying by hand a century's worth of births, deaths and marriages in the county, gathered from local newspapers as well as putting together records of Americans killed in action during World War II, the Korean War and the Vietnam War.
Elrite's many contributions over the years earned her the 2007 Award of Merit from the National Genealogical Society, and she has picked up other honors from various local and state groups, as well for her volunteerism, dedication to history and assistance with special projects.
Share this post
---