Maine Man Travels Across Country to Raise Awareness of Rare Cancer in Honor of His Late Daughter
Meet Daily Point of Light Award honoree David Fleischer. Read his story, and nominate an outstanding volunteer or family as a Daily Point of Light. 
Sometimes, a really unusual form of volunteer work can have an extraordinary impact. 
A unique, six-week drive by David Fleischer in 2021, to all 48 mainland United States, brought an unexpected amount of attention to a rare type of cancer and raised funds that far exceeded expectations. Best of all, it brought a sense of hope and comfort that participants and observers say can't be measured.  
It all started when Dave, of Ogunquit, Maine, wanted to raise awareness of cholangiocarcinoma, a rare cancer of the bile ducts, in honor of his daughter, Sarah Bennett, who lost her battle with the disease in 2018 at age 35. He also wanted to thank a number of people — in person, if possible — who had supported Sarah during her five-year battle with cancer. 
They were scattered across the U.S., having found a Facebook page Sarah had created that provided education, friendship and comfort to people across the nation who had been diagnosed or had loved ones with the diagnosis. Dave had been amazed at how effective his daughter's social media efforts were in helping people cope with a diagnosis that is relatively unknown, especially in reaching men, who, in his observation, find it harder to open up and reach out to others. 
Dave partnered with the Cholangiocarcinoma Foundation, a global nonprofit that happened to be celebrating its 15th anniversary in 2021. Instead of sponsoring a short-lived run or fundraiser, he suggested that he try to raise $15,000 for the foundation by conducting a "Journey of Hope," which would span 15,000 miles. He planned to stop in least 15 communities named Hope. He would also visit 15 caregivers and patients who knew Sarah. He agreed to post a daily online blog and photos. A car dealership provided a new vehicle with a special "wrap" on the outside. Other sponsors, and Dave's own donation, kicked off the journey in May. Dave's wife, Linda, accompanied him for part of the trip. 
Ultimately, Dave raised $105,000 from 170 donors for cholangiocarcinoma research. "Actually, there is a number one and a number five in that sum," says Dave, who did not actually ask for money during the journey. 
"What happened, because of the blog and because of coverage promoted by the Foundation, people started to reach out me," he said. "I frequently adjusted my route, sometimes on a day's notice. But that was one of the most gratifying things about the whole trip to be asked, 'You must stop here.'"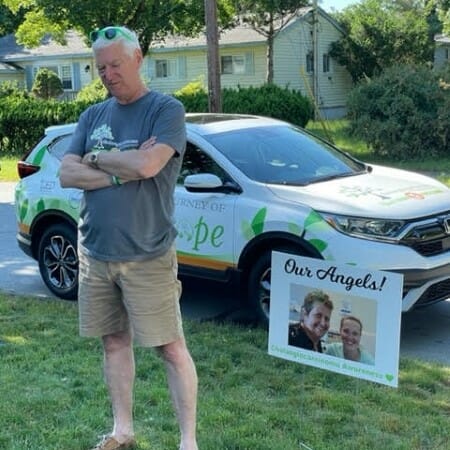 Dave ended up meeting 27 people who had interacted with his daughter, Sarah. Sometimes, local news media were there when he arrived.  
Kim Balkus, who lives in the Boston metro area, says she was honored when Dave and his wife, Linda, asked if they could visit. Kim's mother, Geri Keegan, had been diagnosed with cholangiocarcinoma in 2013, and Kim and her two sisters were grateful to find Sarah Bennett's Facebook page. "You just don't meet anybody with this cancer at all," says Kim. "If you Google it, you see how bad the odds are." 
Even after Geri passed away in 2020, Kim kept in touch with the Fleischers and has been inspired to volunteer herself for both the Cholangiocarcinoma Foundation and a local cancer group, the Target Cancer Foundation. 
Kim and multiple family members greeted Dave and Linda Fleischer wearing "Team Keegan" shirts while holding balloons and signs. They even persuaded a cancer researcher from Massachusetts General Hospital to attend. 
"In the face of adversity, Dave has taken an incredibly positive approach to continue to share the love he had for his daughter, and his daughter was just a ray of light, super loving, full of energy," said Kim.  
Thomas Leitzke, 73, who is currently battling cholangiocarcinoma, agrees that Sarah was "the epitome of hope."      
"If you look for people that you meet in your lifetime who you totally admire, Sarah and her parents, Linda and Dave, are right at the top," said Tom, who contacted local media to be there when Dave showed up at Tom's home in Santa Cruz, California.  
"I don't know how Dave did it, doing 15,000 miles and still having a smile on his face. It was very helpful for me," said Tom, who says he and other cholangiocarcinoma "warriors" need more information and positive encouragement. Tom says he was originally told he had, at best, seven months to live. That was when he was 58.   
Dave says he's pleasantly surprised that his Journey of Hope seemed to reach so many people. 
"I never was a blogger before," says Dave. "I'm not an avid Facebook user. I don't post a lot, but I did during the trip.  During that time period, the Journey of Hope blog had something like 13,000 hits. It was the number one spot on the Cholangiocarcinoma Foundation website during May and June. That tells me we did raise a fair amount of awareness."  
For others who have a rare diagnosis, or want to help those who do, Dave encourages taking a first step to reach out. "Especially men," he said. "I learned on my trip that it's rare for guys to reach out and ask for help, compared with women. Getting people to talk and open up isn't a bad thing. You can't hold this all inside, whether you're a caregiver or a patient." 
Do you want to make a difference in your community like David? Find local volunteer opportunities. 
Share this post