Making Birthdays Fun For Every Child, Oregon Volunteer Provides Birthday Kits for Low-Income, Homeless Children
Meet Daily Point of Light Award honoree Leah Haidar. Read her story and nominate an outstanding volunteer or family as a Daily Point of Light.
The cake and candles. Balloons, streamers and party hats. Celebrating another year of growth and experiences is an important milestone for any child, but hosting a child's birthday party can be cost-prohibitive for low-income and homeless families. 20-year-old Leah Haidar decided to remove that financial barrier for families in need, so that all children have an opportunity to celebrate their birthday no matter what their family's financial circumstances are.
Through The Party Project, an initiative created as part of her Girl Scout Gold Award, Leah and other volunteers fill boxes with birthday party essentials to make the day special for children and their families. For families struggling to pay expenses such as electric bills and medication, the Eugene, Oregon resident, currently studying abroad as a university student in the United Kingdom, says celebrations can be a financial strain. Through The Party Project, Leah has provided hundreds of birthday party kits to low-income and homeless children and their families to make birthdays a fun and memorable event.
What inspires you to volunteer?
I have been inspired to volunteer by my years as a Girl Scout. Volunteering is a way to gain valuable experience and give back to my community at the same time.
Explain what inspired you to launch The Party Project.
My Girl Scout troop has been hosting Halloween Parties for the families at the First Place Family Center shelter in Eugene, Oregon for a number of years, and it has been such a wonderful experience to give the children and their parents a safe place to celebrate the holiday and provide the necessary items for the event. I thought if the kids are so happy and excited for Halloween, how would they feel if they had an opportunity to celebrate their birthdays?
Describe your role with The Party Project.
I learned that families that utilize the Supplemental Nutrition Assistance Program (SNAP) can not use these funds to purchase non-food items, such as birthday party supplies. Given their limited resources, homeless and low-income families are really stretched financially. Using items purchased with grants I've received, we create birthday party kits that contain everything needed to have a birthday party for 8-10 people, including decorations, cake, candles, birthday cards and special treats. We've partnered with local agencies around our community that distribute the boxes to children or their family members.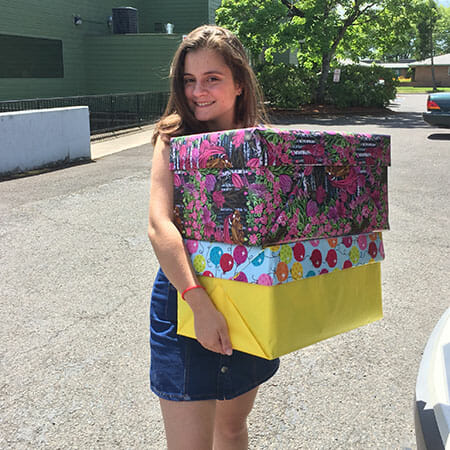 Share one personal story with me from your volunteerism.
I had purchased about three shopping carts full of supplies at the Dollar Tree, and when the cashier asked what I was going to do with all of the stuff, I explained The Party Project, and how we provide birthday kits with no strings attached to families and children in our area. She started to cry when I was speaking with her, because she said when she first moved to town, she had stayed at one of the homeless shelters we work with, and that the kids living at the shelter had really appreciated the birthday boxes. It was nice to hear a story of someone who had seen the boxes in action.
Share how your volunteerism makes an impact on the lives of others.
I feel hopeful that my project will allow low-income and homeless families to have a greater sense of worth, that they are worth acknowledgement.
What have you learned through your experiences as a volunteer?
Small acts can build up and make a difference, and anyone can give something of themselves be it their time, experience, knowledge, etc.
How can readers help?
We work with several local social service organizations in our area to distribute birthday kits, including: Womenspace, Sheltercare, Hosea Youth, Catholic Community Services, St. Vincent De Paul's and the Eugene Mission. Please visit our website to donate to The Party Project and learn more about how you can help.
Do you want to make a difference in your community like Leah Haidar? Find local volunteer opportunities.
Share this post