Making Service Her Life Purpose, Illinois Mom Starts Nonprofit to Provide School Supplies to Students in Need
Meet Daily Point of Light Award honoree Juliet Bond. Read her story and nominate an outstanding volunteer or family as a Daily Point of Light.
Growing up, Juliet Bond always dreamed of becoming a singer, so when it came time to go to college, she naturally chose to attend DePaul University on a music performance scholarship. Little did she know her life would be changed when she accidentally stumbled into a women's literature class. Juliet and her peers were reading Marian Wright Edelman's "The Measure of Our Success: A Letter to My Children & Yours" when one quote struck her: "Service is the rent we pay for being. It is the very purpose of life, and not something you do in your spare time." While the quote may have inspired others to volunteer a couple hours during their week, it caused Juliet to alter the course of her life and dedicate herself solely to service and helping others.
"I felt a little adrift about the fact that I was pursuing a career that felt very self-important," Juliet said. "It made me change my major to social work. I knew that I couldn't live with myself as a human being if I wasn't paying my rent."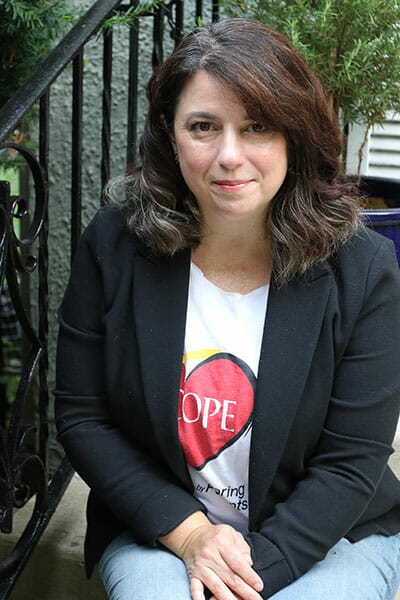 DePaul didn't have a social work program, so she transferred to the University of Illinois at Urbana-Champaign and earned both a bachelor's and master's degree in social work. She went on to work for nonprofits, and even foster three children on top of caring for her own three kids. But her life of volunteerism really took off when she founded Caring Outreach by Parents in Evanston, a nonprofit that is now dedicated to providing Evanston public school students – pre-K to 12th grade – with the supplies and backpacks they need to succeed in school.
COPE originally started in 2011 as an informal group of mothers who would help families in crisis, whether it be delivering a casserole to their house or driving someone to the doctor's office. Juliet and three other women formalized the group and over three years, they had a volunteer cell at each of the 16 public schools in their district. In their third year, they created buddy benches at each of the schools, allowing students who sit on the bench to signal to teachers and other students that they are lonely and in need of some support.
As time went on and their organization grew, they developed programs that assisted people with rent, taught people how to cook healthy meals, and provided groceries and even furniture to families in need.
"You usually don't have people coming to somebody's rescue when they're down unless you're part of a religious community or church or temple," Juliet said. "That happens normally in those communities, but if you aren't, then the next fallback is if you're part of a school community. So the whole kind of impetus and the reason we started COPE is, here's another community that could be really supportive if we find out you're struggling."
To keep the organization sustainable and effective, COPE eventually cut down their services to what the community needed most: supplying students from low-income families with school supplies. Every year, COPE raises around $30,000 to supply more than 1,000 students from 17 schools in Evanston with backpacks and school supplies; 200 sets of school supplies are provided to the school district specifically for homeless students.
Juliet's husband, Kevin, has been helping out with COPE since the beginning, volunteering at every event and delivering furniture to needy homes. He credits Juliet for teaching him about service.
"She has definitely taught me that getting out of your comfort zone to help other people is something that's not really optional in life," Kevin said. "We all owe it to the people around us to be responsible for each other."
Juliet believes it's unfortunate we live in a country where families are unable to provide school supplies for their children and that an organization like COPE is even necessary, but she hopes that people reading her story will experience that same feeling she felt when first reading those words from Marian Wright Edelman: "Service is the rent we pay for being."
Do you want to make a difference in your community like Juliet? Find local volunteer opportunities.
Share this post