Senior Brings Joy to Elderly At the End of their Lives As Hospice Volunteer
Meet Daily Point of Light Award honoree Peggy Thorp. Read her story and nominate an outstanding volunteer or family as a Daily Point of Light.
After retiring from a long career working in a hospital, Peggy Thorp says she felt a void in her life. A natural caregiver, the 68-year-old St. Joseph, Missouri resident followed in a friend's footsteps and became a hospice volunteer with Freudenthal Home Health.
Supplementing hospice care and helping to improve the quality of life for patients through comfort and compassion, Peggy is delivering care to those in their winter of their lives.
What inspires you to volunteer?
My grandmother is my inspiration. When I was younger, my Grandma Simons lived in a nursing home. I remember going to visit her, and bringing her home to spend time with family. I know people in nursing homes have too much time on their hands, and even though their family cares for them, it's sometimes hard to fit a visit into their busy lives. I have many special memories from every Sunday after church, where we'd all spend time together as a family with Grandma Simons.
Describe your role as a hospice volunteer for Freudenthal.
I care for people and try to make them smile. I do my best to lift their spirits, whether it's reading to them, doing activities or just listening to what they have to say. As a hospice volunteer, I am making people smile during the last days of their life. I volunteer twice a week, and usually visit individuals in nursing homes.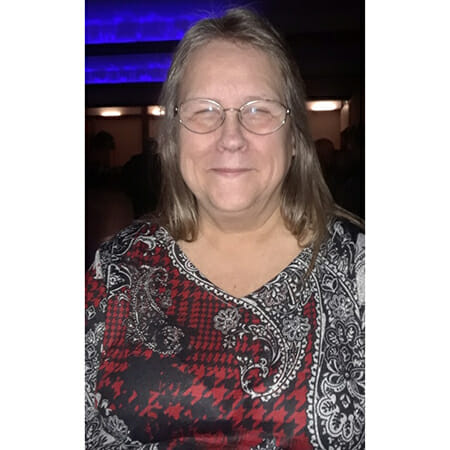 What's been the most rewarding part of your service?
Making people happy is rewarding. Some of these patients don't have much quality of life now, so I visit with them and try to remind them of the good times in their lives and their memories.
What have you learned through your experiences as a volunteer?
(Laughs). It's not like I'm not busy. I have 4 kids and 9 grandkids. I'm on call for them always. I just really enjoy volunteering and giving my time to others.
What saying do you live your life by?
Take a little time to be kind and show you care.
You are described as always volunteering with a smile. How does that make you feel?
It makes me feel like I'm doing something right.
Share one personal story with me from your volunteerism.
I visit some ladies in the nursing home when I volunteer, and one lady was a big country music fan. The two of us would listen to music with my iPod Nano, singing and dancing. She liked Patsy Cline and the older stuff. I made her heart happy, she did mine too.
What do you want people to learn from your story?
When we get to the age of retirement, we have too much time on our hands. If you can take time to go see people, whether it's at a nursing home or elsewhere, to show them you care for them and love them, you should. Technology is also wonderful, families can use Facetime to talk to loved ones – that's almost like being there with them.
How can readers help?
Please visit the Freudenthal Home Health volunteer website for more information about how you can help.
Do you want to make a difference in your community like Peggy Thorp? Find local volunteer opportunities.
Share this post