Rebuilding After Hurricane Harvey, Texas Man Breathes New Life into Critical Community Programs for Youth
Meet Daily Point of Light Award honoree Ryan Trevino. Read his story and nominate an outstanding volunteer or family as a Daily Point of Light.
After being battered by Hurricane Harvey in 2017, Ryan Trevino's small hometown of Taft, Texas bore long-term scars left by the devastating storm, even after the preliminary damage was repaired. Critical funding for community initiatives were pulled and dedicated to more immediate post-hurricane issues, leaving parks abandoned and youth programs shuttered.
That's when 26-year-old Ryan stepped in, rebuilding his community and providing affordable youth programs to children from low-income families with Friends of the Taft City Parks. Launching the community organization in 2017, Ryan has developed programs to encourage kids to stay active, healthy and engaged, as well as promote academic success and volunteerism.
What inspires you to volunteer?
My dad used to be in charge of the Boys & Girls Club of Taft, which I volunteered for and really enjoyed working with the youth. After Hurricane Harvey, the funding for community programs like that went elsewhere, and the Boys & Girls Club shut down. I wanted to carry on that legacy of service, because it was hard to see something that my family had invested so much time into go away. Now, we are breathing life back into the youth programs in our community.
Describe your role with Friends of the Taft City Parks.
Since 2017, we have reinvested almost $35,000 back into our community, and restored three parks. As the founder, current CEO and president of the board, I work with our youth and adult volunteers, secure funding to operate programs, meet with donors, write grants and facilitate partnerships. When I'm not at work, I'm volunteering.
Tell me about some of your youth programs.
We have directly impacted hundreds of children from Taft and surrounding communities with programs including the following:
Get Out And Play program: We offer registration at $10 per child for Friends of the Taft City Parks program, or we'll use funding to cover the registration fee for a child for a different organization's program.
NBA: This is the official youth basketball participation program of the NBA, which aims to develop a lifelong passion for the game of basketball in boys and girls by teaching them the fundamentals of the sport while instilling core values including teamwork, respect and sportsmanship.
NFL Flag: Powered by USA Football, the sport's national governing body, this program is the country's leading flag football program from the NFL, with unmatched standards of safety, education and support. We believe football imparts great lessons and provides kids with skills that serve them well throughout their lives to become responsible citizens.
RBI: Part of Major League Baseball's Reviving Baseball in Inner Cities (RBI) program. Its mission is to re-introduce, revive and rebuild interest and participation in baseball and softball among underserved youth.
Share one personal story with me from your volunteerism.
We worked with a child last year who was from a socially and economically disadvantaged background, and his family was going through a really tough time. The child was on the verge of being suicidal. I sat down with the child and talked to him, and then got his family involved. This was a problem that could be talked out with the family. When we got involved, the child started participating in all our programs. He's now at the top of his class in 8th grade, and he plants to volunteer with us when he reaches high school. I'm proud of him.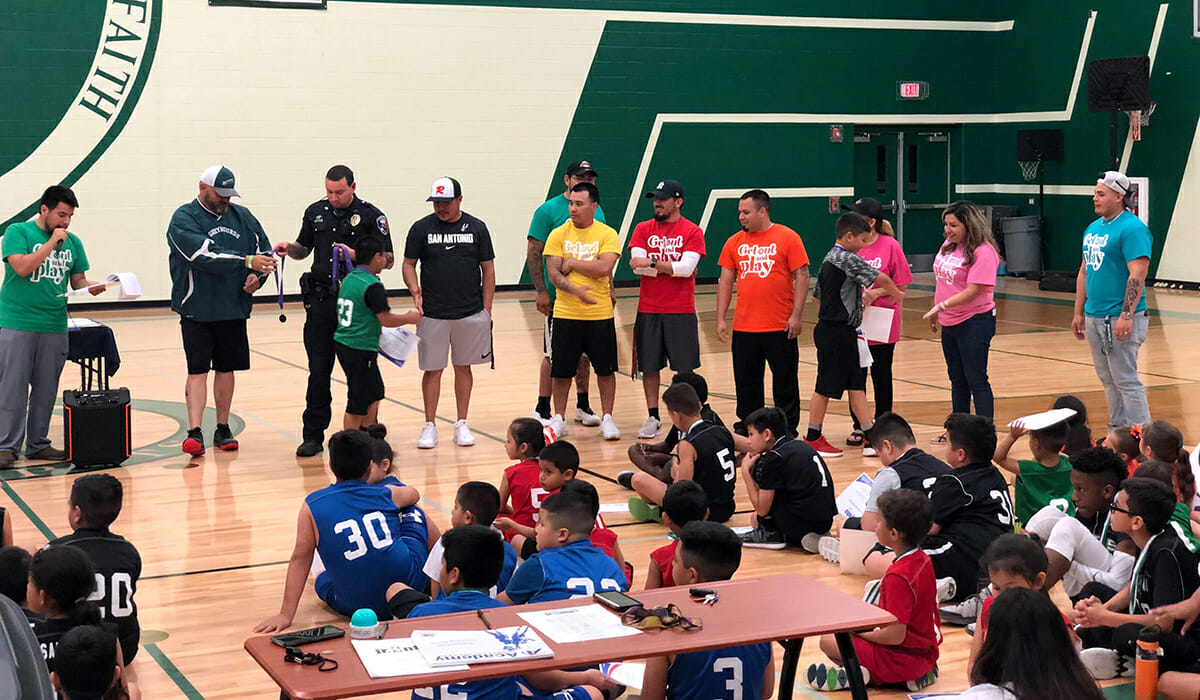 What's been the most rewarding part of your service?
Seeing youth programs come back to our community. Before, kids were running in the street, they were getting into trouble, the crime rate was up. It's been rewarding to have the community get behind us for the sake of the youth, and encourage us to keep going.
What have you learned through your experiences as a volunteer?
We all have talents and it's up to us to play to our strengths and talents. I am using my talents to make a difference.
What do you want people to learn from your story?
Don't let people tell you you're too old, too young. If you want to make a difference, make a difference.
Tell me about an upcoming project that you're excited about.
We're installing a new playground center in December 2019 for a low-income park in Taft called Hidalgo Park. We've made this a true community effort, and so we're asking children for ideas to design their dream park, and have invited the community to come out and help us build. We believe that no child should have to pay to play, so minimal fees are required for Friends of the Taft City Parks youth programs, which makes us largely reliant on donations and fundraising. Please check our Facebook page for more information about how you can help.
Do you want to make a difference in your community like Ryan Trevino? Find local volunteer opportunities.
Share this post