Texan Serves Seniors and Fights Food Insecurity through Volunteerism
Meet Daily Point of Light Award honoree Shannon Beathard. Read her story and nominate an outstanding volunteer or family as a Daily Point of Light.
During a particularly challenging time in her life, Shannon Beathard was suffering from PTSD, and says she couldn't see anything beyond her own dark circumstances. Turning to service, the Beaumont, Texas resident decided to help others struggling in her community, committing to making a difference for people struggling with chronic hunger.
As a volunteer for the Southeast Texas Food Bank, 49-year-old Shannon fights the crippling effects of food insecurity by helping to provide food to thousands of households across Southeast Texas. Currently volunteering for the organization's Senior Food Box Program, Shannon helps to prepare and distribute 2,000 boxes of food each month to low-income seniors.
What inspires you to volunteer?
There's so much good that needs to be done in the world, and I want to be a part of that. I feel a deep need to serve and to be a part of the good in the world.
Describe your role with the Southeast Texas Food Bank.
As a volunteer for the Southeast Texas Food Bank, I am currently working on their Senior Food Box Program. We work in the warehouse and make the food boxes, which include $50 worth of groceries, including non-perishable items like cereal, cans, shelf milk, oatmeal, beans and rice. Low-income seniors receive these boxes once a month to help augment their nutrition. I may personally prepare over 100 boxes just in one day of volunteering, and I volunteer several days each week.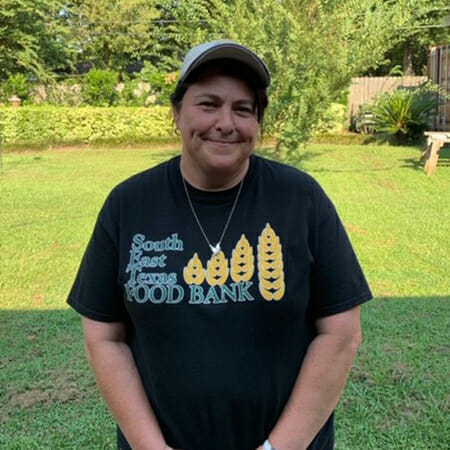 Share one personal story with me from your volunteerism.
One particular older man was running late, and so I ran his food box to his car. He grabbed my hand and he had tears in his eyes. He said, you don't know how much this means to me. I explained that it was my duty to serve the community. He repeated, no, I want to thank you for being here, and explained that his daughter had dropped his three grandchildren off at his home days beforehand, and she hadn't been back since. The food he was picking up was going to be dinner for the children. Of course then, hearing his story, I wanted to cry. I remember that look of relief in his face, that we were going to make his situation better.
What's been the most rewarding part of your service?
It's rewarding to see the gratefulness in the faces of people we are serving. We are helping the community, and people aren't going hungry because of what we are doing. One person can't do that on their own, but it's rewarding to know that I am part of a chain that is helping others.
What have you learned through your experiences as a volunteer?
I've learned so much about myself and about others. I've learned that there's so much to be grateful for, because I found myself in serving other people. I've always been a kind person, but the food bank is where I can use my talents to care and to love with an open heart.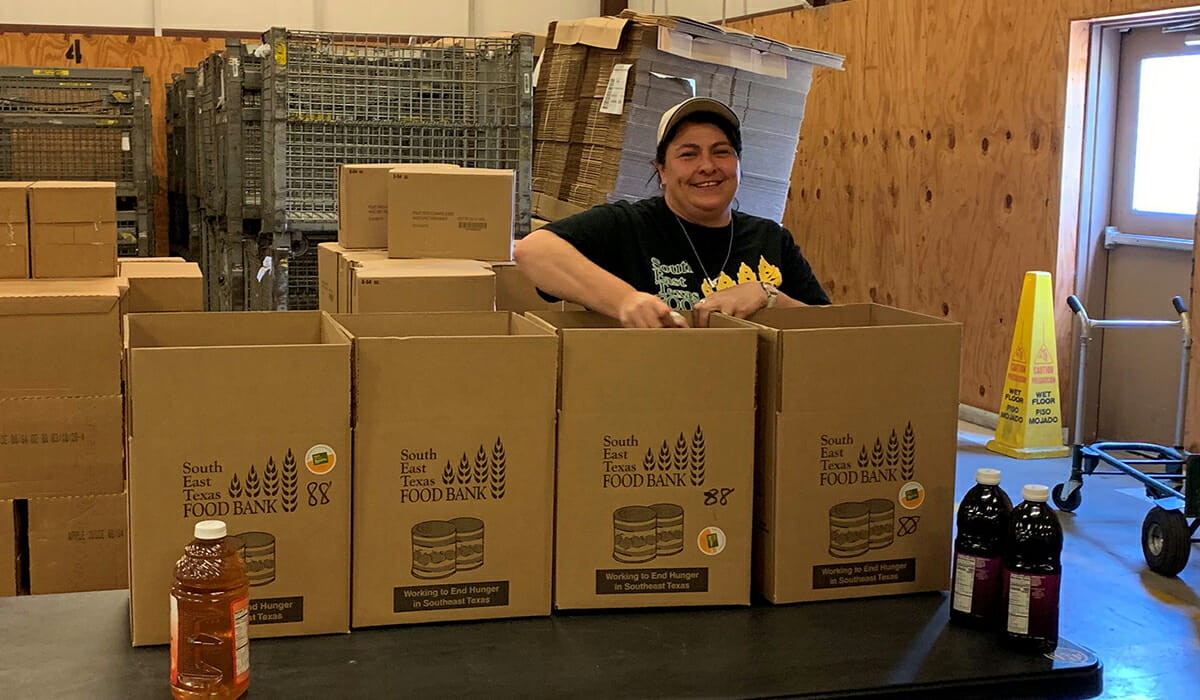 What do you want people to learn from your story?
"In a world where everyone can be anything they want to be, be kind." Just be kind. And being kind means different things to different people, you've got to find out what it means for you. I was in such a dark place before volunteering, and I couldn't see anything beyond myself. It has made a difference in my life to get out in the world, and see that other people have challenges, and that I can make a difference for them.
How can readers help?
Please visit the Southeast Texas Food Bank website for more information about how you can help.
Do you want to make a difference in your community like Shannon Beathard? Find local volunteer opportunities.
Share this post