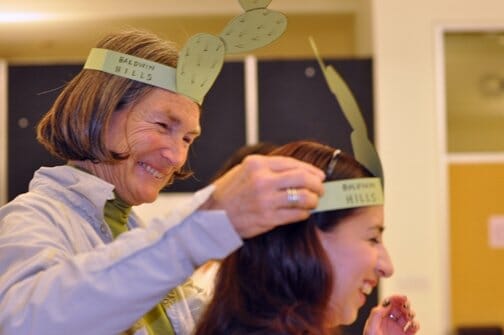 The mission of the Los Angeles Audubon Society (LAAS) is to promote the enjoyment and protection of birds and other wildlife through environmental education, conservation and habitat restoration. An important strategic goal is to provide after-school environmental education targeting under-served youth and their communities in the urban core of greater LA.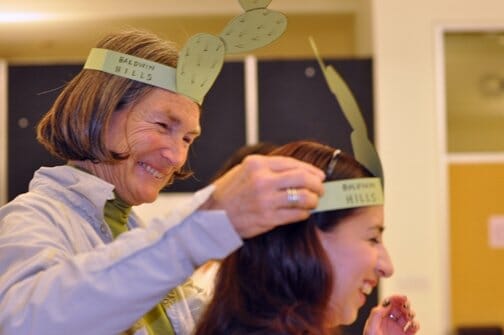 Griswold, left, at the LAAS Cactus Commencement.
Since joining LAAS Margot Griswold has served at-risk youth, first as a volunteer project manager for LA Audubon and now as volunteer VP and Education Chair.
Griswold oversees LAAS' environmental education programs that reach more than 5,000 students each year, supplementing under-served schools with much needed environmental/science studies and a connection to nature. In Los Angeles Unified Schools, 80 percent of the students live in circumstances, with little access to nature. In addition to her work with LAAS, she has also created a Teacher Fellowship program.
Under Griswold's direction, LAAS' youth education programs have grown from serving 100 students in 2008 to more than 5,000 students in 2015, with eight programs serving grades 3-12. The Los Angeles Times profiled LAAS' efforts with Politi School, where a schoolyard habitat replaced an under-utilized schoolyard with native plants attracting birds and insects. The schoolyard now serves as an outdoor lab and has improved student test scores six-fold. Another similar habitat is planned for Esperanza School.
Griswold's focus involves at risk students who are paid interns in the program that mentor younger students in environmental stewardship. Creating a work force in the fields of natural resource management, environmental science, urban planning, and environmental education that reflects a true diversity of communities will be key to keeping these fields relevant, innovative, and effective.
Griswold has devoted herself to serving Los Angeles inner-city youth, predominantly Hispanic, African-American, and Asian, and works tirelessly in the field to work one-on-one with students pursuing environmental studies. Graduating seniors from LAAS' Greenhouse internship have a 100 percent college acceptance rate. Through Griswold's leadership and dedication, LAAS has high expectations for student performance, exposure to new career paths, and experience with science and technology.
Griswold believes that urban-core communities are a key component to achieving long-term conservation nationwide.
Share this post