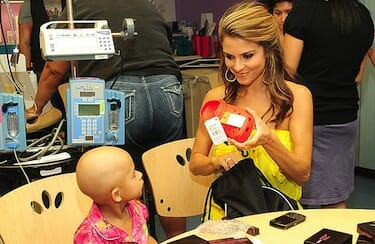 For bringing stars, producers and others from the entertainment industry together to help others, "Extra" host Maria Menounos received the Daily Point of Light Award today in Los Angeles. The ceremony was part of the One America campaign, led by Points of Light and Chase, to unite people in volunteer service. Read Menounos' story and nominate someone you know as a Daily Point of Light.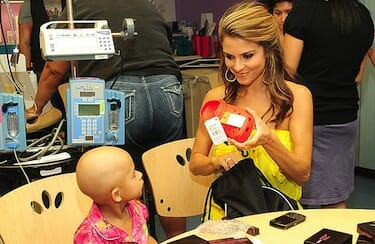 Maria Menounos – best known for her entertainment reporting on "Extra," "Access Hollywood" and the "Today" show – remembers her first assignment as a television reporter well. It was far from the glamour of the red carpet.
Menounos, fresh out of college, traveled to South Africa to cover the AIDS epidemic for that 2001 assignment. The suffering she witnessed left her determined to do more than report the news. When she returned to the U.S., she used the last of her savings to found Take Action Hollywood! (TAH!), an all-volunteer organization dedicated to using the power of the entertainment industry to raise awareness of society's greatest challenges.
"I think many actors, directors and producers want to use their talents and power affect positive social change," says Menounos. "Social media and instant connectivity helps a great deal. So while there are an infinite number of causes, there is hope."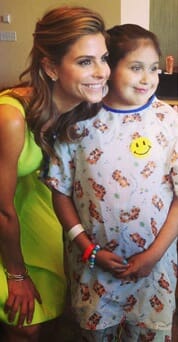 Menounos knows hardship herself, as the daughter of Greek immigrants who could not speak English. Her parents scrubbed floors in Boston nightclubs for a living; they had to bring Menounos and her brother along because they could not afford a babysitter.
While their parents cleaned, the Menounos siblings collected empty cans in the street to make extra money for the family. Menounos hasn't forgotten those days of struggle and is focusing on helping people in need improve their lives.
Since starting TAH! Menounos has rallied many of her colleagues in Hollywood and formed partnerships with several corporations. The organization focuses on HIV/AIDS awareness, prevention of diabetes and childhood obesity, and educating the public about subjects as diverse as racial segregation, autism and pet overpopulation.
TAH! has sponsored college film competitions – awarding prize money to the most "socially aware" entries – and partnered with Cosmopolitan magazine to create the CosmoGirl Film Contest. The organization also discovered an independent film made in 2004, "Paper Clips," about a student project to create a Holocaust memorial built from six million paper clips. The film had remained virtually unknown for a year. TAH! arranged for a prominent Hollywood screening and funded promotion of the film. "Paper Clips" has since been distributed worldwide by Mirimax and has given rise to the Paperclip Campaign to honor Holocaust victims.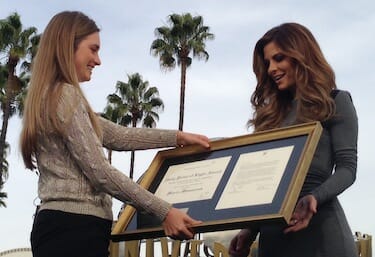 Menounos is especially active in the cause of diabetes treatment and awareness. Her father suffered from type 1 diabetes, and Menounos often cared for him around the clock as he endured severe pain. For TAH!'s work raising funds for the Hallmark Health System's diabetes programs and services, Menounos received the Hallmark Health Hero Award.
Menounos also traveled to Capitol Hill as a representative of the Entertainment Industry Foundation's Diabetes Aware campaign. Menounos spoke to members of Congress about the importance of using funds raised to fight diabetes not merely for treatment but for prevention through education.
Menounos hopes that as TAH! takes action to increase media attention to social issues, the public will act as well.
"I think it's so important to speak up and make your voice heard," says Menounos. "When narrative films or documentaries come out, watch them, digest them and form an educated opinion. Then, be sure to discuss them, rate them and comment on them via the many digital and social media platforms out there. Hopefully, you'll be inspired to do even more for a particular cause, too, based on what you see."
Share this post