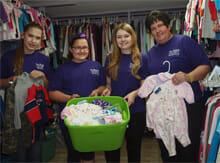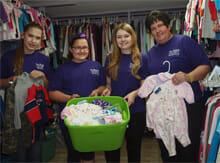 Four years ago, Katelyn Darrow-Eystad founded The Angels Clothing Closet. Since then, the Clothing Closet has become a family affair. It is set-up like a store, but the only difference is clients do not pay a penny for their items. Everything at the Angels Clothing Closet is free to homeless shelter residents, low-income families, house fire victims, or anyone who cannot afford necessities.
In addition to the clothing closet, the Darrow-Eystad family operates a food pantry and distributes toiletries. They hold monthly outreach events like a Back to School Drive , a Easter Basket Project, a Angels Holiday Toy Box for Christmas, a Halloween Costume Collection, and a Prom Dress Drive just to name a few.
To date, the Clothing Closet has provided clothing to more than 5,000 families. Their monthly outreach events like the Back to School Drive has provided more than 430 kids with filled back packs. The Easter Basket Project has provided more than 600 kids in need or living in homeless shelters Easter Baskets, and the Angels Holiday Toy Box has provided over 710 kids toys for Christmas.
The Darrow-Eystad family works with the local homeless and domestic-violence shelters. They are also in contact with the local schools and the American Red Cross for more people they can help. Each month, the family holds clothing drives were they invite the community to come and donate their unwanted clothing. Many locals volunteer help sort the clothing at the Clothing Closet and hang it on the clothing racks so it looks nice just like a store. The Clothing Closet gives community members a chance to give back and pay it forward.
Share this post