Marine Veteran Provides Aid and Relief to Sisters in Arms With Invisible Injuries
Meet Daily Point of Light Award honoree Juanita Sepulveda. Read her story and nominate an outstanding volunteer or family as a Point of Light. 
When Juanita Sepulveda was honorably discharged from the Marines in 2002, she found several gaps in services and support available for her transition into civilian life. Now, she dedicates her life to serving other veterans, and in particular women, in order to ensure that her sisters in arms have as smooth of a transition as possible. 
For the past three years, Juanita has served as Chief Operating Officer for The Pink Berets, a nonprofit that provides aid and relief for women veterans with invisible injuries such as post traumatic stress disorder, military sexual trauma, and combat trauma stress. While the organization is based in the San Antonio, Texas area, women all around the country participate virtually or travel to attend the nonprofit's events. In her role, Juanita handles a wide range of responsibilities including logistics, outreach, fundraising, and budgeting. 
Juanita was introduced to The Pink Berets while she was serving as the director of the PTSD Foundation of America. The organization invited her to attend their annual Foxhole to Fashion fundraiser where she was able to meet the team. She was so inspired by what she saw that in 2018, Juanita transitioned from the PTSD Foundation to The Pink Berets. 
"I realized we had parallels, a lot of the same desires and passion for our community," Juanita said. "Most importantly, the population [The Pink Berets were] serving was the population I looked like." 
The Pink Berets provides a host of different programs that offer a holistic therapeutic approach to combatting trauma. Juanita's favorite programs are the culinary program, which emphasizes communication skills in order for participants to create tasty dishes to take home, and the art program. Through painting, sketching, sculpting, woodworking, restoring furniture, and more, the art program allows women to express themselves creatively.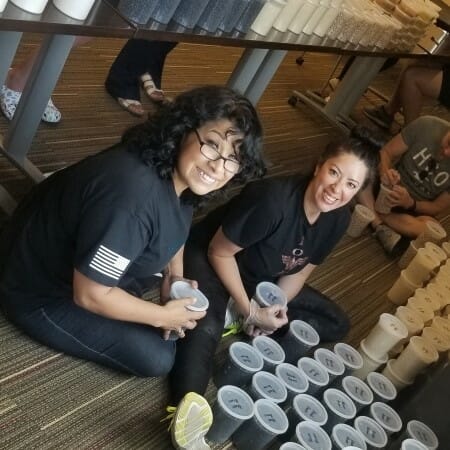 The nonprofit also offers retreats and special events. A highlight for Juanita is Women Warriors on Water, a yearly fishing expedition sponsored each year by Baffin Bay Rod in Riviera, Texas. Each year, 21 women veterans come together to bond with one another on the water and experience some peace and escapism. 
Juanita's work with The Pink Berets is always ongoing, with her helping women in some way every single day — whether that looks like vetting potential future programs, or delivering dinner to a veteran and her children who are living in a shelter. Juanita said her service doesn't feel like work to her, because she herself knows exactly what the women she is helping are going through. 
"What drives me is the fact that every person has value, and sometimes they don't feel like they do," she said. "What's nice about our program is we remind them." 
Though The Pink Berets focus on women, they also will help any men in need by making connections for them to receive the most applicable resources. Further, the nonprofit realizes that they may not be the answer for everyone, and are always willing to point women in another direction to the multiple different organizations and people that The Pink Berets collaborate with. They also collaborate with other organizations to ensure free transport for women veterans outside of San Antonio to attend The Pink Berets' programs, particularly their retreats. 
San Antonio District 4 Councilwoman Adriana Rocha Garcia said she always wants to support anything Juanita is involved with, because she does so much for their shared community. The two have worked together for over five years, as Juanita chairs the city's Small Business Advocacy Committee and is on the City Commission on Veterans Affairs. 
"She gets everything together and helps everyone achieve a common goal," Rocha Garcia said. "I have no doubt that anything she's a part of is going to be successful." 
Recently, the councilwoman attended a yard clean up for a veteran in District 4 that was organized by The Pink Berets. Upon arrival, it was discovered there were no more gloves left for her to wear while she volunteered. She said Juanita was very apologetic and fretted over her, until she finally took off her own gloves and insisted Rocha Garcia wear them. 
"She literally will take the gloves off her hand for you," the councilwoman laughed.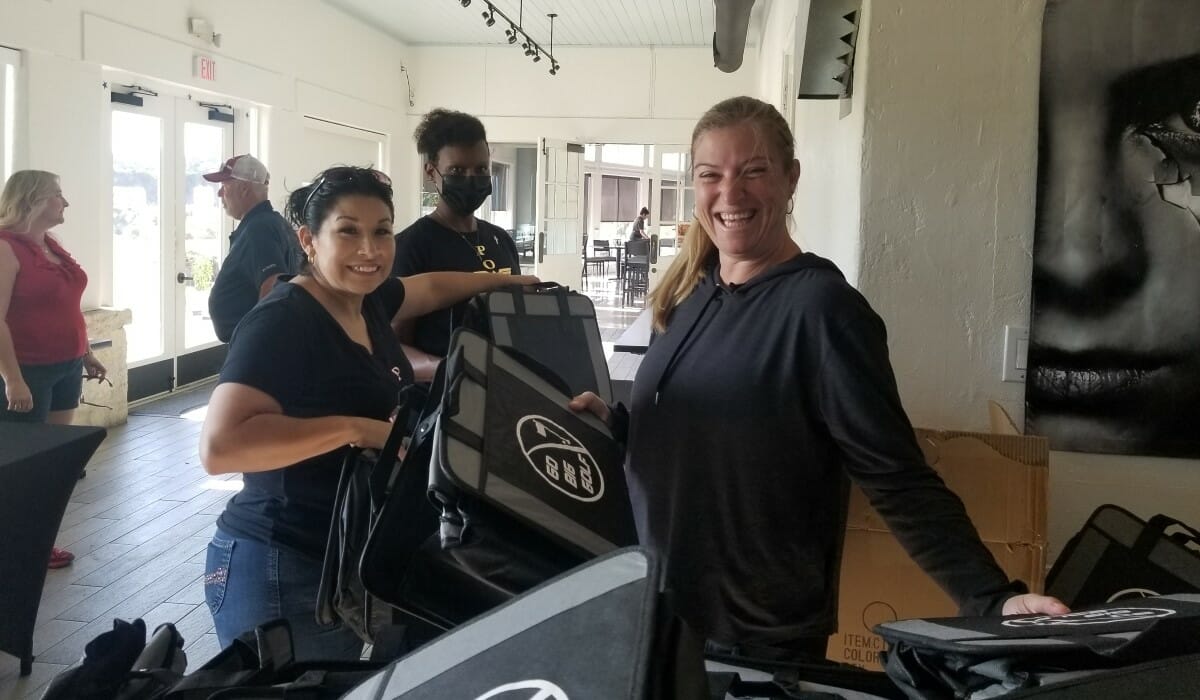 This coming year, The Pink Berets are looking to obtain property where they would be able to house veterans. A growing number of women veterans, many of them with children, are experiencing homelessness. The campus would be based in San Antonio and would provide transition, short term, or long term housing for single women veterans and their children.  
Juanita, who was once homeless herself, said she wants "the campus created so we can start regaining our resiliency, and resiliency in multiple forms, whether it's through career development, education, reducing food scarcity, or maybe just a teaching facility to emphasize the skills we once had in the military, and remind ourselves that we still possess those skills." 
Juanita said the most rewarding part of the work she does is seeing women realize that they haven't been forgotten, as well as remembering the value she brings by working on a program she wishes existed when she first transitioned out of the military. 
Do you want to make a difference in your community like Juanita? Find local volunteer opportunities. 
Share this post