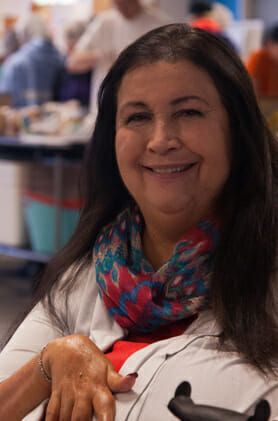 Meet Daily Point of Light Award honoree Mary K. Hoodhood. Read her story and nominate an outstanding volunteer you know as a Point of Light.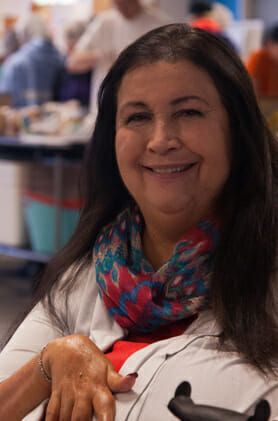 Mary K. Hoodhood
Serving the Grand Rapids, Michigan, area as a social worker and food bank volunteer, Mary K. Hoodhood was generally aware of hunger in the community, but not among children.
She learned that local kids were going home from school every night with empty cupboards waiting for them. In her fact-finding about the issue, Hoodhood heard a school principal talk about a student digging in the trash after school to find dinner she could bring home.
"The thought of a child looking through the trash, looking for food to take home to her family, is just so sad," Hoodhood says. "Kids should be thinking about what they're doing after dinner, not where their dinner is coming from."
In 2001, she helped found Kids' Food Basket in coordination with local schools. At its inception, Kids' Food Basket provided a take-home evening meal to 125 kids at three schools.
The organization now serves 6,300 kids each weeknight at 32 schools in Grand Rapids and Muskegon – with the help of 200 volunteers – seven days a week.
Kids' Food Basket provides a nutritious Sack Supper to children who attend schools where 80 percent or more of the student population receives free or reduced-price breakfast and lunch.
Each Sack Supper includes a sandwich, a serving of a fruit and vegetable, a fruit juice box or dairy product and a healthy snack.
"If kids don't get the right nutrition, especially until they are 12 years old, their brains won't develop properly," Hoodhood says. "So that's why we're concentrating on kids under 12, to make sure those kids can thrive."
Kids' Food Basket empowers kids of all backgrounds to help each other, creating the next generation of advocates and leaders. Young people are coming in larger numbers to volunteer with Kids' Food Basket and help their peers; a quarter of the volunteers are younger than 18.
One of the unique ways that younger and older volunteers get involved when they cannot do heavy lifting is by decorating the paper bags that hold the Sack Suppers, using stickers and crayons to draw pictures and write inspirational messages.
Hoodhood tells the story of a home visit by a social worker who met a boy who received Sack Suppers from Kids' Food Basket: The social worker saw the boy had taped all his Sack Supper bags onto his bedroom wall, each bag decorated with stickers and drawings made by volunteers.
When the social worker asked the boy why he posted the bags on his wall, he answered, "Because they are mine."
Hoodhood knows the difference her work is making for low-income families who often have to make hard household decisions, such as whether to get the car fixed at the expense of buying medicine or food.
In 2010, President Obama recognized Hoodhood's service with the Presidential Citizens Medal. It is the second-highest honor a civilian can receive; it recognizes Americans who perform exemplary deeds of service for their country or fellow citizens.
Hoodhood, who became a quadriplegic after a car accident in 1980, says that despite daily challenges that require patience, good humor and a great deal of pluck, her physical limitations have never prevented her from contributing to the community.
"For me, attitude is everything," she says. "I wanted to help others, and I identified an unmet need in the community to address child hunger. If I can do this, able-bodied people can do a lot more."
Hoodhood was recognized by L'Oréal Paris and Points of Light as a 2014 Woman of Worth for her extraordinary volunteer work. Nominate an inspiring woman who is creating change in her community to be one of this year's Women of Worth at www.womenofworth.com.
Share this post