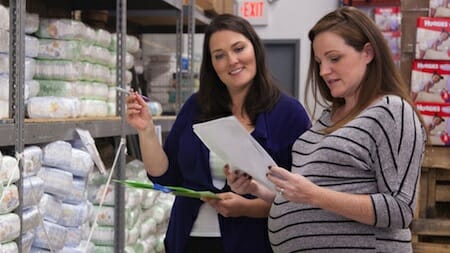 Meet Daily Point of Light Award honoree Corinne Cannon. Read her story and nominate someone you know as a Point of Light.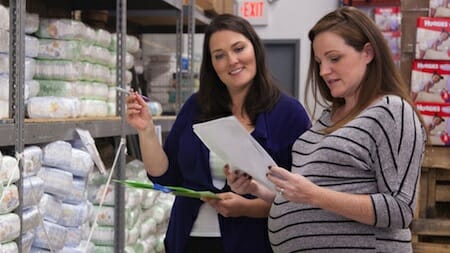 DC Diaper Bank founder Corinne Cannon, left, confers with Heather Foley, the organization's board chair.
When Corinne Cannon had her first child, Jack, in 2009, she felt the way many first-time parents do as they try to make sense of parenthood: beleaguered by late nights when the baby won't sleep, anxious about the expense of childrearing, inexperienced.
But she realized those feelings were magnified exponentially among families in the Washington, D.C., area who had far less than her family.
She thought of the "heartbreaking decisions" those families faced: "Do you keep that child in a diaper – when you know it should be changed – so that your other children can have dinner?"
Cannon began to reach out to nonprofits in her community asking how she could help, and they all voiced a similar need for one item in particular: diapers.
Diapers cannot be purchased with food stamps or through WIC, the federally funded health and nutrition program for women, infants and children. There were no diaper banks in the area. So Cannon stepped in to fill the void for struggling families, starting DC Diaper Bank on her son's first birthday.
In the past four years, she has grown DC Diaper Bank into an organization that distributes more than 75,000 diapers to 2,600 families monthly, with the help of hundreds of volunteers. The bank has given out 1.5 million diapers since it opened.
Working with community service providers in the D.C. metropolitan area, the organization, under Cannon's guidance and leadership, has served thousands of families in need.
Cannon says diapers are a "gateway resource," getting hard-to-reach families in the door for other social services. She and her network of volunteers provide a way to engage families and become part of a social safety network. DC Diaper Bank recently opened a baby food pantry, and it also distributes formula, and baby and mom hygiene items from its own warehouse.
"I often say DC Diaper bank is not about diapers, it's about families," Cannon says. "They go in because they need diapers. But then we'll direct them to one of our partner agencies; they end up receiving medical care, food and a host of other services. And that's really the goal."
The diapers themselves have a direct positive effect on the health and well-being of babies and families. Beyond the obvious hygienic benefit of a clean diaper, research has shown that being able to provide necessities for their children lessens stress on parents and leads to more stable families.
Cannon gets choked up when talking about how thankful people are to receive the diapers and other necessities.
"They shouldn't be things that families need," she says. "We need to step up, and we need to take care of these babies."
Cannon was recognized by L'Oréal Paris and Points of Light as a 2014 Woman of Worth for her extraordinary volunteer work. Nominate an inspiring woman who is creating change in her community to be one of this year's Women of Worth at www.womenofworth.com.
Share this post