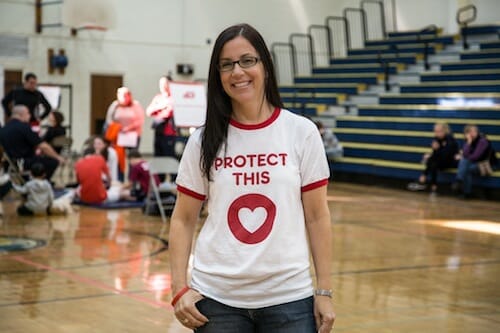 Meet Daily Point of Light Award honoree Phyllis Sudman. Read her story and nominate someone you know as a Point of Light.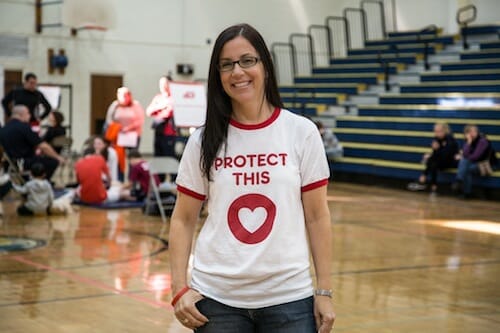 Phyllis Sudman attends a Simon's Fund heart screening.
At just 13 weeks old, Phyllis Sudman's second child, Simon, died in his sleep from sudden cardiac arrest in 2004.
Urged by Simon's pediatrician, Sudman got her heart checked and discovered she had a heart condition called long QT syndrome, which is linked to up to 15 percent of all sudden infant death syndrome deaths.
"No parent should ever have to bury their child," Sudman says. "And we knew we were going to do something. So my husband and I started Simon's Fund."
The fund's mission: to raise awareness about warning signs and conditions that lead to sudden cardiac arrest and death in children.
Drawing on her background as a marketing executive, Sudman has helped craft and implement a free screening program in the Philadelphia area. There are few programs like it in the United States.
To encourage research, Simon's Fund also launched HeartBytes, a national youth cardiac registry.
"It will be a resource for researchers to prove that everyone in this country should get their hearts checked," Sudman says.
Under Sudman's leadership, Simon's Fund has raised more than $1 million and has screened more than 10,000 children and teens, helping detect more than 100 potentially fatal heart conditions.
Simon's Fund has also pushed for passage of the Sudden Cardiac Arrest Prevention Act, which has passed in six states and is pending in several others.
The organization's accomplishments stem from the dedicated and passionate work of volunteers and supporters. Hundreds of medical professionals have volunteered their time to check hearts and potentially save lives.
"I am so blessed to be a part of this movement to make life safer for kids," Sudman says. "To know that Simon – who lived for three months – has had an impact most people don't have in their lifetime is huge."
Sudman was recognized by L'Oréal Paris and Points of Light as a 2014 Woman of Worth for her extraordinary volunteer work. Nominate an inspiring woman who is creating change in her community to be one of this year's Women of Worth at www.womenofworth.com.
Share this post