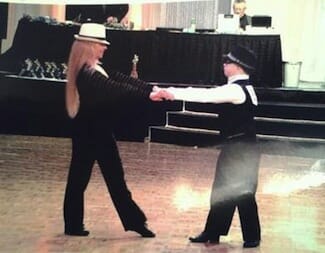 As owner of the A-Marika Dance Company in Cincinnati, Mary Ramirez Cook has taught ballroom dance, ballet and tap for more than 27 years. In 2007, Cook took on a new and personal teaching challenge. Inspired by her youngest son Mathew, who has Down syndrome – and who loved practicing dance moves from a young age – Cook launched a free dance class for students with Down syndrome. The course has become so popular that Cook has 40 students enrolled, from age 12 to 62, and many more on a waiting list.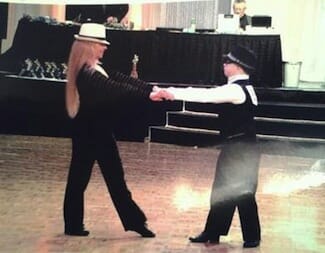 "None of this would have happened without Mathew," says Cook, who teaches a full roster of 400 students in her standard courses. "He grew up in a dance studio, watching me teach. When he was around 4, I could already see that he enjoyed moving to the music. Soon he was copying ballroom dance moves he had seen, and it occurred to me that I should try teaching dance to Mathew and others with Down syndrome."
Cook began with a pilot class of four students, including Mathew, who was 5 at the time.
"The students loved it," says Cook. "Very quickly, others learned of the course by word of mouth, and soon I was teaching a regular ballroom dance class for students with Down syndrome."
Cook says the dance program has had positive effects that go far beyond anything she expected.
"The dance experience is just the beginning," says Cook, who plans to launch a dance competition this year for people with disabilities. "From the start I noticed that my students were also delighted to be socializing with others. After seven years of teaching the class, I think the social experience has been more valuable to them than the dance lessons. They've formed lasting friendships, and I've watched them grow in self-esteem."
Cook says her studio has also become a bonding place for parents and other caregivers who accompany the students to class, some of whom have gone on to form support groups. The class has also inspired dozens of Cook's other students to become volunteers.
"From the time I announced the first Down syndrome class in 2007, students from my other classes began asking if they could help," says Cook. "I was very touched, especially as the number of student volunteers began to grow. At times, for a class of 40 students, I've had 30 other students volunteering to assist as dance partners. Over the years, former students have told me that they first learned community service from this experience. I think inclusion has been the greatest result since I started this."
For her efforts, Cook has received several awards from local Down syndrome associations as well as Cincinnati's city council.
But Cook's greatest personal reward, she says, came just last week when Mathew, now 12, won first place in a national Dancesport competition, with Mom as his dance partner.
"I was very proud that Mathew has been able to get to this point," says Cook. "This was a standard competition, not one for people with disabilities. His dance skills have boosted his all-around confidence in life, and his social skills are much better because of it. As a mother of a 12-year-old who can do this, I am in awe."
Share this post