Meet the Teen Supporting South Asian Communities in Georgia With Free Weekly Language Lessons
Meet Daily Point of Light Award honoree Suhaas Reddy Bonkur. Read his story and nominate an outstanding volunteer or family as a Daily Point of Light.  
Suhaas Reddy Bonkur not only walks his Forsyth County, Georgia, community with pride in his South Asian heritage, but is helping others do the same. Suhaas is one of the co-founders of The Telugu and Tamil Tutors (TT Tutors), the first teen-run free language-learning nonprofit service for Telugu and Tamil students of all ages in Georgia.  
TT offers live sessions every week. Within its first year, it has already gained more than 50 students. In addition to teaching language lessons, Suhaas also leads a podcast for TT, uploading weekly videos that feature accredited university professors – including some from Harvard – as well as community leaders and friends. These conversations delve into South Asian culture and representation and have garnered more than 2,000 views. 
Describe your volunteer role with The Telugu and Tamil Tutors (TT Tutors).
My volunteer duties range from academic to administrative. On the academic side of TT, I am a lead Telugu Tutor for one-on-one lessons, along with weekly live sessions with all of our tutors and students. I help design our detailed curriculum alongside my other officers while also keeping close contact with parents and students to mark and discuss their progress in the program. I run our social media account on Instagram by creating all of our posts along with being responsive on our email platform.  
On the administrative side of TT, I am the founder and co-editor of our podcast where we discuss with community leaders and activists about cultural representation in our community through virtual and in-person meetings. I am also the community outreach coordinator, forming relationships and acquiring opportunities for the organization, such as my speech at the Board of Education, starting the first Telugu-English Bi-Lingual Storytimes in my county, attending an Emory South-Asian Studies Lecture, along with marketing at TAMA's (Telugu Association of Metro Atlanta) 5K Run Event.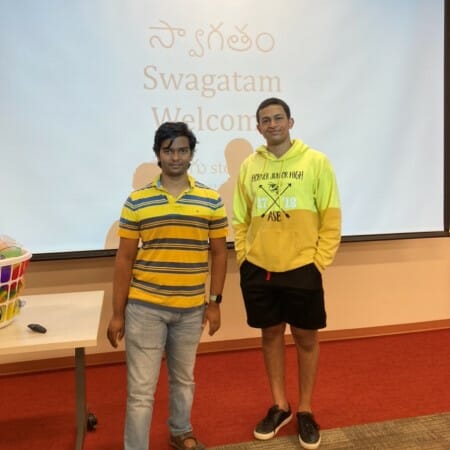 So my responsibilities range from ensuring the gears are moving within the academic side of our organization while also branching out to spread our message to fellow members of our community. 
What inspires you to volunteer?
Volunteering is definitely something I've learned from a very young age as my parents were always very avid volunteers in our local Temple and at blood drives. Community has always been a big part of my life, and I would definitely say being around a group of like-minded people inspires me to keep volunteering and contributing to those I care about.  
Being able to work with my other co-founders Krithika Kasireddy, Vinay Polaku and Ritika Vemulapalli has truly been a gratifying experience as we are able to tie our friendship with a cause that we are all passionate about. I would also like to highlight the amazing work of our group of tutors, students, community leaders and podcast guests for believing in our organization and donating countless hours of time and energy to the cause.  
Being around a driven group of people while also being passionate about a certain cause that I am directly related to all are factors that inspire me to volunteer. I've always wanted to contribute something back to the community, so being able to do it in a way that inspires me makes me passionate about TT's message.  
What's been the most rewarding part of your work?
The most rewarding part of my work is being able to see our community accept my heritage and embrace it through various means. For example, through hosting South-Indian cultural festivals and playing Bollywood/Tollywood music, the impact of my culture has spread throughout my community, and I couldn't be prouder.  
Being able to talk with University Cultural Organizations such as Worcester Polytechnic Institute's SASA (South Asian Student Association) and other organizations, such as Cumming Tamil School, have broadened my perspective of cultural representation. In addition, being able to see another facet of the academic side of TT through being invited to an Emory University South Asian Studies Lecture and other institution lectures makes us unique from other language-learning organizations.  
One experience I vividly remember was receiving an email from a white woman asking us to teach her Telugu because she wanted to communicate with her South Asian in-laws. This request really hit home for me because it finally made me realize the potential impact our organization had on bringing families and communities together. 
What have you learned through your experiences as a volunteer?
For many of the projects TT has organized, we have been the ones responsible for ensuring all factors and components are taken care of. Energy is contagious, so showing an individual or organization that you are avidly interested in working with them helps in ensuring the event is at its best quality. I have learned that, by being proactive with communication and open to accepting new ideas from others, our events can reach a much wider group of people who share a similar interest. 
Are there any future partnerships, programs or events that you are excited about?
Yes! In fact, we have a future collaboration with a South Asian Studies Professor from Harvard University whom I am very excited to speak to on our podcast! These talks from scholastic experts fascinate not only our students but also us as we learn the rich background regarding where our culture and languages Telugu and Tamil are derived from. These professors essentially enhance the beauty of the languages and culture we teach, making it more engaging for the students.  
What do you want people to learn from your story?
Our motto of TT is to "Learn Your Culture." Just like in Forsyth County (in Georgia), there is a demographic shift in the nation of increasing minority ethnic populations. From my story, I want people to be able to take pride in who they are and what background they come from.  
As a South Asian, I have learned to be unapologetically myself and share my beliefs and opinions with those who are interested in learning more about me. Being South-Indian is an element of me that I never want to keep hidden, so I hope to encourage anyone reading this story to be proud of what culture and background they come from, because it is a significant element of who they are and their individuality.  
Do you want to make a difference in your community like Suhaas? Find local volunteer opportunities.  
Share this post