Mesa Residents Come Together to Keep Their Community Clean, Vibrant and Beautiful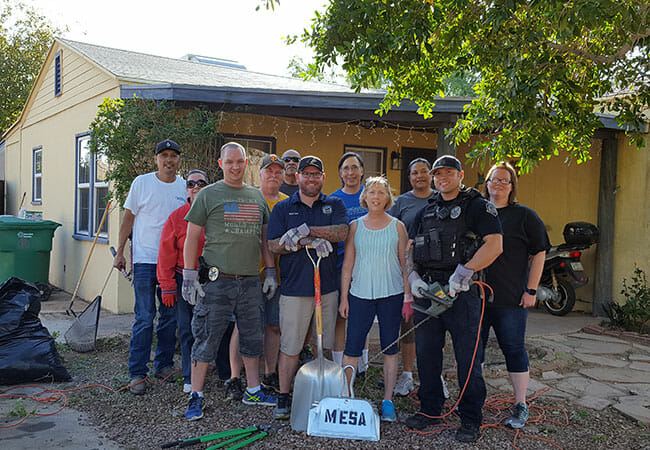 The City of Mesa Neighborhood Outreach Office is today's Daily Point of Light Award honoree, and one of the winners of the 2016 Make A Difference Day Awards. Each year, TEGNA recognizes 14 outstanding leaders of Make A Difference Day projects, awarding $140,000 in grants that are donated to the charities related to the winning projects. Learn more about Make A Difference Day and register a 2017 project at www.makeadifferenceday.com.
Nearly 3,000 Mesa, Arizona, residents of all ages came together on Make A Difference Day 2016 to improve their community – and make a difference they did! Volunteers participated in in 36 different projects across the city, helping 2,650 members of the Mesa community. Throughout the day, volunteers engaged in painting walls and houses, assisted elderly and low-income neighbors with yard projects, removed 47 tons of debris from city neighborhoods, and more, benefitting several groups including elementary schools, local veterans and homeowners, residents of Mesa's first Heritage Neighborhood, and the City of Mesa as a whole. The citywide Make A Difference Day effort – the biggest in three years for Mesa – was orchestrated by the Neighborhood Outreach Office. "By engaging more volunteers in this year's event, we educated more people about important needs in the community," said Lindsey Balinkie, neighborhood outreach coordinator for City of Mesa Community Services.
The City of Mesa Neighborhood Outreach Office was awarded a $10,000 grant for this effort on Make A Difference Day, which they donated to Mesa Urban Garden – a little extra money to do a lot more good for the city and its residents. We asked Lindsey to tell us more about the projects and the city's ongoing dedication to keeping Mesa a clean, vibrant and beautiful place to live.
What was the inspiration behind the City of Mesa's 2016 Make A Difference Day project?
Every Make A Difference Day, Mesa residents, neighborhood groups, local businesses, faith-based groups and City of Mesa staff volunteer for a variety of beautification and cleanup projects. Our 2016 projects were inspired by a desire to engage volunteers in the most encompassing national day of helping others and to spread that service citywide to make an impact in every council district in the city.
Michelle Alvis-White, citywide volunteer coordinator, and Laura Rodriguez, volunteer coordinator, were the dynamic team that orchestrated this event. Michelle's commitment to excellence in managing volunteer projects and events that impacted the community were ever-present throughout the creation and implementation of our Make A Difference Day event. In January 2017, Michelle was in a car accident and did not survive.
Laura has also become an excellent volunteer manager and contributor to our team and often credits Michelle for the skills, knowledge and commitment to excellence she imparts on all of her work. Michelle was an amazing mentor, who cared deeply about her staff and how they showed up in the world. She has left an undeniable mark on Laura. Part of Michelle's legacy will be all of those she mentored to be amazing volunteer managers and community stewards, to carry on her work now that she is no longer able to. Her passing has left a giant hole in our hearts and in our team, but we are blessed to see her impact and her commitment to service in neighborhoods, parks and community organizations throughout Mesa.
Tell us a little more about what your volunteers did that day.
Our 3,000 volunteers participated in 36 volunteer projects, including:
Painting long sections of walls in parks and retention basins used by neighborhoods for recreation. Walls had been previously graffitied and had a patchwork of colors on them from graffiti removal (prior to when the city started matching the wall color when removing the graffiti). Volunteers contributed to reducing blight in these areas by painting one consistent color over thousands of square feet.
Painting a mural to honor the service of veterans.
Removing illegal dumping from alleys and other neighborhood common areas, assisted residents in removing debris, appliances and trash from their yards into city dumpsters, contributing to the overall well-being of the neighborhoods.
Walking neighborhoods and reporting graffiti via their smart phones to the Mesa CityLink app, greatly assisting the city in combating graffiti and removing it quickly. The city contractor was then able to visit each site and color-match each area that was tagged to remove the graffiti.
Painting the homes of several individuals, including veterans and low-income elderly residents.
Providing yard clean-up assistance to elderly residents who are physically and financially unable to take care of their yards.
Distributing neighborhood resource bags, which included valuable information on recycling, smoke detectors and city services.
Painting address numbers on curbs to enhance the safety of neighborhoods, and to improve response times for emergency services by making it easier to verify addresses.
What was the most rewarding part of the experience? A favorite memory?
For those of us who worked closely with Michelle every day, the most rewarding part of Make A Difference Day was being part of a dynamic team of people led by her, seeing her in her element and working together to make an impact on the community. Michelle lived a life of service and did an amazing job of enriching the City of Mesa's volunteer programs with a commitment to excellence.
Why do you think it's important for others to get involved and make a difference in their community?
When you give, whether it is a large or small project, for days on end or just a few hours, it sticks with you. Serving makes people more compassionate and helps to break down barriers, helps volunteers get outside of themselves and learn more about causes and help individuals that they may not normally connect with.
As a 2016 Make A Difference Day Award Winner, you were awarded a $10,000 grant to donate to a charity of your choice. What will that money go toward?
We chose to donate the $10,000 grant to the Mesa Urban Garden, a community organization that provides fresh produce directly to the community and local food banks. The public can sponsor plots for communal or individual use. Michelle organized the first group of volunteers who helped to build the original garden beds and break ground at the garden five years ago.
The garden's annual budget is $3,000, so a donation of this size will have a great impact on their operations for several years to come. (The Foundation for Mesa Parks and Recreation received the check on behalf of the Mesa Urban Garden.)
What do you want people to learn from your story?
Your actions and desire to do good can have a lasting impact on those around you.
What are your plans for Make A Difference Day 2017?
We are currently recruiting volunteers and getting new projects ready for the October 2017 event. Details are forming as we go out into the community to ensure we have meaningful projects that meet the needs of our residents.
Volunteers across the nation will come together again on Saturday, Oct. 28, to improve their communities for Make A Difference Day. Project organizers are encouraged to register at www.makeadifferenceday.com to be eligible to win a $10,000 grant to donate to a charity related to their Make A Difference Day project.
Share this post