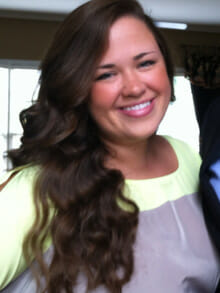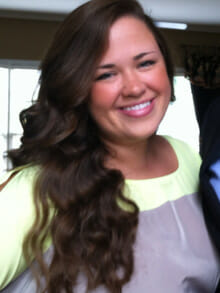 Michele McGuire's volunteerism focuses on the health of individuals in Georgia's Milledgeville and Baldwin counties, with specific emphasis on awareness and fundraising for cancer, juvenile diabetes research, and the well-being of developmentally-disabled adults. These three concerns represent areas of critical need in Georgia and the Baldwin community.
Over the past four years, McGuire has put her talent for digital media to work toward improving the health of the Milledgeville and Baldwin community. During this time, she has co-produced a video, which won $5,000 through Relay 4 Life to help fund American Cancer Society research. She has raised funds through "Bras for a Cause," a support group that funds the annual "Survivors in Pink" event which features speakers, candle-light, music and a slideshow of breast cancer survivors from the Milledgeville and Baldwin community.
Additionally, McGuire co-organized a 5K Diabetes Walk and Run at Georgia College to help fund the Juvenile Diabetes Research Foundation. In 2011, she and her sorority members at Gamma Sigma Sigma, a National Service Sorority, successfully raised over $1,000 for this cause. She has also contributed her talents toward addressing the enrichment needs of developmentally disabled adults in the Milledgeville community through her work for the Life Enrichment Center.
Through her volunteerism, McGuire has inspired others to continue along the path of service she has begun. Her work has upped the ante in every endeavor she has chosen to engage in. Her production of the award-winning video for Relay 4 Life has raised the bar for current participants, especially for those volunteers who witnessed her success and wish to follow her example. The same can be said for her engagement in "Bras for a Cause," "Survivors in Pink" and the 5K Diabetes Walk/Run. Her work with the Life Enrichment Center to exhibit the photographs of developmentally disabled adults in a gala event on campus called the Black and White Gallery set a new standard for the recognition of the talents of this population. Her work helped raise awareness in the college community and break down prejudice against these members of the community. McGuire has passed on her knowledge to the current leaders of this project who are already benefiting from her experience.
McGuire's uniqueness lies in the fact that she cares about her volunteer service, not for attention or recognition of any kind, but from a far deeper motivation that comes straight from the heart. She is a quiet, behind-the-scenes leader with a stellar talent for digital media, who has found a way to link her education as a student of Mass Communications at Georgia College to her volunteer service every step of the way. She has put her education and expertise to work for the sake of improving the health of the Milledgeville and Baldwin community. Her creativity and talent allow her to produce promotional materials (videos, invitations, flyers, photos) that get noticed by the public, raise awareness and inspire new levels of charitable giving. Those who have had the honor to work with McGuire and learn from her say that she is always willing to think outside the box, and that she gives back more than anyone they know.
Share this post
---