Michigan Mother Starts Music Camp to Honor Son's Legacy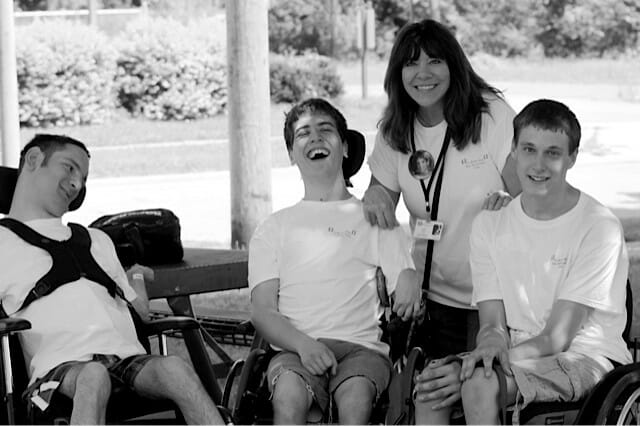 Losing a child is every parent's worst nightmare. Judy Winter's youngest child and only son, Eric, had cerebral palsy and passed away at the age of 12. While it would have been easy for grief to overcome her, this mother was tenacious in her resolve to honor her son's legacy.
Among Eric's many gifts was his remarkable musical ability, discovered at age 3. Soon after his passing, Winter, her husband, and camp director Cindy Edgerton founded RicStar's Camp, a day camp that provides life-changing opportunities for musical expression, movement, performance, and social interaction for individuals of all ages and disabilities and their siblings.
The Eric 'RicStar' Winter Music Therapy Camp, better known as RicStar's Camp, is held each summer as a part of the music therapy program at the Michigan State University Community Music School. In 2003, the first RicStar's Camp welcomed 46 campers for three days using $10,000 in memorial funds donated to honor Eric's memory. This past summer, 107 campers attended for six days. "Our camp provides access to the researched-backed benefits of music therapy for a population too often marginalized, underserved, undervalued, and undersocialized," says Winter. "Many campers would be unable to afford music therapy on their own, but we never turn anyone away because of their disability or financial need." This year, $6,017.50 in scholarships was provided to almost half of the campers. Winter's primary volunteer camp role has been in the areas of fund-raising, community outreach, media, public speaking, marketing, and new camp programs.
RicStar's Camp offers several activities, including songwriting, guitar jam, dance, percussion, vocal group, guest performers, rock 'n' roll combo, silly sing-along, and an end-of-camp showcase in which everyone performs. "Most of these children and adults have never performed on stage," says Winter. "When parents see their children on stage for the first time, their reaction is priceless."
RicStar's Camp is changing lives, as evidenced by stories of success. One day an adult male with autism who didn't speak said "Hello, Judy Winter" to the camp founder; a young man from Canada has gone on to pursue music therapy studies with the director of RicStar's Camp at MSU and is looking to bring music therapy to his community; parents express heartfelt appreciation of Winter for creating a place where their children feel welcomed and equal. On a personal note, Winter says, "RicStar's Camp has helped heal this grieving mother's heart and taken the sting out of life's greatest loss."
The miraculous happened at RicStar's Camp in 2003 when 4-year-old Payton Schofield was so moved by the music therapy session she was in that she stood up on her own and began participating. "It was amazing," says her mother, Tracy. "She had never done anything, and now she was interacting." A participant at all 14 RicStar Camps, Payton now walks in to camp of her own accord every year. "And her brother, who is non-disabled, has been allowed to participate with her and now serves as a buddy-up for another camper."
RicStar's Camp focuses on what campers can do, rather than what they can't—a concept, says Winter, rarely found at other programs that serve those with disabilities. "We focus on nurturing and celebrating individual abilities and breaking down barriers and stereotypes," says Winter. Other communities are beginning to emulate Winter's RicStar's Camp model, including one recently held in Ann Arbor, Michigan.
Share this post