Hearts Unite in Service: Newlyweds Aid Refugees on Humanitarian Honeymoon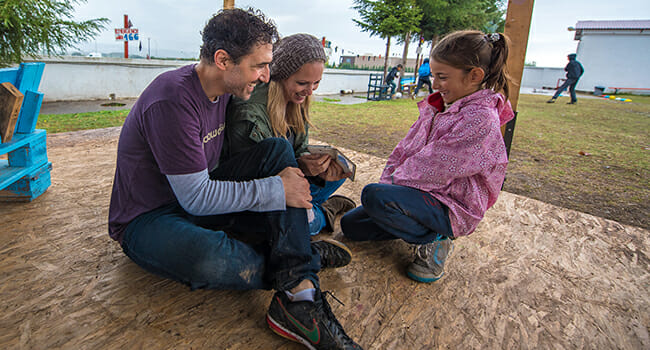 Meet Daily Point of Light Award honorees Ethan Zohn and Lisa Heywood Zohn. The couple kicked-off their marriage with a humanitarian mission to aid Syrian refugees in Northern Greece, raising $45,000 to support a large refugee camp. Ethan, known for his third-season win on CBS's Survivor reality series, shares how that trip left an impression far more meaningful than honeymooning on a sandy beach every could. Read their story, told by Ethan, and nominate an outstanding volunteer, family or organization as a Point of Light.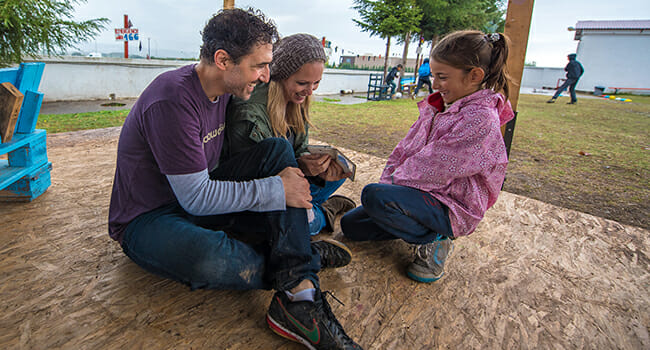 Courtesy: Malu Veltze
Ethan Zohn and Lisa Heywood Zohn connect with a young girl living in a refugee camp in Vasilika, Greece.
In a small canvas tent inside a warehouse in Vasilika, Greece, five shoeless Americans silently huddled with an 8-year-old Syrian refugee and her mother. We were hiding from the Greek police, who had officially banned foreign visitors from entering the refugee camp, inhabited by 1,200 people stranded here after fleeing their countries. Beside me, my wife of three months, Lisa, was shaking with fear; we'd learned that we would be arrested if found inside, but we couldn't resist visiting the "home" of our new friend, Helena. Thankfully, we had already made some friends among the refugees, and they hid the five sets of shoes we had politely removed before entering Helena's tent. When the police finally passed us by, we were smuggled out the back way through a ragged hole in a chain link fence. My wife turned to me and said, half kidding, "I could be on a beach right now, but I married you!"
The term honeymoon typically conjures images of beautiful beaches, swinging hammocks and champagne glasses clinking with the sun setting on the horizon. Our honeymoon was none of those things. We certainly could have been on a beach, but we wanted to do something a little different. After our amazing wedding celebration, we felt the best way to show our gratitude for the well wishes, generous gifts, and our fair share of attention, was to do something to spread all the love that we received.
Since winning "Survivor" and surviving a rare form of cancer, my life has been laser focused on helping to make happiness real for others. I have been fortunate enough to travel the planet and immerse myself in many different humanitarian efforts, and I wanted to share my love for service and volunteerism with my wife. To see each other in a new set of circumstances and a whole new light could only strengthen our vows.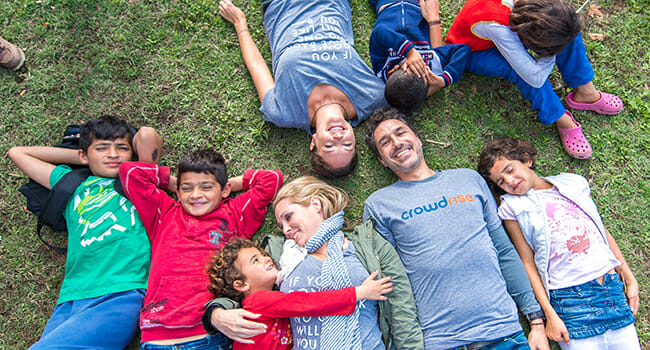 Courtesy: Malu Veltze
Participating in a Crowdrise 24-Hour Impact Project, Ethan Zohn and Lisa Heywood Zohn raised $45,000 to support refugee families in Vasilika, Greece.
I reached out to the crowdfunding platform Crowdrise to see if there were any opportunities to join an existing campaign. We were put in touch with the amazing Mallory Brown,* who created the Crowdrise 24-Hour Impact Project. Mallory travels to a nation in need, sometimes working with a family, a child, or an entire village, and – using video and social media to communicate the issue at hand – raises funds to solve an immediate problem. The next impact project was headed for Greece, to help Syrians living in a refugee camp. Lisa and I were going along.
Nothing could have prepared us to meet hundreds of families that had to flee their country and cross the border looking for asylum. Many had spent their life savings to reach Greece by boat. But when Greece's borders closed, families were left separated and stranded in a country that is not their own.
I'll admit that I was really nervous. I was most afraid of feeling like we couldn't do enough and the need would be too great. As we approached the camp, I was quite surprised. From the outside, it looked like a huge indoor soccer facility – the kind you see on the outer city limits. As we got closer things started to change, and I couldn't believe what I was seeing. It was more like six giant abandoned warehouses, converted into barracks, positioned back to back to back. A barbed-wire fence surrounded the structure and a muddy dirt road led to a small entrance, guarded by armed Greek police. Inside there were rows and rows of canvas tents with rusty old cots. No heat. Outhouses. Food was scarce and mostly consisted of packaged bread and apples. An already horrible situation, worsened still by the never-ending rain and fast approaching winter.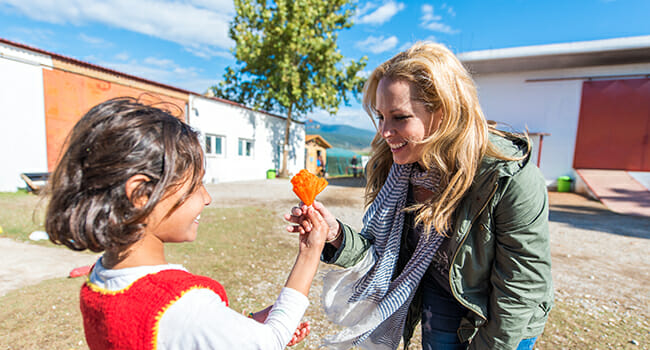 Courtesy: Malu Veltze
Lisa Heywood Zohn accepts a paper flower from a young refugee girl.
But there were some bright spots, too. Next door to the camp was a safe haven for the refugees called EKO Project. A group of volunteers from Spain built a school, library and kitchen that served fresh, healthy and warm food. The kids ran around and played soccer every day. They were adorable, but behind their smiles we saw pain. This project is a place of hope to refugee children and their parents who are trying to rebuild their lives.
When we stepped out of our car at EKO, we were immediately welcomed by a little girl dressed in pink and green with a striped hat and matching scarf. She held out a hand full of sunflower seeds and made sure we each took one before she hugged all of us and said, "my loves." I was already holding back tears at the sweetness of this one little girl.
We soon discovered that there were so many more kids just like her – just normal, everyday kids. They just wanted to play, they wanted you to watch them try a trick with a soccer ball, they wanted you to push them on a swing, they wanted you to care about them.
These are innocent people who are desperately seeking their human rights. I'd seen the news stories, but now, these people were my friends. We were thrilled to have raised $45,000 in 24 hours to help EKO Project make a difference for this small group within this massive humanitarian crisis. These funds helped provide food, warm clothing, supplies and other support for the families in the camp.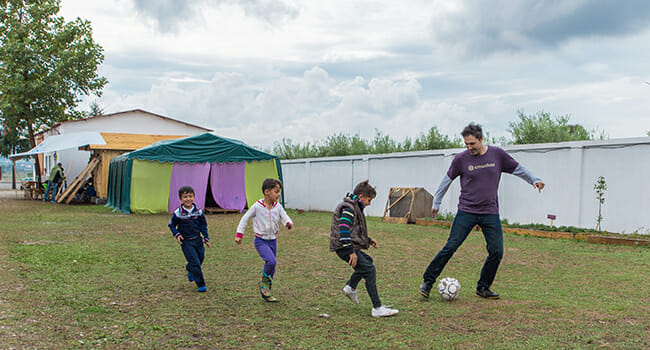 Courtesy: Malu Veltze
Ethan Zohn plays soccer with a group of refugee boys. In addition to a school and communal kitchen, the EKO Project provides a welcoming place for children to play.
This trip was meaningful for us, and there were so many moments that will be memories for a lifetime. My fondest memory is from the last day when we visited the camp. All the little girls had just finished a craft class where they made beaded necklaces on string. They surrounded Lisa and adorned her with necklace after necklace, hugging her while she cried – knowing how few possessions they had, yet they chose to give their necklaces to her. She keeps them in her jewelry box like prized possessions.
Lisa and I saw each other's strength and resiliency while working together on this honeymoon project. I saw how the refugees, young and old, opened up to Lisa and told her their stories. They recognized her kindness and trusted her the way I do.
Lisa saw pieces of the world I live in and watched me pull off an epic soccer match, complete with new uniforms, cleats and smiles from the participants. Even though we didn't speak the same language, simply arriving with a soccer ball allowed us to communicate, have fun, and share an incredible moment.
This trip taught us that there are many ways to celebrate the love you share, and there are many ways to make an impact with your own honeymoon. It can be as easy as setting up a donation page in lieu of gifts, or spending some time serving the local community where you are traveling. Or, perhaps commit yourself to volunteer at home for the equivalent time you spent on your honeymoon. From my personal experience, I can promise that the act of serving together will reveal things in your partner that will make you laugh, cry and love them even more.
Do you want to make an impact in the lives of refugee families like Ethan and Lisa? Start now by visiting the International Rescue Committee to find ways you can help refugees living in your local community and internationally.
*Recognized for her 24-Hour Impact Projects, Mallory Brown is also the recipient of a Daily Point of Light Award.
Share this post