Michigan Teen Co-founds Nonprofit Offering Free STEAM Education, Promoting Equal Opportunities for All Children
Meet Daily Point of Light Award honoree Anish Nandamuri. Read his story, and nominate an outstanding volunteer or family as a Daily Point of Light.
At just 16 years old, Anish Nandamuri of Canton, Michigan, is on a mission to reshape education and bridge the opportunity gap for children from all backgrounds. Co-founding UsForThem Inc. with four friends from his high school, Anish's vision is clear: to provide free STEAM (Science, Technology, Engineering, Art and Mathematics) education to young students, regardless of their financial circumstances.
Established in 2020, UsForThem's flagship program is a free 10-week after-school experience where high school volunteers who are passionate about STEAM serve as educators. During this program, these young mentors teach elementary and middle school students a diverse array of STEAM lessons. They guide students in crafting circular gliding airplanes, delve into the world of architectural engineering by building structures with straw and tape, and even bring in guest lecturers, including medical doctors, computer programmers and other experts, to provide real-world insights into the STEAM fields.
While initially focused on local Michigan students with in-person classes and workshops, UsForThem has expanded its reach by offering virtual classes to communities across the United States including California and Georgia and even internationally in India.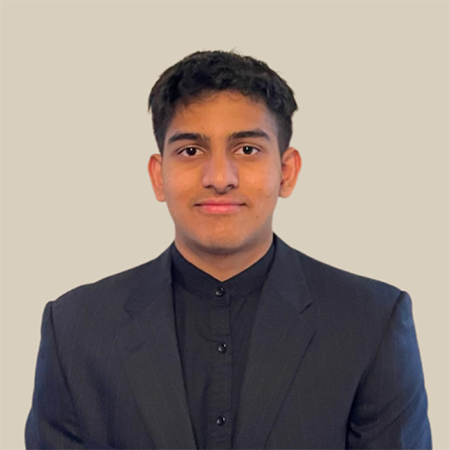 What inspired you to co-found UsForThem?
Throughout elementary and middle school, I was involved with advocacy for youth with disabilities in my school. It was during that time that I became aware of the insufficient funding and limited access to STEAM education in under-resourced communities in Metro Detroit. So, my co-founders and I started UsForThem to provide fully free educational programs.
We started our first program at Wattles Elementary School in Troy, Michigan, which had to be virtual due to the COVID-19 pandemic.
In my role, I oversee the UsForThem website and focus on the EECS (electrical engineering and computer science) component. I collaborate with fellow team members to develop computer science lessons for the kids in a way that they can really understand what's typically a complex subject matter.
How many high school educators volunteer with UsForThem?
We have about 25 full-time volunteers. And then on top of that, we have around 50 freelance volunteers, who we train for specific programs. Together, they've instructed around 650 students so far in 20 schools.
What are some of your favorite UsForThem lessons?
My personal favorite is when we teach students how to make circular glider planes. It's just really fun for everyone. Another one we did was on structures. We taught them about the history of structures such as the pyramid and the engineering aspect of it. Then they built their own structures out of straws and other materials like pipe cleaners. We've also brought in people from other clubs at our school such as the Programming Club to talk to the kids about computer programming as simply as possible.
What has the students' and parents' feedback been?
The students have had a great time through all the programs. We're not really lecturing them. All our workshops and lessons are hands-on, like games and crafts, so they have a lot of fun with it.
The parents have told us that they love sending kids to types of programs like this and for free. They can see that their kids are learning a lot in the process, while also having fun and engaging with other kids. They're able to explore different career paths and explore their passions.
What's been the most rewarding part of your work?
The most rewarding part of our work would be just seeing the kids light up when they're making something new or sharing with their friends what they made.
What do you hope for the future of these students?
Whether or not they pursue a STEAM field, I hope that UsForThem instills a love of learning in them.
Why is it important for others to get involved in causes they care about?
Giving back to your community is mutually beneficial since you're not only helping the people in your area, but you're also engaging with them and you're gaining a new perspective on the issues that people face. Being able to make one person smile, have a good time or learn something new can really resonate with not only them, but yourself as well.
Do you want to make a difference in your community like Anish? Find local volunteer opportunities.
Share this post