Houston Native Fights for Education and Literacy in Her Hometown
Meet Daily Point of Light Award honoree Victoria Villarreal. Read her story and nominate an outstanding volunteer or family as a Daily Point of Light.
As a born-and-raised Houstonian, 33-year-old Victoria Villareal takes pride in her Texan roots. Her family has lived in the state for as long as it's been one. Much of that pride is directed toward her hometown and fuels her desire to make it a better place for everyone who calls it home.
During the week, Victoria works at a large corporate bank as a client-community relations consultant getting corporate dollars back out into the community by helping with charitable giving and corporate sponsorships, an aspect of her job that allows her to work with local sports teams and events like the rodeo. She also oversees volunteers representing the company off-site.
Her service work blends seamlessly between her personal and professional lives leaving many acquaintances with the impression that she works at the Barbara Bush Houston Literacy Foundation, the organization with which she has volunteered for 10 years spreading literacy. She also serves on the boards of and donates time to both Dress for Success, an organization that prepares women entering or reentering the workforce with things like professional clothing and resume assistance, and Nativity Academy, a small, under-resourced private school.
How did your parents shape your view of volunteering?
I'm the second of four kids. My parents always worked really hard, and they always showed up. Whether it was being on the board of the orchestra's parents' group or being room mom. They did a good job of demonstrating that importance to us. I knew that I needed to do my part.
My grandparents also took us to serve meals to people experiencing homelessness and to donate the toys that we no longer used. Those little acts really added up to who I am today. You don't realize that until you get older. I just feel called to create change in the world, and I've run with that.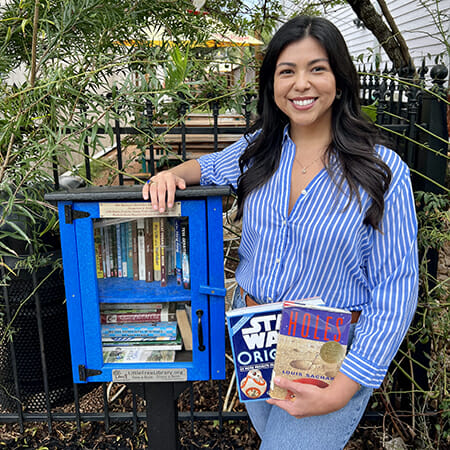 What inspires you to volunteer with these particular causes?
I started off as a volunteer for the Barbara Bush Houston Literacy Foundation's Young Professionals' Group (YPG) when it first started in 2014. Reading has always been important to me. Not everyone gets the opportunity to own books, and reading doesn't come easily to everyone. But it's a necessity.
From Kindergarten to third grade, you learn to read, and from third grade and beyond, you read to learn. If you don't have that skill, life is going to be harder. If you can help someone learn to read, you're changing the trajectory of their life. Living in Houston, one of the most beautifully diverse cities in our country, comes with the reality that not everyone has the same access to libraries and resources. To be able to bring those opportunities to the people who don't have them is special.
Through a previous employer, I created a soft skills program for high school students and was helping them get summer jobs and prepare for college. With that, you need proper suiting, and so I connected with Dress for Success. They help women even after they get the job, give them financial education and help them build out their career path. It all comes together with my early childhood and literacy focus. If you're improving the life of a mother, you're improving the life of a child. So, I got involved in their young professionals group called Women of Wardrobe.
Describe your volunteer roles.
I'm the Storybook Gala co-chair for the Literacy Foundation this year that's taking place November tenth. I'm planning and raising funds and awareness. This year's theme is "Around the World with Madeline". Each year, we pick a storybook and Madeline is my favorite children's book. Her tale is so interesting, because she's the smallest, but she's also the bravest and mightiest.
In my previous roles with the YPG, I served as communications chair, vice-chair, chair and service chair. I created partnerships with local organizations and schools to provide books to children, secured funds to renovate libraries and send covid relief funds to local early childhood centers, recruited and led hundreds of volunteers, and started the Barbara's Book Box program.
At Dress for Success, I've co-chaired their annual Spring Fling for Women of Wardrobe twice to raise money to continue programming and suiting women. I've helped women find careers. And now, I also serve on the board.
I started volunteering with Nativity Academy about six years ago. It's a small school in the neighborhood of Gulfton. My employer helped fund them when they first started, and I used to read to the students twice a month. Since then, I've coordinated health fairs, provided literacy resources and served on the board.
In 2021, I connected the Literacy Foundation with Nativity Academy, and we created a beautiful library by adding bookshelves, rugs, chairs, a cataloging system, new books, etc. They have a fantastic volunteer librarian who celebrates themes every month and makes sure they get the books any other school would get.
What's been the most rewarding part of your work?
Being able to help create change for parts of the city that maybe didn't realize that they were lacking resources, or didn't know how to get them, has been really rewarding. I just feel really lucky to be able to do that and to have built fantastic friendships along the way.
What have you learned through your experiences as a volunteer?
There's always more to do, but people are grateful for any amount of help you can give them. Whenever you're passionate about something and you share that with other people, it's contagious. Other people will want to help create change as well. That's what's so great about the Barbara Bush Literacy Foundation and our YPG. We've really been able to build a village of people who want to make our city a better place.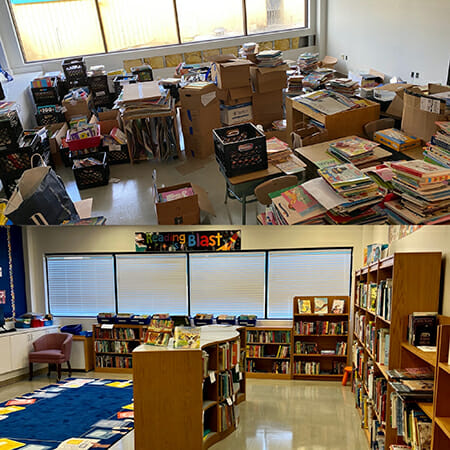 Tell us about future partnerships, programs or events that you are excited about.
The gala is the big one. It's number one on the mind, because there's a lot of time and planning going into that right now. The band and getting dolled up is fun, but it's what we're able to do after that that really motivates me. That's when the work really starts.
We've already made plans to build another library for a housing center. The YPG also funds a program called Camp Adventure, a yearly summer camp. And we'll continue to provide more literacy materials and resources for our early childhood partners and elementary schools.
Why is it important for others to get involved in causes they care about?
Find your calling, whether it's financial literacy or homelessness. We all have to help each other out. No matter what your socioeconomic status is, life is hard. But life is easier when you have a roof over your head, food in your stomach and a place to go to learn. If we're able to help contribute anything to those who don't get to take that for granted, we should.
What do you want people to learn from your story?
You, too, can create change. It can be as small as donating an afternoon to read to a child who doesn't get that one-on-one time with anybody. That child will remember that. Or you could send a word of encouragement or a thank you to someone that has made your day. We're all capable of doing our part. Find what calls to you.
Do you want to make a difference in your community like Victoria? Find local volunteer opportunities.
Share this post