Through Education and Beautification, One Woman's Love of Gardening Grows Across San Diego
Meet Daily Point of Light Award honoree Lynn Langley. Read her story, and nominate an outstanding volunteer or family as a Daily Point of Light.
Lynn Langley of San Diego grew up with a love of gardening, helping her mother take care of her roses. She's always had a green thumb, but in recent years has turned her passion for gardening into a meaningful contribution to her community through volunteering at Forever Balboa Park.
"I love helping take care of Balboa Park," Lynn shared. "It's one of my favorite places in the city. To see projects I'm involved with, enhancing the park for everyone who comes to see it and enjoy it just gives me so much pleasure. It's so neat!. We'll be sitting there working on something, and strangers will come up and thank us for keeping the park beautiful."
Lynn is a Forever Balboa Park trustee and also volunteers as a tree steward, tree planting team leader and garden steward. Lynn also volunteers with the Master Gardener Association of San Diego County.
"What's so cool about Master Gardeners is that we're tasked to produce science-based information to anyone in the county who has gardening questions," Lynn described. "We're under the auspices of the University of California Agricultural Extension, so we have all that science at our fingertips to share with people who call in and ask us questions. I'm very proud to be part of that organization as well – it's extremely selective. And we're celebrating our 40th anniversary this year."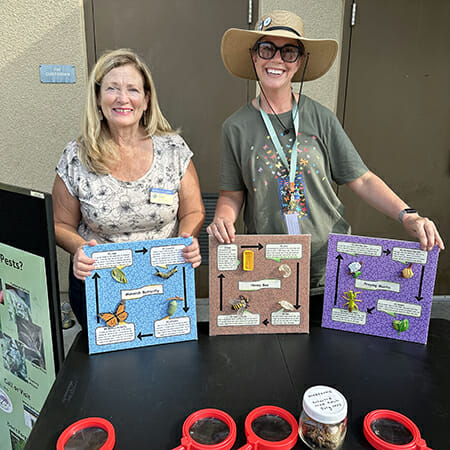 Lynn initially started with the San Diego Floral Association, where she served on the board. She was recommended by another board member to be a member of the Friends of Balboa Park, one of the organizations that formed Forever Balboa Park. Once she was recruited to that board, she got very involved with projects to enhance the park.
As a tree steward, Lynn monitors one of Balboa Park's largest tree zones monthly with her volunteer partner, Alex Corona. At tree planting events, Lynn leads groups of up to seven volunteers in how to properly plant a tree. Volunteers and staff are always eager to work with her and her golden retriever, Wyatt, who tags along to volunteer events. As a master gardener, Lynn also helps lead Forever Balboa Park's garden steward training.
"I look at what our volunteer program at Forever Balboa Park does," Lynn said. "They're going out there and making the gardens look gorgeous. Parks and Rec doesn't necessarily have the time or [people power], but with dedicated volunteers who come and spend three hours, the gardens look immaculate. A little bit of effort that you can give greatly contributes to others."
Through the Master Gardener Association of San Diego County, Lynn develops and visits school gardens. First, she works with teachers and parents to create these gardens on school campuses. Then, she visits the gardens to educate students, from elementary-aged children to middle schoolers to high schoolers, on the origins of produce and how to tend a garden. Lynn also helps teach the parents about gardening, and many of them go on to start gardens at home.
"There are kids who don't understand that a carrot comes out of the ground," Lynn shared. "Their little faces get so excited when they pull up a vegetable. They find out where their food comes from, and it's so much fun. They're willing to try things that they typically aren't, and parents are shocked. There's something about picking food off of a tree or out of the ground that makes them much more open to try new things."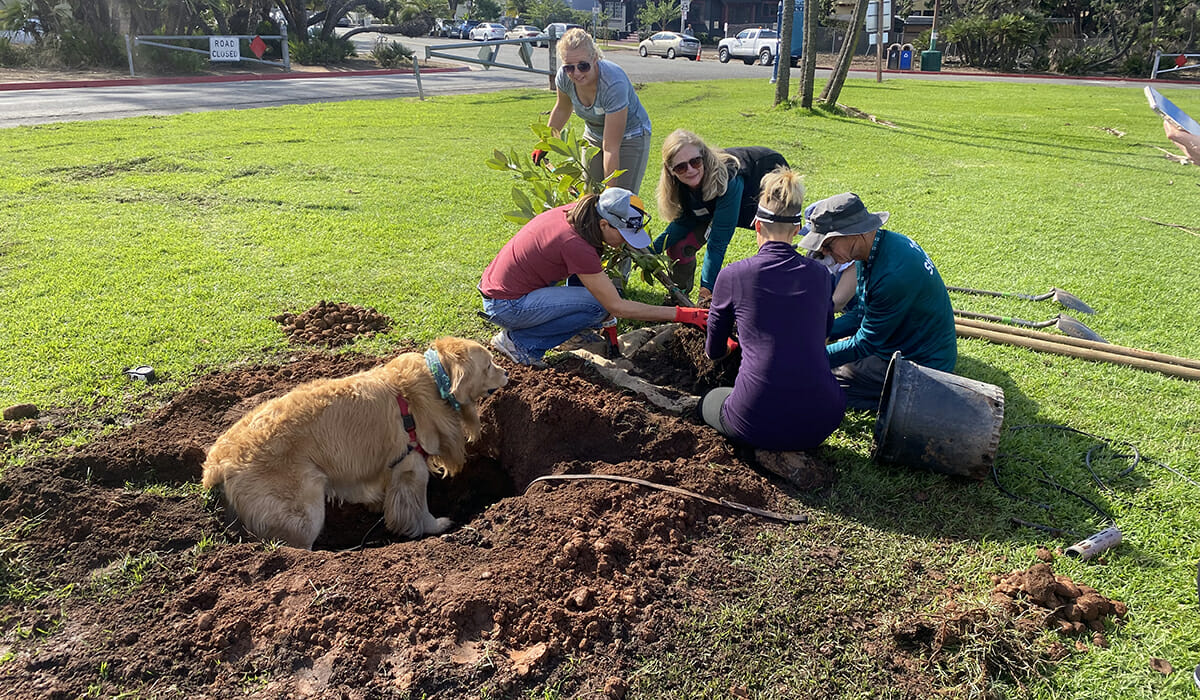 When asked what her favorite thing to garden is, Lynn shared, "It's a dangerous question to ask a master gardener. I'm always experimenting. We get together, exchange cuttings, try this and try that. I like growing food, but I really love beautiful flowers – they remind me of my mom. There's not any one type. It's better for pollinators and the ecosystem to have multiculture, rather than monoculture, which means you have a lot of different species to entice a lot of different wildlife to your garden."
Lynn believes that we all have a responsibility to reach out beyond ourselves.
"If everyone would pick up one piece of trash that wasn't theirs, we probably wouldn't have the trash problem we do. And nothing teaches better than doing, so I think volunteering our time is so important," she said. "We have a lot of resources if we combine them, and it makes a huge difference. Volunteering allows you to turn outward, and time is one of the most valuable things you can give, because it's finite."
Do you want to make a difference in your community like Lynn? Find local volunteer opportunities.
Share this post