Middle Schooler Focuses Efforts on Starting Battery Recycling Programs in His Community
Meet Daily Point of Light Award honoree Shyam. Read his story and nominate an outstanding volunteer or family as a Daily Point of Light.
12-year-old Shyam Suhas Kandala is fighting for the future of the planet, one battery at a time. This avid soccer and volleyball player is the Chair of the Sponsorships Team at Recycle My Battery, an organization that focuses solely on recycling the growing number of batteries we use each year. He delivers bins, coordinates drop offs, and spreads information throughout his community along with his board member duties.
In just the past three years, a time riddled with COVID concerns and isolation, Recycle My Battery has recycled over 200,000 batteries, educated over five million people, and placed more than 400 battery bins around the world. There are only 300 members, 60 of whom reside in Shyam's home state of New Jersey, but they've accomplished a significant feat amidst growing concern over the climate crisis.
What inspires you to volunteer? 
When I was younger, I would see trash everywhere. It wouldn't be in one particular place; it'd be in every single place I'd walk into. I would wonder why nobody was doing anything about it. As I got older, I found out about Recycle My Battery, so I joined and started volunteering.   
When the organization started, the founder focused on batteries, because he saw on the news that a battery had exploded. We all thought that was a horrible thing. Batteries can be very dangerous when not properly disposed of. We collect everything from iPhone batteries to computer batteries to the small button batteries. Our main goal is to make sure everybody knows that you can recycle them and that you should. 
Describe your volunteer role with Recycle My Battery.
I'm part of the sponsorship team. I take care of all the sponsors that are willing to partner with us. I also make sure that we have enough donations and money to get all of our supplies.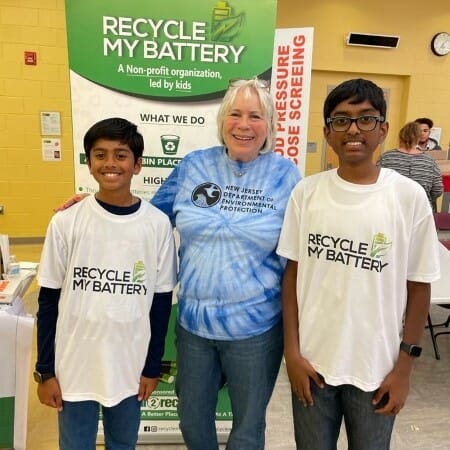 What are some things people might be surprised to learn about recycling batteries?
Normally, with recycling, you'd throw things into the recycling bin that are on the list next to it. But batteries normally don't appear on that list. They're considered not to be that important. Many websites say you can just throw them in the trash, but we never think of what happens in the long term. At some point those batteries are thrown into a landfill, and at the landfill, they have a very high chance of exploding or, over time, the acid inside could leak into the soil or into our water. And we drink water. 
What happens to the batteries that your team collects?
Recycle My Battery is partnered with a firm called Call2Recycle who supplies all of the recycling bins the student volunteers place in schools, libraries, and public places. They come with a return label for bins to be sent to Call2Recycle, who will collect the batteries, separate them, and send them to their recycling facilities in Canada and Mexico. 
What's been the most rewarding part of your work? 
Whenever I talk to someone and they say, "This is very good work you guys are doing." It makes me feel proud of myself and the whole team, because we're getting a lot of those compliments. And we're working towards saving Mother Earth. 
What have you learned through your experiences as a volunteer? 
Normally, I would feel shy about talking to someone about anything, especially talking to somebody I've never met before. My public speaking skills have gotten better through talking to others. I've also learned that you shouldn't work towards something in return for anything. Sometimes, you should work  just to help someone. 
Are there any future partnerships, programs, or events that you are excited about?
We had a huge fundraising event a few days ago. A few other members and I went to Florida to talk to people about our organization. We were able to get a bunch of donations, because everybody was so proud of us. We talked to both the public and businesses, but we targeted mostly businesses so that they could spread awareness to others. Many of them already know about us.  
Do you have any advice for people who want to be more sustainable?
Don't think about anything other than what you're doing in the moment. You should focus on the work at hand, and then think of other things to do. I know many people get distracted or overwhelmed. 
What do you see for the future of this organization?
I see a big future ahead. I hope that we can expand throughout the world. Right now, we have chapters in Switzerland and India. Otherwise, it's just the US. I hope we can get more members involved.  
Is there anything you want people to learn from your story?
It doesn't have to be batteries. It can be anything. Mother Earth is our home, and if we continue to pollute or litter or harm it, it's going to affect us negatively, and that's not good for anyone. The main point of all this is to make Mother Earth the best it can be. 
Do you want to make a difference in your community like Shyam? Find local volunteer opportunities. 
Share this post