Nursing Student and Veteran Honors Fellow Servicemembers by Sharing Their Stories
Meet Daily Point of Light Award honoree Mark Skibicki. Read his story and nominate an outstanding volunteer or family as a Daily Point of Light.
Nursing requires empathy, patience and care, and there is no doubt that Mark Skibicki, 30, will be an excellent nurse. As a former medic in the US Navy, he served as a hospital corpsman for the First Battalion Sixth Marines and at the SEAL teams and a clinic in North Carolina. He also worked as a tactical combat casualty care instructor at the Naval Medical Center in Portsmouth. Upon finishing eight years of service, he has moved back to his hometown in South Carolina to earn his nursing degree. 
These days, Mark divides his time between being a full-time student and volunteering with Providence Care and Veterans' Last Patrol, befriending veterans in long-term or hospice care, honoring their stories and thanking them for their service with a ceremony attended by friends and family. His presence, compassion and support remind veterans they are appreciated and will never be forgotten. 
What inspires you to volunteer?
It was the right thing to do. I feel like my generation, the younger cast getting out of the military, can lose sight of what it's worth. I believe what's important is our history. The older gentlemen and ladies who have served, say in WWII and Vietnam, need to be recognized. Sometimes they get forgotten. It's only appropriate that they're remembered accordingly. The older generations do a very good job of that, but I really have yet to see anyone my age step up.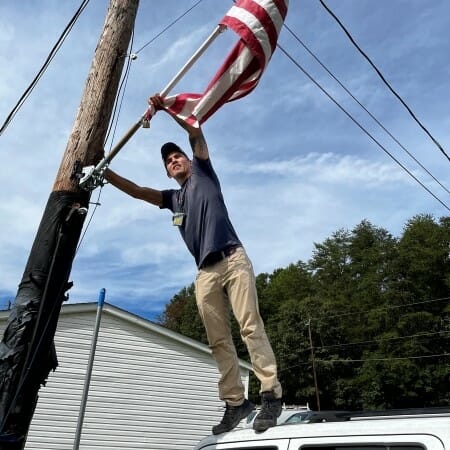 Describe your work with
Veterans' Last Patrol
.
Initially, I decided to check them out, because I heard they did ceremonies, and I attended some of them. They head to an honoree's house and everything is set. They fall in and give their spiel, and they acknowledge the honoree's history and service. Later, I started receiving opportunities to see veterans who are sometimes in hospice care, long term care or home care. I get the opportunity to get to know them. 
I do my best to build a rapport before I start getting into the nitty gritty of their military history. Then, with their consent, I give it to Veterans' Last Patrol. Veterans' Last Patrol then starts doing the work to set up a ceremony. A month or so later, the ceremony will be held at the honoree's house or place of care.  
I'm pretty much at the whim of Veterans' Last Patrol. They sometimes hit me up and say, "Hey, are you free?" They give me a name and address, and we set up a time frame to visit. I've never turned one down, even though I'm in school. I take time off to go and visit them.  
The organization used to send civilians to get information from them, and sometimes they failed. They wouldn't understand, or in some cases, veterans didn't want to open up to civilians. But bringing in a person who has somewhat of an understanding of their service can help. We'll never fully understand what a WWII or Vietnam vet went through, no matter who you are. They've been through hell. 
Do you have any stories in particular that you found really affected you or made you see things differently?
One man started telling me about his time in Vietnam. He was a Green Beret veteran. Someone else had gone in before me and couldn't get any information from him. So I went, and he completely opened up to me. I just remember him crying, because I was bringing back some memories for him. It may have been good or bad, but I was able to acquire what happened to use in the ceremony.  
He lost some friends in the Tet Offensive in Vietnam. It really reminded me why I signed up for this. He could open up and his story could be heard, and he could be recognized. 
Why do you think it's important for others to get involved?  
A lot of veterans and military members want to serve, and their service doesn't need to stop when they leave the military. I view the military as a public service. You should embody public servitude. The moment you set foot outside of the military, you're supposed to be a direct representation of what you expect Americans to do. This is why I believe we're supposed to remember our history. History is bound to repeat itself, but we're also supposed to honor it.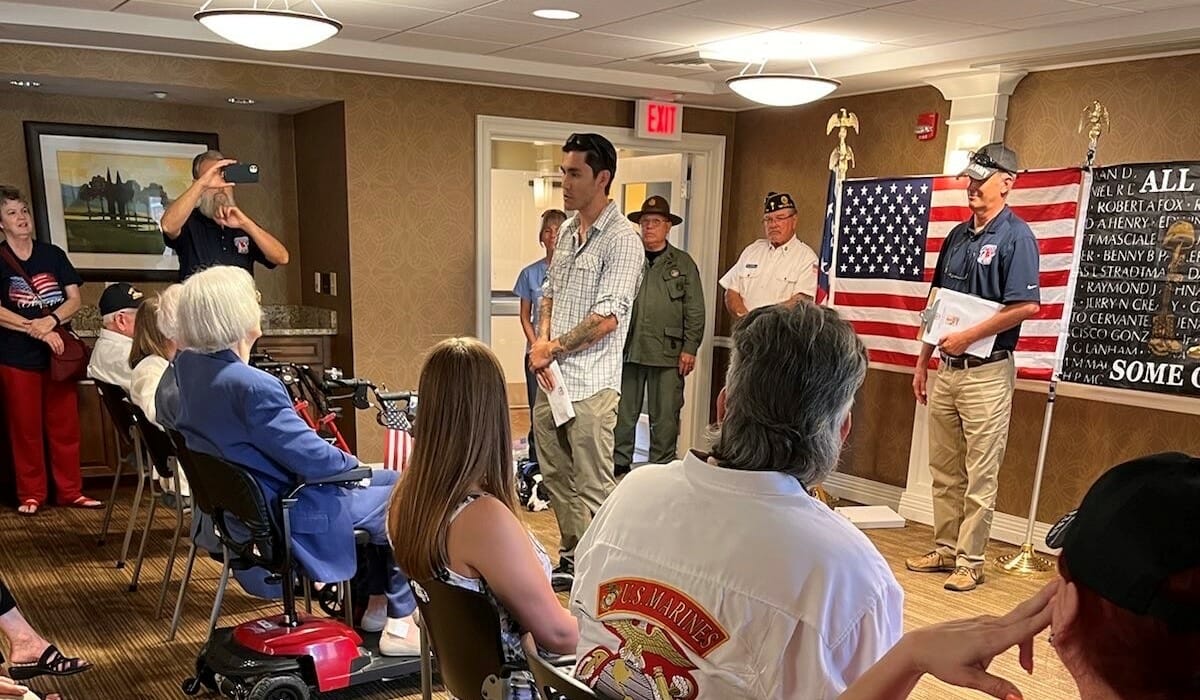 What do you want people to learn from your story?
A lot of people, especially younger people, look at these older individuals and view them as sick or crazy. PTSD is a silent killer. Give them a shot. You have no idea what they've been through. And I feel like the media and movies have really played us out to be lunatics. A lot of us do feel that. That's one thing I want people to acknowledge. 
Is there anything that your average person can do to support veterans? 
This is for that vet who has his flag outside his door that no one ever talks about, the one who looks a little grumpy when he sits outside on his porch. Visit him. Say hi. Bring him a beer.  
Do you want to make a difference in your community like Mark? Find local volunteer opportunities. 
Share this post