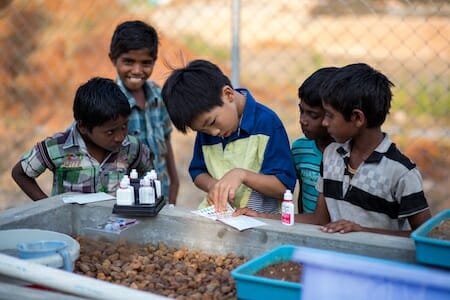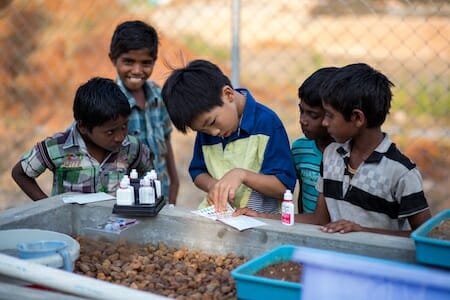 Miles Lin, center, tests the water in an aquaponic food production system he helped bring to India to feed children in an orphanage there. (Photo by Cory Hill)
When Miles Lin was 3, all he could think about was fish – how much he enjoyed eating them and how he loved going fishing with his grandfather.
"He kind of has an encyclopedic brain when it comes to fish," says Miles' mom, Sophia Lin. "Other kids read novels and he reads things like the 'Glossary of Fish in North America.'"
His parents taught him that when you discover your passion, you shouldn't keep it to yourself; you should share it with the world. With help from his parents and grandfather, at 9 years old, Miles decided to use his passion for all things fish to help change the world.
It started with a dinner conversation one night when Miles' mother told him not to throw away table scraps.
"I wanted to learn how to prevent that," says Miles. "I saw on the Internet how we could help world hunger by using fish, and aquaponics came up."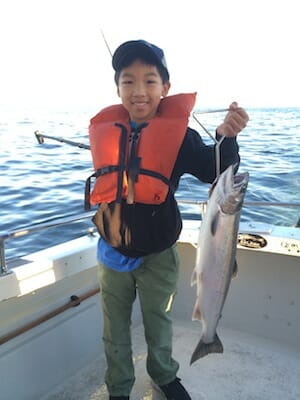 Miles Lin (Photo by Cory Hill)
Aquaponic food production combines raising fish with growing plants in water. The fish and plants rely on each other to thrive – the fish waste fertilizes the plants, which in turn provide oxygen for the fish. Aquaponics systems take up little space but yield big results.
Soon after that discovery, the enthusiastic and entrepreneurial 10-year-old founded I Dream of Fish, a nonprofit that works to address the lack of sufficient, nutritious food among marginalized populations through aquaponics.
In Tenali, a city in Andhra Pradesh, India, the organization helps feed 350 children who live in an orphanage. There they grow peppers, eggplant and curry leaves. Miles visited the project last year and says his favorite part was meeting the children.
I Dream of Fish is working on another project in Uganda and plans to establish projects in Haiti and Compton, California.
"Aquaponics really inspires me," Miles says. "I can see who benefits from it and how it makes their lives better."
Want to serve your community during National Volunteer Week and beyond? Find volunteer opportunities in your area at AllforGood.org.
Share this post