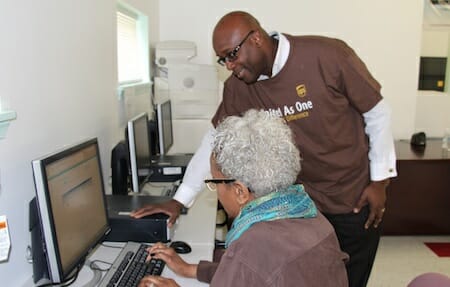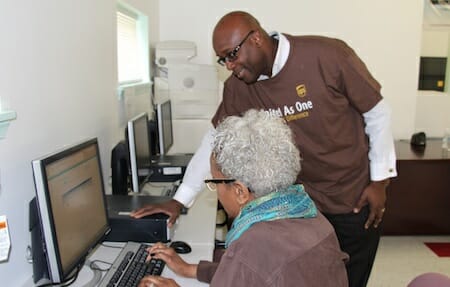 Tony Heath, standing, volunteers at the Better Living Center in Chester, Pennsylvania, which offers free Internet access to the community.
Tony Heath grew up watching his parents serve their community. It was a way of life. His mother involved the family in volunteer work through their church, and his father tried to help people in need whenever he could.
"They were poor," Heath said, "but they still helped others."
Volunteering became a way of life for him, too. He helped found the Better Living Center in Chester, a struggling city in Pennsylvania. The center – which assists low-income residents – provides food in an area with no grocery stores, helps with job searches, provides clothing, offers health education and screenings, and strives to provide individual solutions to individual challenges.
"If you come in and need help, we'll find help," Heath said.
The longtime volunteer and UPS employee is also actively involved with a similar program through the Chosen 300 Ministries in Philadelphia, which runs a soup kitchen and helps homeless people search for jobs.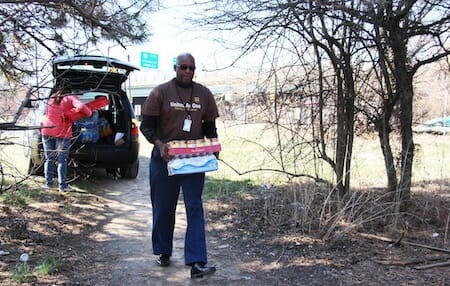 Tony Heath brings food to people in need.
He's also provided meals and propane and arranged for other basic comforts to homeless people living in a tent city in Camden, N.J.
As his parents did with him, Heath has involved his children with his volunteer work. His youngest daughter, at 13, particularly enjoys working in the soup kitchen and talking with the people there
"She's been volunteering a good portion of her life," Heath said. It is a routine his two adult children would recognize. "They all know; they all get it. It's about respecting people that are struggling."
Heath is working on another plan now, an expansion of work to help youth through the Better Living Center in Chester. The center's goal is to fill the role that a YMCA would have in another community, giving youth a place where they can study and congregate safely.
"Giving back becomes contagious after your first experience," said Heath. "When you give from your heart, the experience will always nudge you to give."
Want to serve your community during National Volunteer Week and beyond? Find volunteer opportunities in your area at AllforGood.org.
Share this post