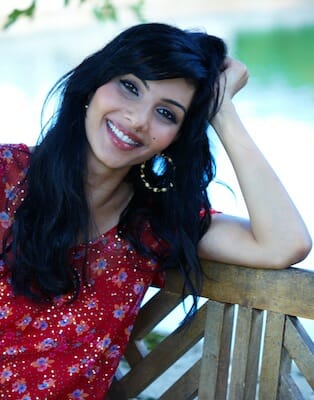 Somy Ali
At 5 years old in her native Pakistan, Somy Ali was sexually abused by a domestic worker. Growing up, she witnessed severe domestic violence in her household. She speaks candidly about those traumatic experiences, in the hopes that others will speak out, too, unashamed.
"If you experience really bad things, there is a way out of it," says Ali.
As an adult, Ali enjoyed a successful 10-year acting career in the Indian cinema. She moved to the U.S., settling in South Florida, and in 2006 founded No More Tears. The nonprofit, run entirely by volunteers, provides individualized assistance in South Florida to women – often immigrants – who are victims of domestic violence, and their children.
Ali says victims of abuse frequently face tremendous challenges, especially if they are not U.S. citizens, in leaving their abusers.
"Many of them feel captive because they know nothing about the U.S. and cannot speak English," says Ali. "Because they feel helpless, it's a situation similar to human trafficking."
To meet the needs of South Florida's thriving immigrant population, No More Tears offers abused women free access to immigration lawyers, rent assistance, transportation, driving instruction, child care and medical help.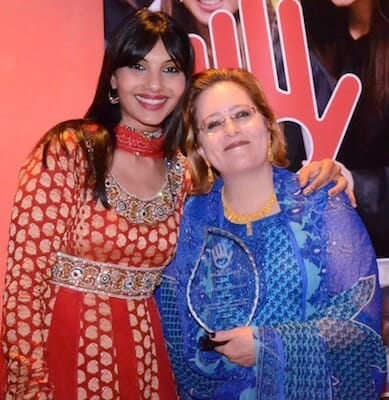 Somy Ali, left, celebrates No More Tears volunteer dentist Katherine Ferguson with an award.
No More Tears also partners with organizations and private providers to offer free pediatric, dental and vision care to victims of abuse. The group regularly gives presentations at area universities and to high school classes and groups in local schools.
Ali says No More Tears has rescued 392 adults and 815 children from abusers in South Florida. Of that number, only two people, or less than 1 percent, have returned to their abusers.
Ali, who draws no salary from the nonprofit, wears every hat in the organization, from founder to fundraiser, from marketer to front-line responder when the police call for a domestic violence intervention.
She credits her volunteers and an active board for making No More Tears' work possible. (Board Chair Dr. Laura Finley, for example, has given more than $100,000 to the nonprofit and donated her car to a rape victim.)
"I haven't done it all by myself," says Ali. "I've been fortunate to have more than 150 volunteers, particularly psychology majors from local universities. I lead every volunteer through an extensive orientation that begins with protecting themselves from suspected abusers. This is a very dangerous business. My car tires were slashed … and my cement mailbox was smashed to pieces after I testified for a child that was sexually abused by her own father."
In recent years, No More Tears has expanded to offer new services, reaching out to the lesbian, gay bisexual and transgender community; helping children with cataracts in Pakistan receive eye surgery; offering college scholarships; and serving immigrants with severe disabilities.
"The inspiration for the disability program started when I met a couple from Pakistan who had a 5-year-old with cerebral palsy," says Ali. "In their home village, the woman was deemed 'demonic' for having a disabled child." No More Tears has been providing support for the child and developing broader outreach to immigrants with disabilities.
Ali says it takes courage to move past domestic and sexual abuse, but it's possible. She is grateful to be able to help: "I'm very happy to know that most days I get out of bed and do something substantial and go to bed knowing that I have helped to save a life."
Want to serve your community during National Volunteer Week and beyond? Find volunteer opportunities in your area at AllforGood.org.
Share this post