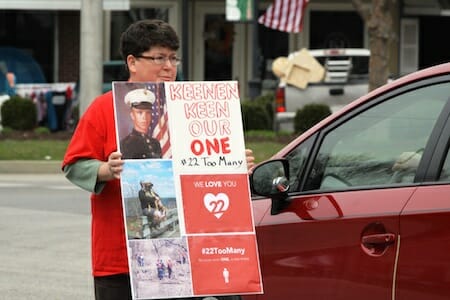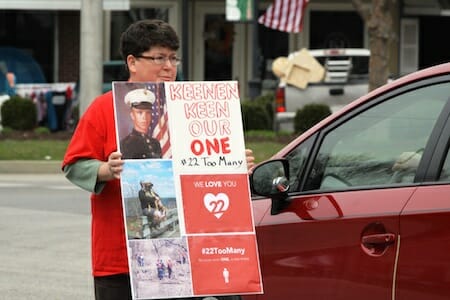 Krystol Stinson gets motorists' attention in Bowling Green, Kentucky, during a vigil honoring veterans who committed suicide.
Transitioning from the battlefields back to civilian life is perhaps one of the toughest parts of the job for many of our service men and women.
"One of the hardest things a vet faces when they come home is the stigma of hero," says veteran Krystol Stinson. "A guy who went to combat and saw two of his buddies blown up and he comes back whole – he doesn't think he's a hero. And a lot of times he doesn't think he's the lucky one. He may be the one who remained alive but to him, he's not a hero."
Those feelings are alienating, and – for the vets dealing with post-traumatic stress disorder, or PTSD – they can be terrifying. "For the individuals that come home, it's hard for them to understand the public's culture of hero, and that title starts getting applied to them everywhere they go," Stinson says.
She knows what she's talking about. During her 20 years with the U.S. Navy, she completed two tours of duty in Iraq in 1993 and 2002. Now retired from the Navy, she works with returning veterans who struggle with mental health and finding employment.
She serves as a Veteran Leader Corps member with Western Kentucky University's Veterans Upward Bound, a federal program that helps U.S. military veterans enter into and succeed in college. (Her service is sponsored by the Military Officers Association of America Cumberland Trace Chapter.) She also volunteers with 22 Too Many, a nonprofit that raises awareness about suicide among veterans – 22 a day, according to a Department of Veterans Affairs report.
"As a veteran myself, I have seen firsthand how PTSD and mental health struggles can affect a veteran's life," Stinson says. "My close friend committed suicide, and it is important that veterans struggling with these problems know that there is hope and many support services available."
On January 22, Western Kentucky University's veteran leaders, including Stinson, hosted a vigil at Fountain Square in downtown Bowling Green, Kentucky, to recognize veterans who ended their lives. (The group hopes to organize a vigil the 22nd of every month in support of 22 Too Many.)
The vigil prompted questions from passersby. "We told them we were holding a vigil to help the public become aware that 22 vets a day commit suicide," Stinson said. "That's a terrible thing for a veteran to be facing when they come home. It's that decision."
Stinson and her fellow 22 Too Many volunteers seek to help veterans in crisis by offering support through a veterans suicide hotline and through a number of other programs that help connect veterans to other veterans and to job opportunities.
Through both 22 Too Many and her work as a Veteran Leader Corps member, Stinson strives to alter public perception.
"One of the things we try to change is that not every vet coming home has PTSD and is going to create havoc in the workplace," Stinson says. "There are so many chances for us to educate."
Want to serve your community during National Volunteer Week and beyond? Find volunteer opportunities in your area at AllforGood.org.
Share this post