Military Spouse Commits to Service Helping New Military Families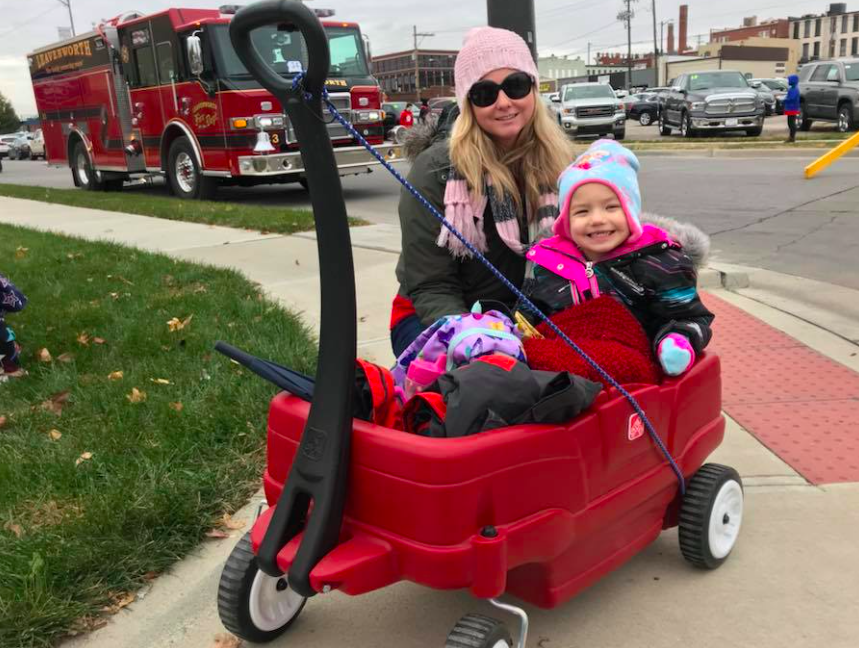 Growing up in a military family 33-year-old Jessica Richardson understands all too well the struggles Military Families face when relocating. For the past 2 years, Jessica has volunteered at the Fort Leavenworth Army Community Services Program (ACS). At ACS Jessica, helps provide information, referrals and follow-up services on available resources at Fort Leavenworth to active and retired soldiers and their families. Jessica has also volunteered for special events such as the Christmas party for Exceptional Family members, the Run for the Fallen, the annual volunteer recognition ceremony, and more.
Jessica also served as the Village Mayor on Fort Leavenworth, serving as a liaison between the families that live in her neighborhood and the community leaders. This role ensures community members needs and concerns are resolved and ensures a higher quality of life for them.
Although Jessica and her family received orders to relocate to Germany this past July, she continues to assist ACS. Jessica helps share events and information to those families that will soon be making the move to Germany. Jessica is making a difference in her community and today's Daily Point of Light award honoree. Points of Light Spoke with Jessica about her commitment to service.
What inspires you to volunteer?
I grew as a Navy Brat. My dad retired at 20 years (Navy). I remember not having much, and honestly, I didn't know about all the programs that the Military offered to families until I was married to an Army Soldier. I am and have always been inspired by the dedication and love of Military members and their families. I have gained experience with being both a "Navy Brat" and "Army Spouse". If I can help another family, I am beyond happy! Sharing information that Army Community Services is absolutely wonderful! They offer lots of classes such as resume building, financial readiness classes, infant massage, relocation and more. These programs are created to help the families, and I love helping the families. With PCS (Permanent Chance of Station) season, a lot of Soldiers come in for relocation. Many of them have kids, and Fort Leavenworth ACS' relocation department has many resources for kids. The relocation department has books and coloring books for kids moving conus (continental U.S.) and oconus (outside continental U.S.).
Secondly, my family inspires me to give of my time! My husband Adam ,my 5-year-old daughter Chloe, my parents, and in-laws have always supported and inspired me to do more for my community. Chloe will even attend events with me, and she loves it. I hope I can inspire her to volunteer and give back to the Military Community.
Describe your volunteer role with Fort Leavenworth Army Community Service Programs (ACS).
Currently, I assist Fort Leavenworth ACS with information regarding oconus moves by emailing Employment and Relocation Readiness. Oconus means oversea moves, and this includes Europe, Asia or any other corner of the globe. I email information regarding moves to Germany. For example, Military members, their families, and civilians on post need an usareur driving license. This can be taken online, and it is good for 60 days. A lot of people coming over are new and they don't know information like this! When I found out this information, I emailed the link and information regarding the license to Relocation Readiness.
One of my favorite things to do is volunteer with Fort Leavenworth Army Community Services programs! It is never boring, because I've been able to work with many wonderful people and different programs. Some of the roles I have been a part of are EFMP (Exceptional Family Member Program) Parties: Set up, decorating, refilling trays, helping families, taking pictures, and more. I have also helped with bowling events, setting up, break down, decorating for tea parties, taking photos at events. Front Desk: Filing, answering phones, fixing up the phone book (updating numbers), helping with numbers at the end of the month, placing welcome packets together. S.O.S.: Placing folders together, helping with their yearly run/walk, cutting fruit for the run, handing out t-shirts, and more!
No job is ever too small. I have enjoyed every minute, no matter the project, because everything I do helps the Military members and their families.
What has been the most rewarding part of your work?
The most rewarding part of my work are the smiles! I love giving back to the deserving Military members and their families. I grew up as a "Navy Brat"; my parents did not have a lot of money, and we were living paycheck to paycheck. Working with Fort Leavenworth's ACS, I had the chance to work for the community. By setting up, cutting fruit, placing folders together, and more, all this adds to a Military member and their family. These families did not have to worry about bills or paying the bill for their family to go bowling for example.
A Military member has to always focus on the mission, so for me, I focus on these deserving families. At the end of the day, these families are smiling and did not have to worry about anything, but enjoying each other.
What have you learned through your experiences as a volunteer?
I have learned a good bit from volunteering throughout the years. Number one, a project is never too small. Everything I have done helps the next member on the team! Number two, I have learned that I can always learn more! I may know a few things about the Military, but the Military is always changing. I am always open to learning and applying myself to be a better person for my community.
Why do you think it's important for others to give back?
A lot of new families and even seasoned families in the Military Community don't know about ACS and their wonderful programs. By giving my time, one family knows about Relocation, EFMP, and FAP (Family Advocacy Program) to a name a few. This family will in turn share the information with their neighbors and Family Readiness Groups.
What do you want people to learn from your story?
I would love for people to learn from me that it doesn't matter how small or big the project is! By placing folders together, answering phones, or breaking down a set up, I am making a difference in someone's life, and you can too! If a person can give their time, you won't regret it at all.
Do you want to make a difference in your community like Jessica Richarson? Visit All for Good for local volunteer opportunities.
Share this post