Military Wife Joins AmeriCorps to Help Battle Opioid Epidemic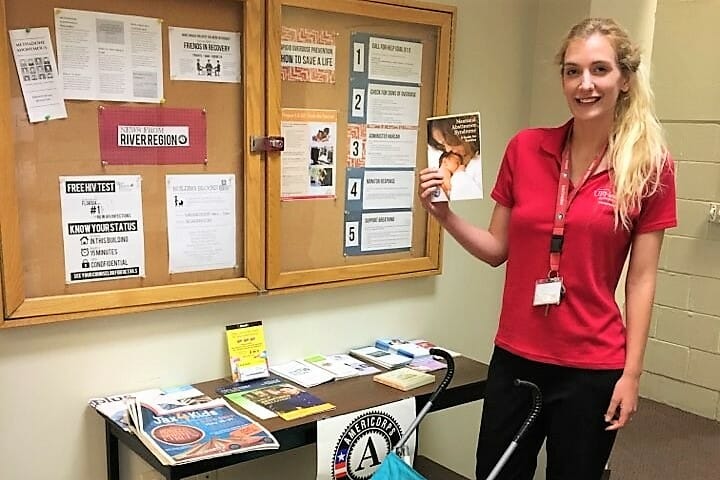 When Alicia Nelson relocated to Naval Submarine Base Kings Bay with her husband, she discovered the Jacksonville, Florida, job market wasn't an ideal place to continue her career in international policy and health. Rather than admitting defeat with this setback, Alicia moved forward, determined to use her skills for good in her new community, and committed to a year of service with National Health Corps Florida, an AmeriCorps program which fosters healthy communities by focusing on improving health education and access to benefits and services. Dedicating her time to a local substance abuse clinic, primarily working on maternal health, Alicia is battling the opioid epidemic the U.S. is currently facing by offering resources to those in the throes of addiction. Through her commitment, Alicia has become a compassionate health leader and recently celebrated 1500 hours of volunteer service.
How are you helping women who have families and are dealing with addiction?
I designed curriculum for weekly health education classes at a local substance abuse clinic called "Building Blocks", and taught these classes over 26 weeks. The classes teach moms battling with addiction coping and recovery skills. I also volunteer as an Infant Cuddler at a local hospital where many of my clients deliver.
How did you decide to commit to this year of service?
I'd previously worked abroad in South Korea, and I was very interested in international policy and health, then, when my husband got orders to Jacksonville, I decided I really wanted to work and do something that was actually related to improving American lives. My family has always been committed to service, growing up my dad was really involved in the Hunger Task Force in Milwaukee. My husband is in the Navy and it was just a natural step for me to get involved in service too.
The country is facing an opioid crisis. Do communities need more help from volunteers like you?
They definitely do. Opioids are not just affecting individuals, they're affecting families. So, if someone is struggling with addiction, it's probably a mother, or a teacher, or an employee, and the health burden that this is putting on our communities is just so massive, and it's really getting bigger. People feel like they can't volunteer because they don't have direct experience themselves with addiction, but you don't need any experience with addiction, you just need compassion and the ability to volunteer.
You've been called an inspiration. What does that mean to you?
I feel like I was just given this opportunity and I did it. It means a lot that people think that, but I would really want them to look at some of my clients, who have taken my Building Blocks class, because they're much more of an inspiration. They really manage to get past all this stigma and judgment from society and they've managed to deliver healthy children and they're committed to raising them in a healthy way. And I think that's so awesome, because addiction is such a challenge.
Why is it so important to give back to the community?
I wrote in applying to AmeriCorps about Sargent Shriver, known for his leadership of public service and social programs, who said "Of all our ideals none surpasses the importance of service" and I believe in that. Out of all of the qualities that a human being can have, if they are committed to serving others, I think that stands above the rest.
In 5 words or less, explain what volunteering means to you.
Serving my country.
How would you encourage others to give back in their own communities?
It's important to really get in at the local level and have people recognize what their individual power is. It can mean a lot more than sending money to a national organization. If somebody sees a need in their community, they don't need to be affiliated or they don't need the support of an organization or a bunch of other people who are volunteering, they can really step up on their own and contribute as an individual.
What's the one thing you want people to know about your volunteerism?
I want other military spouses and other Americans who are moving around a lot to know there are volunteering options available. A lot of times we can't find good jobs, or stay with the same childcare provider, and everything is changing. But you need to take a sense volunteerism wherever you go because there are opportunities in every community, and you don't have to explain why you've moved around, or why your resume is so spotty. They're welcoming and they need your help. Specifically to what I've been involved with, opioids are everywhere. It's not just Florida.
Do you want to make a difference in your community like Alicia? Visit All For Good to find local volunteer opportunities.
Share this post