Sociology Professor Helps Students Bridge the Generation Gap With Service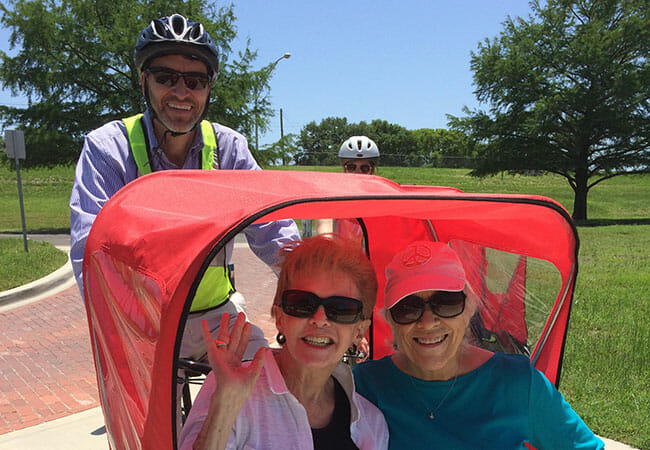 Finding a common thread between generations can sometimes be difficult these days. So, when one of Dr. Keith Whitworth's students brought Cycling Without Age to his attention, he immediately jumped at the opportunity to bring the program to Texas Christian University.
With roots in Copenhagen, Denmark, Cycling Without Age got its start in 2012 when co-founder Ole Kassow identified a need in his community. Riding his bike past a nursing home every day, Ole always saw the same elderly man sitting outside. Because biking is an important part of Danish culture, Ole wanted to give the man the opportunity to share the experience with him; so he rented a rickshaw and took him for a ride. What started as one ride eventually turned into an international program, which has now been adopted in 34 countries.
A sociology professor at TCU in Fort Worth, Texas, Dr. Whitworth is an avid cyclist and holds a master's degree in gerontology. A program that combines cycling and working with the elderly seemed like the perfect match for him. He also saw the program as an opportunity for his students to get involved in the community and engaged in service.
adoption of Cycling Without Age at TCU was the first in Texas. For the past three semesters, Dr. Whitworth's program has been incorporated in two of his classes: Introduction to Sociology, and Sustainability and Social Justice. Students visit the Trinity Terrace retirement community each week to meet with the seniors they'll be partnering with, and they take turns piloting the rickshaws and riding with the seniors.
"I see the students and how engaged they are, and how giving they are with the residents, and that brings a lot of fulfillment and joy," said Dr. Whitworth, noting that the students thoroughly enjoy the experience and get a lot out of the program as well.
For Dr. Whitworth, one of the biggest benefits of volunteering with the elderly is helping them feel they are still valuable to society. "[I love] seeing the residents light up and glow while they're having a conversation with the students, because I think what that says to the residents is 'I'm valued. Someone values my conversation and likes spending time with me,'" he said.
Cycling Without Age has also offered some lessons in sociology. "We have these labels of the elderly — they're senile, they're not as sharp as they once were, they're outdated, they don't have anything to offer someone who's 20 years old — but the students see that these are just stereotypes," said Dr. Whitworth. "As a sociology student, we look at how we label individuals in society, we look at stereotypes and biases, so [the program] reinforces what they're learning."
When it comes to volunteering, Dr. Whitworth believes that once you find an opportunity that aligns with your interests, the benefits will be endless. "I would encourage students to volunteer because you will find that you will receive more than you can possibly give," he said. "You may not see that initially, but if you're in the right situation and the right placement that matches your skillset, abilities, and constitution, you will be giving a lot but you will end up gaining a lot more than you'd ever give, without even trying."
Find opportunities to get involved in your community at www.allforgood.org.
Share this post