Military Wife Starts Nonprofit to Provide Service Animals to Veterans and Special Needs Children
Meet Daily Point of Light Award honoree Britnee Kinard. Read her story and nominate an outstanding volunteer or family as a Daily Point of Light.
Britnee Kinard operates on a phrase from one of her son's cartoons — "see a need, fill a need." That mentality has led the wife and mom of two to positively impact her community wherever she saw fit, helping military veterans, special needs children and teachers, essential workers and restaurants struggling due to COVID-19, and many more.
After dealing with the challenges that came with obtaining and paying for a service dog for her husband, who is a catastrophically-injured Purple Heart veteran, Britnee started the SD Gunner Fund. The nonprofit, named after her husband's service dog Gunner, provides the financial means for obtaining and maintaining service animals for veterans and first responders. After her oldest son was diagnosed with autism, she expanded the nonprofit to provide service animals for special needs children and therapy animals for pediatric facilities as well. So far, the organization has provided 65 dogs to not only people in Britnee's greater Savannah, Ga. area, but also to those in need across the country, from Vermont to California. SD Gunner Fund also provides education grants for teachers of special needs classrooms, pays for their field trips, and pays the past-due therapy bills at pediatric clinics before Christmas.
Britnee's volunteerism doesn't stop there. She is a lifetime member of the Ladies Auxiliary Military Order of the Purple Heart and Ladies Auxiliary Veterans of Foreign Wars. She serves as the local chapter leader for Hearts of Valor, an organization underneath Operation Homefront, where she mentors local caregivers of catastrophically-injured veterans. In light of the COVID-19 epidemic, she started Operation Restaurants and Responders, which purchases meals from struggling restaurants and sends them to essential workers. She is also in the process of starting an additional nonprofit, a Georgia chapter of SCUBAnaughts International, in order to teach local kids marine biology and how to protect the ecosystem through scuba diving.
Describe what SD Gunner Fund is and your role with it.
The SD Gunner Fund is an organization that was originally started to provide the financial means for obtaining and maintaining service animals for veterans, first responders and what we call exceptional children, which is special needs kids. We have now morphed into so much more than that. We do service dogs. We also train and provide therapy animals for facilities, many of which are pediatric facilities. We also provide education grants for teachers of special needs classrooms, where we provide them with any and all items they may need for the school year that's not covered by the school or maybe a little bit out of their budget. We also pay for field trips for special needs classrooms. A lot of people don't realize that within the state of Georgia, especially where we live, a lot of money raised by the PTO and other programs does not directly benefit the special needs program. We provide funds for those children to be able to take field trips because unlike our regular-setting classrooms, where field trips are really kind of educational and geared around fun or fall- or spring-themed, a lot of these field trips are used to teach these children their ADL's [activities of daily living] — how to hand cash to a cashier, how to go to the movies and order popcorn and sit quietly, or a lot of skills that we often take for granted and don't realize they need help assisting in. Also, in December, we partner with several pediatric therapy clinics here in the local area. We go in, usually about two to three weeks prior to Christmas, and we pay off all their past-due therapy bills so that parents don't have to worry about covering a bill, and they can spend that money on getting Christmas presents for their children.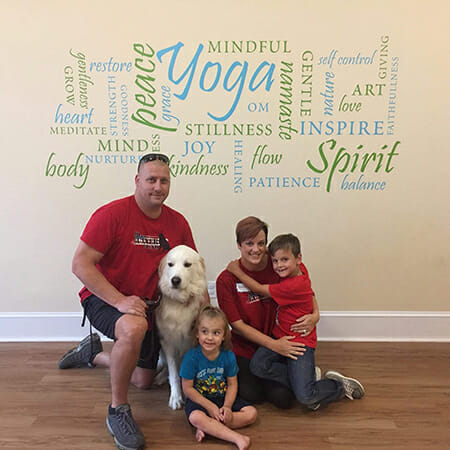 Why did you want to start this organization?
In 2012, the Department of Veterans Affairs told me that my husband, who is considered a catastrophically-injured Purple Heart veteran, needed a service dog. So me being the go-getter that I was, I went out and got a service dog. I came back with the bill to the Department of Veterans Affairs, and they were like, "Oh yeah, we told you you needed one, but we're not going to pay for it." And I was like, "Hmm, yeah, that doesn't really work for me." It took about 18 months of me challenging the Department of Veterans Affairs, and we actually won. Gunner, who the organization is named after, is my husband's service animal, and is actually the first approved mobility-service animal in the southeast coastal region by the Department of Veterans Affairs. But during that time, we had a friend who had a service animal and the service animal was, for lack of better terms, repossessed by the veterinarian because the veteran could not afford the treatment for the animal. Because the vet would not turn the dog loose, the veteran actually committed suicide two weeks later. We decided at that point in time, with as much trouble we had had with the Department of Veterans Affairs in covering our service animal, as well as seeing what our friend went through before he took his life, we decided that we wanted to form something that would assist people with obtaining and maintaining service animals.
How did the organization evolve to also help children with special needs?
After my husband got his service animal and we started SE Gunner Fund, by the time I got all my stuff from the IRS in, it was probably June of 2013 or '14. Not long after that, our oldest son was diagnosed with autism and we began that whole realm of figuring out just exactly how much insurance does not cover. We're military, so that usually means TRICARE, our insurance supplier, is usually one of the better insurances in comparison. They cover a lot more than other insurances. We got to talking to other families and we got to realizing, I know how much I was paying out of pocket, and that was after our insurance covered what they covered — I couldn't imagine what some of these families were having to pay for that wasn't covered by their insurance services. Autism is such a broad label and a broad spectrum that you could have one child on one end, and the other child on the other end, and they never need the same two services. That's where it's really difficult. So we added autism specifically to our program because of our son. Then as things slowly progressed, we would get phone calls from families in our community who were simply just needing help. There's lots of programs out there to assist veterans, of which we're well aware of because of my husband and his injuries, but when you get down to looking at it, there's not a lot of organizations for special needs families that don't come for a price or don't come with an income limit. That makes it very hard, because you could very well have a family who does well for themselves financially, but they're still struggling because they're paying $3,000 a month in therapy fees. A lot of groups weren't taking that into consideration, so we sat down and talked about it and were trying to see how we could serve our community. … After we added autism, we formed a relationship with the local pediatric therapy clinic. They were telling us how much they could use a therapy dog in their facility and we started testing it out and seeing how it benefited the children. Their programs have skyrocketed because of their use of therapy dogs in the facility. Every single thing we've added has come from a reason or a purpose, but it's all been because of people in our community who have reached out and said we need help with this.
Can you describe how the service animals help veterans and special needs children?
A lot of people think that service animals are for, "I just want to take my dog out in public," but what they don't realize is that — and I use this particular one as an example because it's one of my favorites and I think he is the first child to come through our program — but we have a young man who is now probably 12 and he has autism, epilepsy, fragile X syndrome, just a lot of stuff going on. His mom reached out to me and was like, "Hey, I need help." "Ok, well what do you need?" "I need a seizure response dog." That is where the dog alerts once the seizure has taken place. She was like, "Right now, he's a larger kid. He's tall. He sleeps in the bed with my husband and I, and I'm afraid to let him sleep in his own bed because I'm afraid he may have a seizure and pass away in his sleep and I will never know it." That's where service dogs come into play. His service dog's name is Chip, and he's had Chip going on four years. When you get those text messages and those phone calls that say, "My child had a seizure last night, I just want you to know the dog woke me up in my sleep," or "For the first time in 12 years, I'm able to sleep by myself with confidence knowing he is safe" — those are the reasons behind service animals.
When you're talking about veterans, for the first time in years, the veteran may actually be able to get a full night's sleep, because he's not waking up from night terrors caused by post traumatic stress disorder. Or for the first time he may be able to go to the ball park and watch his kids play soccer or T-ball because the dog allows him to feel comfortable and safe in large crowds or being around people, because his trust factor has gone out the window thanks to war. Hearing those comments, hearing those military members say thank you for reuniting me with my family, even though they've lived in the same household the whole time, that means something. … A service dog is truly there to serve life-changing circumstances. That is what makes them absolutely amazing.
Can you discuss the other programs you are currently working on?
We have Operation R&R, which was formed specially during COVID. It's not a program I have had for awhile. That is where we have been asking for donations, we take that money, and we go to restaurants who are struggling and pay for-profit prices to go and feed our essential workers like firefighters, police departments, EMF, hospital staff, medical staff, jail personnel. Anybody who needs food, we have fed them. That way we're not asking the restaurants for discounts. We don't ask them for tax write-offs or anything. We pay for-profit prices so they can use that money to pay their staff and keep their doors open.
In the meantime, I am starting another nonprofit that is actually a subchapter. There is an actual head organization, it's called SCUBAnaughts International. They're based out of Florida. They did not have a Georgia chapter. We're officially a chapter [now], but we'll start opening up in August. That teaches children between the ages of 12 and 18 how to scuba dive, how to get their scuba diving PADI certifications, but there's also a huge science portion to it. We teach them marine biology, how to grow coral, how to identify fish, how to identity algae. We take lots of data for local colleges, also Mote laboratories in Key West. We will partner with the Florida chapter and take lots of data on sea turtles, trash, pollution, anything and everything we can find that's local to our shores and our area. In doing that, it allows those kids that maybe aren't made for sports, maybe aren't made for the band, but they really like fishing, they really like water — and we are an oceanfront community — and it allows them to understand what pollution does to our oceans and to our wildlife, our marine life, and gives them a good guidance pattern for anybody who may want to major in marine biology, anybody who may just want to help oceanography. We have partnered up with Mote and a couple of other very important marine entities. The students take four trips a year. They go to Key West and work directly with Mote laborites where they go down and, alongside veterans, they replant coral and help rebuild the coral beds for the wildlife after they've been damaged either due to pollution or by hurricanes. They take another trip up to North Carolina and they do another trip to Honduras. I think our chapter is currently looking at either the Virgin Islands or Hawaii to study marine life. It's a great opportunity for students to be able to be part of something so much bigger than them that will effect their world as they get older and they just don't realize it yet.
Why do you think it's important for others to give back?
I think some people think they know what's going on in their communities, but until you volunteer, you truly don't know. You don't get to see those families or meet those families. Writing a check is easy. Writing a check, it's beneficial for some because they honestly don't have the time, and I totally understand that. But putting boots on the ground, you're meeting the very families you're helping. You're seeing the struggles that are going on in your community. You're hearing the stories from the families talking about their suffering and their hurting. I could tell to you so many times over the phone, and you're going to say, "Ok, I got it," but until you see that person, and until you have that mother in front of you crying, or until you have that kid hugging you because it's the first meal they've eaten in a week, until you have a little girl come up to you and wrap her arms around you and tell you she feels safe, you truly do not understand the suffering that goes on in your community and the good you are doing by helping these individuals out. And how much more respect you have for everyone that's involved in the community. You get that through volunteering. You get on a personal level.
What do you want people to learn from your story?
There's probably a better way to say this, but life sucks, and never give up. If we would have given up, my husband and I wouldn't be where we are. We kept pushing. We kept fighting. We kept standing up for anyone and everything that we thought was wrong. Somebody's got to do it. I guess my ultimate phrase would be "never give up" because if you do, what do you get out of that?
Do you want to make a difference in your community like Britnee? Find local volunteer opportunities.
Share this post