Millennial Uses Technology to Connect Students, Communities Across the Globe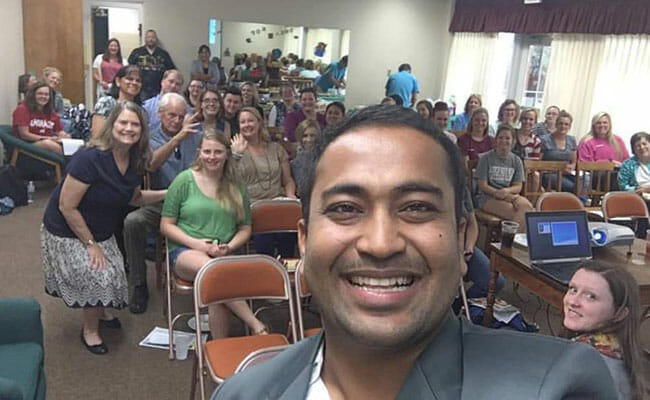 Picture a student in science class, seated at a desk, her computer on. The student isn't writing a paper about her studies or reading class materials, according to Akash Patel. She is interacting with students halfway around the world in Australia, touring their classroom, hearing about what their science quiz will cover that week. The child, from her desk in America's heartland, is experiencing a world she may never get to travel to – but because of the World Experiences Foundation, she's learning from it.
Founded by Akash in 2012, while he was in college, WEF is designed to bring classrooms and communities together worldwide to develop global citizens and impart anti-bias multicultural and multilingual education. The 26-year-old Norman, Oklahoma, resident, who was a full-time volunteer up until last year, believes people of all ages can – and should – make a difference in their communities. "Volunteering is such a terrific way of creating a community you want to live in," said Akash. "Volunteer, make a difference, start small, and see how it evolves into something big."
Akash has been struck by the response to his work, and believes the digital-first generation is inspired by stories of goodwill shared online in ways that other generations have never before experienced. "A lot of these young people think 'I'm too young, and I don't think I can make a difference,' but maybe my life can be an inspiration to these folks," he said. "You are never too young to make a difference. If you have that will and if you have that passion to make a difference in the community, it's never too late to start."
Born in Nashik, India, a city nearby Mumbai, Akash immigrated to the United States in 2009. While living and student teaching in rural Oklahoma, he discovered many students had never seen anyone like him before. "I saw the spark in the eyes of the children," he said. "That's when I realized, my work doesn't stop right here in one classroom. Maybe I have the opportunity to share all of these experiences with children across the state of Oklahoma."
Connecting students using technology and offering professional development to educators on global education, Akash believes that by teaching lessons about countries and cultures around the world, he can foster cross-cultural dialogue and help dispel stereotypes.
"We as educators have the power to bring the world to their classrooms, and broaden their horizons, and show them that, 'hey, there's a world that exists outside these classrooms, outside your neighborhoods,'" Akash said. "And then they see these role models, people with varied professions, and they see that, 'wow, yes, I too can be there someday, and I too, can do some of these amazing things.'"
In 2016, Akash started the Global Ambassadors Leadership Institute, a program within WEF that annually grants a scholarship to 50 Oklahoma high school students and enables them to give back to the community through global projects. As one of the students selected, 16-year-old Michael Pope created an app under Akash's counsel that facilitates access to resources desperately needed by immigrants new to the United States. According to the Edmond, Oklahoma, teen, the project has changed the way he thinks about his community. "Akash gave me a lot of knowledge on how people outside of the country think. … I didn't realize how hard it was until I was actually in the class, how hard it is to adjust from their lifestyle into ours," Michael said. "It's really opened my eyes up a lot."
WEF now serves hundreds of schools across Oklahoma. Akash, who wants to expand his organization to schools around the world, says his focus on bringing people together is based on a simple idea. "Simple actions can have a huge impact and inspire others to take action," he said. "Despite our differences, we are all the same."
Do you want to get involved? Sign up to be a volunteer at www.worldexperiencesfoundation.org.
Share this post
---