With Support from Local Businesses, Community Volunteers Create a Center for Seniors and Veterans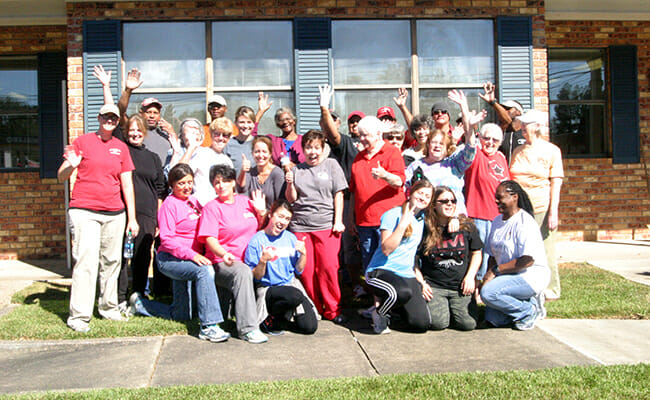 The Petal Public Improvement Corporation is today's Daily Point of Light Award honoree, and one of the winners of the 2016 Make A Difference Day Awards. Each year, TEGNA recognizes 14 outstanding leaders of Make A Difference Day projects, awarding $140,000 in grants that are donated to the charities related to the winning projects. Learn more about Make A Difference Day and register a 2017 project at www.makeadifferenceday.com.
In Petal, Mississippi, volunteers from all walks of life came together on Make A Difference Day 2016 to create a welcoming senior center for local seniors and veterans. With a "gently used" building donated by Merit Health Wesley, and $2,500 in supplies donated by the nearby Lowe's home improvement store, volunteers wasted no time readying the new space – washing windows, cleaning cabinets, landscaping the property, and more. Corner Market, a locally owned grocer, made sure all the volunteers were fed.
"We are an extremely caring and close-knit city," said Valerie Wilson, executive director of the Petal Area Chamber of Commerce. "The senior center has become a rallying place for the community. We all care about it. It's everybody's home."
The Petal Public Improvement Corporation was awarded a $10,000 grant in recognition of its Make A Difference Day project. They put some of that money toward additional improvements for the senior center, and donated the rest to local organizations supporting children, families and educational opportunities. We asked Valerie to tell us more about last year's senior center project, and what's in the works for this year's event.
What was the inspiration behind your Make A Difference Day 2016 project?
Our inspiration was the group of senior citizens in our city that were excited and anxious to move into a place that they could call their own and enjoy each other's company on a daily basis.
Tell us a little more about what your volunteers did that day.
The volunteers took up the task of turning a building that had been empty for several years into a clean and serviceable center for senior citizens. With the help of supplies donated by Lowe's of Petal, they cleaned walls, floors, bathrooms, fixtures, and windows. They patched nail holes and prepared the walls for painting. They worked on flower beds and cleaned the parking lot. They did anything that was needed.
What was the most rewarding part of the experience? A favorite memory?
It was wonderful seeing the diversity in the group of volunteers. We had high school students, veterans, senior citizens, civic clubs, city employees and church volunteers working together to accomplish in one day what would have otherwise taken weeks.
Why do you think it's important for others to get involved and make a difference in their community?
Working alongside people who feel as strongly as you do about supporting a particular cause creates a path to developing strong relationships with others in your community. Volunteering is about giving, contributing, and helping other individuals and the community at large. It is working with others to make a meaningful contribution to a better community. And most importantly, it is FUN and rewarding.
As a 2016 Make A Difference Day Award Winner, you were awarded a $10,000 grant for this effort. What will that money go toward?
That money went to three very important causes in our community: $3,000 went to the senior center to purchase additional resources for the seniors; $3,500 went to the Petal Education Foundation, which grants scholarships to Petal High School students; and $3,500 went to the Petal Children's Task Force, to help underserved children and their families.
What do you want people to learn from your story?
Just take the first step! You don't have to create or do something big, as long as you create or do something small for your town and do it with love. Reach out to others who care about your cause and let the magic happen.
What are your plans for Make A Difference Day 2017?
Once again with the help of our local Lowe's store, we will be building 10 picnic tables, which will be used at the Center for Seniors & Veterans and at the Petal River Park.
Volunteers across the nation will come together again on Saturday, Oct. 28, to improve their communities for Make A Difference Day. Project organizers are encouraged to register at www.makeadifferenceday.com to be eligible to win a $10,000 grant to donate to a charity related to their Make A Difference Day project.
Share this post