Hundreds of Students and Community Members Join Forces to Do Good in San Luis Obispo County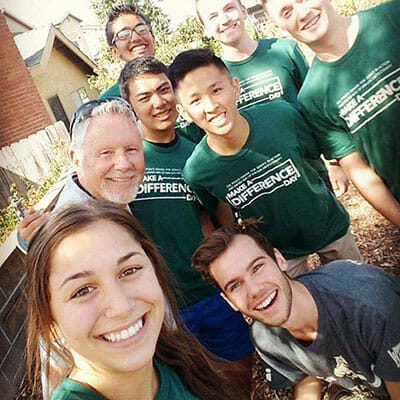 The Center for Service in Action at California Polytechnic State University is today's Daily Point of Light Award honoree, and one of the winners of the 2016 Make A Difference Day Awards. Each year, TEGNA recognizes 14 outstanding leaders of Make A Difference Day projects, awarding $140,000 in grants that are donated to the charities related to the winning projects. Learn more about Make A Difference Day and register a 2017 project at www.makeadifferenceday.com.
Students at California Polytechnic State University have had the Make A Difference Day spirit for about 15 years – and the 2016 event was another big success! Through the school's Center for Service in Action, more than 850 volunteers – students, Girl Scout troops, local businesses and other members of the community – participated in projects at more than 40 sites in San Luis Obispo County, serving more than 3,200 hours to make a difference in their community. Staff and student organizers coordinated the day's efforts with United Way of San Luis Obispo County. Volunteers groomed the San Luis Obispo Botanical Garden, painted a Boys and Girls Club, and stocked a food pantry that serves people with HIV/AIDS; others volunteered at a street fair and children's Halloween party, and prepped for one town's annual Oktoberfest; and still more participated in projects that benefitted a mental health association in San Luis Obispo, a homeless organization in Atascadero, and a children's science museum in Grover Beach, among others.
The Center for Service in Action was awarded a $10,000 grant for its community-wide effort on Make A Difference Day, which they donated to El Camino Homeless Organization – a little extra money to do a lot more good, bringing hope to local families in need of a fresh start. We asked Sarah Dornish, SLO AmeriCorps VIP Lead at the Center for Service in Action, to tell us more about last year's project and what to expect for this year's event.
What was the inspiration behind your Make A Difference Day 2016 project?
Our inspiration is centered around inviting community members to participate in community service across our county for one day. We know that their incredible work and passion will offer support that local nonprofit and educational sites may not otherwise have access to. And, we use this as a way of spreading the word about year-round volunteer opportunities – once our volunteers have a great experience with Make A Difference Day, they often return to their nonprofit or educational site to volunteer again!
Tell us a little more about what your volunteers did that day.
Our main tagline (which we actually exceeded in numbers this year!) is: 40+ Sites. 800+ Volunteers. 3,200+ Hours. 1 Community. Our volunteers served at different nonprofit and educational organizations throughout the county, ranging from gardening and painting to special events and fundraisers.
What was the most rewarding part of the experience? A favorite memory?
It's so incredible to see everyone come together and work towards the goal of improving our community and the lives of people who live here. The morning of the volunteer day, we host all 850-plus volunteers together in one big auditorium for a unifying breakfast, so the volunteers can get to know each other and fully realize the major impact they make as a whole. I'll never forget seeing hundreds of people all together, exuberant for the day of work ahead of them.
Why do you think it's important for others to get involved and make a difference in their community?
We are so grateful for the opportunity to bring our community together through volunteering. This type of service improves the social services our community provides, improves our locals' access to these services, and brings together countless people to work towards and learn about these goals.
As a 2016 Make A Difference Day Award Winner, you were awarded a $10,000 grant to donate to a charity connected to your project. What will that money go toward?
This incredible grant will benefit El Camino Homeless Organization, locally known as ECHO, a tremendous community partner with an amazing staff dedicated to helping solve homelessness in San Luis Obispo County. ECHO serves locals' immediate needs like food and shelter, and also case management services like finding people permanent housing and careers.
What do you want people to learn from your story?
Many of our volunteers rely on the services we support through this volunteer day, and those who don't get to work and learn together in solidarity for a day. The nonprofits and educational sites we support during this day of volunteer service provide our community with such invaluable and impactful social services, and I hope others can learn to passionately support these services as our volunteers have.
What are your plans for Make A Difference Day 2017?
Our plans include creating the same type of annual campus and community-wide volunteer day! We aim to host 800-plus volunteers at 40-plus volunteer sites, working 3,200-plus hours for our one community.
Volunteers across the nation will come together again on Saturday, Oct. 28, to improve their communities for Make A Difference Day. Project organizers are encouraged to register at www.makeadifferenceday.com to be eligible to win a $10,000 grant to donate to a charity related to their Make A Difference Day project.
Share this post