Mother of Adoptees Helps Ethiopian Families Reunite Their Histories
Meet Daily Point of Light Award honoree Andrea Kelley. Read her story and nominate an outstanding volunteer or family as a Daily Point of Light.  
After Andrea Kelley and her husband adopted their first child from Ethiopia in 2000, she set out on a mission to fill in the missing pieces of her son's history by finding his mother. After thousands of hours and dollars spent, Andrea had no luck. So she created the Beteseb Felega – Ethiopian Adoption Connection organization in 2014 to help other family members and adoptees find resources to complete their history. 
Andrea operates the organization full-time in Shawnee, Kansas, and has grown the Beteseb Felega – Ethiopian Adoption Connection to feature a database and new DNA project in order to help others navigate searches and provide post-adoption services.  
Describe your volunteer role within
Beteseb Felega – Ethiopian Adoption Connection.
I started Beteseb Felega – Ethiopian Adoption Connection after a 10-year failed search for the mother of one of my children born in Ethiopia because we didn't have enough information in our adoption paperwork to find the family. I founded and now run the organization from my home office in Kansas City. I manage and coordinate our team of three social workers from different parts of Ethiopia and I specifically work with adult adoptees and adoptive parents who want to search for their birth family in Ethiopia. I also handle all the administrative work for the organization including running the website and our Ethiopian Adoption Search Registry Database.  
The organization now provides access to birth and adoption histories for Ethiopian adoptees. We want to restore the history and relationships that have been lost through international adoption. It's a basic human right that is sometimes overlooked in the adoption process because it's commonly believed that children will have a better life after being adopted. I realized that if Ethiopian birth families could reach out and search for their children, there would be a higher likelihood of success for everyone. That's why I created our Ethiopian Adoption Search Registry in 2014 — to give a voice to Ethiopian birth families.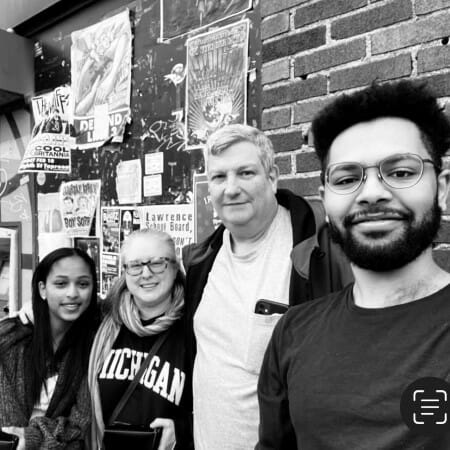 Why is it important to reunite adoptees and their families? 
I strongly believe that every adoptee deserves access to their history if they want it. It's a basic human right and we only need to look at the boom in DNA  testing to see that people are very interested in their genetic background. 
International adoption is a complicated thing. There are many moving parts and the children usually come from challenging areas that lack resources in place to care for them and often children's files and histories get lost in the process of adoption. Recovering that history can be a long and tedious process. One issue that I noticed when we were searching for our children's families 20 years ago was that there was no way for the Ethiopian birth families to reach out to their children. I wanted to change that, and now I work on it full time.
How has the
Beteseb Felega – Ethiopian Adoption Connection grown?
The organization started with just me and an American birth mother, Claudia. Claudia designed the website and the Ethiopian Adoption Search Database. Now we have three wonderful social workers in Ethiopia and a few volunteers in the United States. Our database contains over 1,200 searches and we've recently launched a DNA project. Tens of thousands of adoptions have occurred in Ethiopia, and we want to restore the histories and family relationships of as many Ethiopian adoptees as possible.  
What inspires you to volunteer?
I was originally inspired by my own children who were born in Ethiopia. I tried to imagine being in their shoes and having no information about where I came from. I knew that I would want to know my own story. I'm continually inspired by the adoptees and birth families we serve because being separated from your original family for life is not easy even if you have a good life now.  
What have you learned through your experience as a volunteer?
I've learned a whole lot about Ethiopia and how culture informs everything in life. There are great challenges in working across different cultures, but in the end, people are essentially the same everywhere.  
Why is it important for others to get involved with causes they care about?
Economically challenged folks in some places around the world don't have access to many of the things we do, so we've all got to step up and help. If everyone helped just a little in a way that they can enjoy, then the world will be a better place. It's hard, but it is also satisfying.  
Are there any partnerships, programs, or events that you are excited about?
Beteseb Felega – Ethiopian Adoption Connection just began a partnership with Family Tree DNA. This company provides us the opportunity to purchase discounted DNA kits, so we'll be able to test Ethiopian families this way and hopefully reunite more and more adoptees with their birth families.  
Do you want to make a difference in your community like Andrea? Find local volunteer opportunities. 
Share this post