Motivated by Passion to Care for Others, Texas Teen Volunteers for Healthier World
Meet Daily Point of Light Award honoree Shruthi Aravindan. Read her story and nominate an outstanding volunteer or family as a Daily Point of Light.
When her grandparent became sick, Shruthi Aravindan's family moved to India to help care for her family member. The experience impressed upon the 17-year-old Austin, Texas teen both the importance of taking action to care for others in need and also opened her eyes to the plight of the underserved.
"My mom did a lot of work in rural villages (in India)," says Shruthi. "I'd accompany her and it was pretty evident the facilities weren't what we are used to. For example, the people would have to walk so many miles through these villages on dirt roads to get to a pharmacy for basic first aid."
Deciding to become an advocate to support global health and wellness, Shruthi launched Vitality Volunteers in March 2020, the high school senior bringing together more than 700 adult and youth volunteers from a staggering 45 countries to work with organizations that increase awareness of diseases and improve the well-being of global communities. Working with thousands of individuals around the world, Shruthi is connecting volunteers with different backgrounds and skills to best support the underserved and underprivileged.
The teen's advocacy reflects her desire to help the masses as well as at home, as she supports causes her own family members have been directly impacted by. One early driving factor for Shruthi's volunteerism has been her personal experience with wellness for friends and family.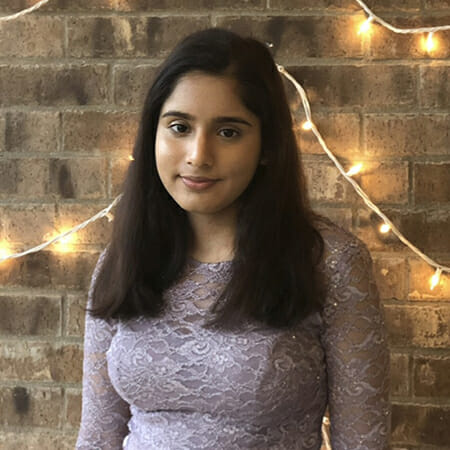 "It is important for me to give back to people who have suffered from illnesses because people close to me have as well. For example, I have family members that have been diagnosed with cancer. Luckily they have recovered and I'm eternally grateful, but I know that's not the case for everyone. I know how taxing the emotional and physical toll can be. Resources and having access to help can be instrumental. These experiences and general compassion and drive to help people in difficult situations definitely contributed to my passion in growing and using my platform to advocate for more change."
That passion has sparked an international movement. Perhaps most tellingly, Shruthi's effort to focus on health and wellness began as the COVID-19 pandemic was raging out of control, underscoring the importance of her mission. Supporting 30 organizations including the Leukemia and Lymphoma Society, Be The Match and It's Time Texas, Shruthi is using her leadership to introduce life-saving health resources and information to underserved communities, says Brenda Garza, community engagement representative for Be The Match, which manages the largest and most diverse marrow registry in the world.
"Her goal is to educate the community on the need for volunteers and donors about the registry," says Brenda. "Specially, she understands health and diversity disparities. We have a huge gap of ethnically diverse donors, and as (both Shruthi and I) are both ethnically diverse, we both understand and want our community to have access to health. (Through her volunteerism, Shruthi) is erasing disparity on the registry."
By bringing in fresh faces and new voices, Shruthi's inclusive volunteerism means more volunteers are being recruited from all over to contribute to a healthier world. The teen says she's shocked by the power of her platform, strengthened by its virtual reach, which has given students and adults the opportunity to stay connected throughout the pandemic and build a new digital community united in its efforts to support non-profit organizations during a time of isolation where many other volunteer efforts have been put on pause.
"When I started I honestly never even expected in my wildest dreams for my organization to grow (like it has). Even when we were small, we were making a huge impact, and now we're making an even greater impact. People align with our mission and they believe in our cause and they want to contribute to something that's going to create meaningful change."
Hoping to work in the medical field one day, Shruthi says the pandemic has further aggravated the problem of health care inaccessibility, something she fights against each day with her service. Inspired by the change Vitality Volunteers is making, Shruthi encourages other volunteers to lean in and find opportunities to give back.
"If there's no opportunity for you to do something, then create (that opportunity). A lot of times I wanted to do something and it didn't exist, so I'd just start the (initiative) on my own. Countless innocent lives have been lost because health care isn't equally provided to everyone. Equal access to healthcare is a fundamental human right and I want to be able to give back to people who deserve the same amount of health care support as anyone else does."
Do you want to make a difference in your community like Shruthi Aravindan? Find local volunteer opportunities.
Share this post