Adopted as a Baby, Georgia Teen Volunteers to Support Other Nontraditional "Forever Families"
Meet Daily Point of Light Award honoree Kaitlyn Tanner. Read her story and nominate an outstanding volunteer or family as a Daily Point of Light.
Kaitlyn Tanner and her brother are two of the few million adoptees in the United States today, but according to the Douglas, Georgia 15-year-old, her adoptive parents almost weren't able to bring her home as a baby, as they faced many hurdles on the road to adoption. For many families, Kaitlyn says, there are barriers including cost that make it that much harder to give children the loving home they deserve.
Deciding to advocate for other children and families just like hers, Kaitlyn, a high school freshman, volunteers to build adoption and foster families. Raising awareness of adoption, starting a dialogue of inclusivity and fundraising for families hoping to adopt, Kaitlyn is helping to create forever families in her community and beyond.
What inspires you to volunteer?
Starting in middle school, I began to face bullying because I was adopted. One girl called me a 'mistake' and told me that my parents didn't want me. That comment tore me apart. I spoke with my mom, and she encouraged me to turn the adversity into something good. Sometimes, as an adopted child, you can feel like you're not loved or nobody cares about challenges we face. I am volunteering to financially support families who are adopting kids and adoption organizations because I know the process is really hard.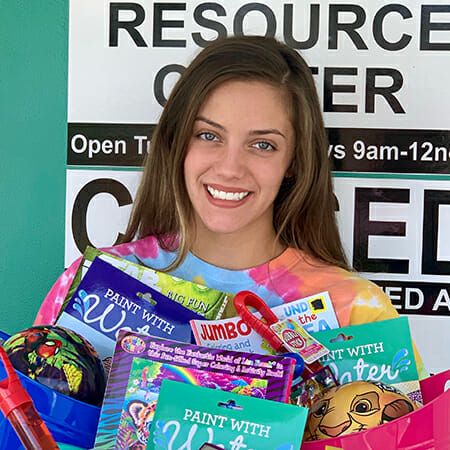 Describe your volunteerism as an adoption advocate.
Through my adoption advocacy platform, we hold an annual White Ribbon Campaign each November, as that is National Adoption month. Through this campaign, partnering with other organizations at the local, state and national level, and other initiatives like Covenant Care Adoptions' annual Trail of Hope 5k which I help to plan, I am raising awareness about adoption and fundraising to support families adopting.
Share one personal story with me from your volunteerism.
I was once being interviewed and the interviewer started crying after she heard my story, and told me she was adopted. Before my service, I wasn't sure if I could personally make a difference, but knowing that sharing my story could even make a difference in one person's life truly lit a fire in me.
Why do you think it's important for others to give back?
You don't have to totally dedicate your life to serving others to make a difference. When I was bullied, some small act of kindness that someone did for me meant so much. Something small like a random act of kindness or showing someone you care can make a huge difference.
What have you learned through your service?
Giving back not only helps the cause or whoever you're helping, but it helps you. When I started my advocacy, it gave me so much joy whenever I put a smile on someone's face and inspired me to continue my service. Service helps you grow as a person and inspires others to volunteer as well.
What's been the most rewarding part of your service?
After I raised money through my White Ribbon Campaign and Bottles for Babies fundraiser, the donations went to a family adopting a child. When I brought the check to the father, he started crying. It might not have been the most money, but it meant everything to know I was helping them to bring their baby home.
How have you continued to volunteer throughout the pandemic?
Covenant Care Adoptions held a virtual 5k this year for Trail of Hope, and I have reworked other initiatives I am involved in as we cannot do as much in-person. I also volunteer with the foster care system in my community, and we have been doing virtual events.
In one word, what does volunteering mean to you?
Everything. Volunteering is what my life is based around, and everything I do, I do it to help others.
When you're not busy volunteering or in school, what do you do for fun?
I play basketball and I run track, I am a piano player and I love animals. I want to be a small animal veterinarian. We live on a farm so I'm busy taking care of animals all the time.
How can readers help?
Please visit my website for more information about my adoption advocacy and how you can help.
Do you want to make a difference in your community like Kaitlyn Tanner? Find local volunteer opportunities.
Share this post
---