Volunteer H-"Appily" Shares Health Info with Global Communities During COVID-19 Pandemic
Meet Daily Point of Light Award honoree Haipei Chen. Read her story and nominate an outstanding volunteer or family as a Daily Point of Light.
As a first-generation American, Haipei Chen is familiar with the struggles non-native English speakers face in accessing critical information about public health and personal wellbeing. When the COVID-19 pandemic began to spiral out of control, the 18-year-old Redmond, Washington high school senior, whose parents are both frontline workers, decided she needed to take action to safeguard the health of as many as possible.
Launching AppilyDay in March 2020, Haipei started her service by collecting donated face masks and face shields from neighbors, and has since grown her efforts to support health issues through fundraising and translating COVID-19 information into dozens of languages. Partnering with other youth initiatives, Haipei has connected with thousands of people around the world as she addresses the health information gap among non-native English speakers, raises public health awareness and inspires service amongst other young people like herself.
What inspires you to volunteer?
I'm a first-generation American, but I lived in China for a time growing up, where there's not much of a volunteer culture. The idea of helping other people and making a change through my own hands is what inspires me to volunteer. Because of my own experiences as first-generation, I recognized that people in my community didn't have access to information because of language barriers, so I decided to help others in this way.
What does 'AppilyDay' mean to you?
The name of the organization comes from the old English proverb, 'An apple a day keeps the doctor away.' It summarizes our mission to spread health information and debunk false information. Also, if you add an 'h' to the beginning of our organization's name, it reads 'Happily,' which describes how we are happily helping others.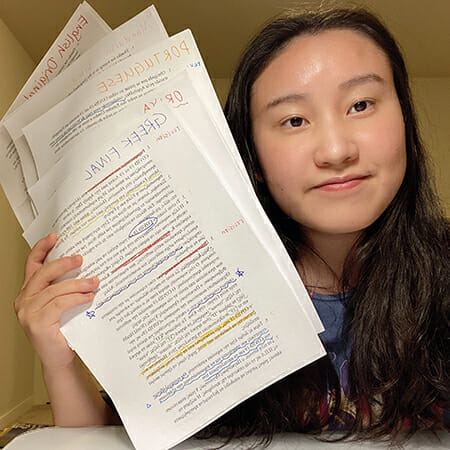 Describe your volunteerism with AppilyDay.
As founder and executive director, I'm assisted by several dozen youth volunteers we have in the U.S. and internationally that produce health educational videos and online content. We've partnered with other organizations to connect youth volunteers in the U.S. and internationally across 30 countries to translate COVID-19 information, including with Students4COVID, Dear Asian Youth and 2am. Our first major project was called 'COVID-19 in 19 Minutes,' which created informational videos to provide to non-native English speakers in underrepresented populations. We've distributed videos in dozens of languages including Mandarin and Kazakh to some Indian and Chinese dialects.
Share one personal story with me from your volunteerism.
We partnered with the Chinese American Civic Association to connect with non-native English speakers in greater Seattle. We visited Chinatown to meet with Chinese seniors and others living in the area, and showed them our information health videos. That's when I felt like, as youths, we were actually making a difference in society. We were sharing information, some of which they'd never heard before. After that, more people came to watch our videos.
Why do you think it's important for others to give back?
A community is built through service. You have to give back to the community because it's based on relationships, and others help us when we go through hard times. Also, volunteering gives us the chance to meet new people and listen to different stories so that you can learn how to empathise with others and make change.
What have you learned through your experiences as a volunteer?
As younger people, we are always told to follow what adults do, but my volunteerism has taught me that if you're fighting for the same cause, age doesn't matter. You can make a change when everyone comes together.
What does the future of your volunteerism look like?
Our mission is to improve health education and increase health literacy by connecting with more people through technology. In the future, we plan to create health educational workshops and visit underserved areas to distribute health information and educate more people.
In one word, what does volunteering mean to you?
Change.
When you're not busy in school or volunteering, what do you do for fun?
I do music, I'm a huge music buff. I've been looking into songwriting and music production.
How can readers help?
We continually fundraising to support health causes. Please visit our website for more information on how you can help.
Do you want to make a difference in your community like Haipei Chen? Find local volunteer opportunities.
Share this post