Chicago volunteer inspires 'BLAQ GIRL MAGIC ' by serving as role model and helping others
Meet Daily Point of Light Award honorees Toy Ann McCray. Read her story and nominate an outstanding volunteer or family as a Daily Point of Light.
As acknowledgement for her hard work at the United Parcel Service (UPS), Toy Ann McCray received news of a promotion. But that great news came along with a piece of information that shocked the Chicago mother.
"I was told that I was the first Black female in operations to get promoted to a manager," Toy Ann recalled. "They said, 'You're the rabbit. You're the poster child.'"
Realizing the lack of Black women in leadership roles, not only at UPS, but society in general, Toy Ann put it on herself from that moment 20 years ago to serve as a role model for Black women, both young and old, and mentor them to help them reach their full potential.
Toy Ann's passion for helping others started at a young age. She would volunteer at church, her local food pantry and nursing home with her mother. She continued serving others in her adult life as she went around Chicago's tent cities, providing hot meals, clothing, toiletries and more to those struggling with homelessness.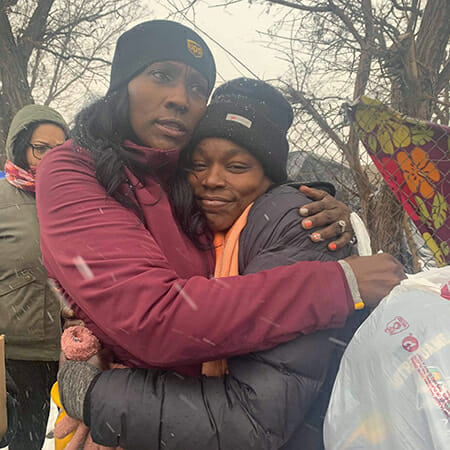 But her volunteerism hit full force after she was introduced to the organization POET (People of Extraordinary Talent) and its president, De'Andre Hawthorne, who is now her husband.
Through POET, Toy Ann and her volunteers have been meeting with young Black girls within the Chicago Public School system, teaching them about self esteem and helping them find their talents to be successful.
"For so many years, they haven't been able to see people that look like them in manager positions, in leadership roles," Toy Ann said. "So, I felt it was very important to have them see someone that looked like them to say, 'You can do this too.'"
Toy Ann didn't stop there. She's also mentoring women of all ages, with her oldest mentee being 79 years old. But what many of these women have in common is that they come from difficult backgrounds and situations.
Tierra Clark, a mentee, was at rock bottom when she first met Toy Ann 10 years ago.
"I was detached from my family. I was depressed and suicidal" she said. "But Toy Ann not only supported me financially, but she always encouraged me and made me feel like I was not alone."
Tierra said Toy Ann would always tell her these words: "Your life is what you make it. If you want it to be great, you have to put the work in." So Tierra took those words to heart and now she owns her own business and even helps her own mentees.
In addition to helping Black girls and women to achieve success, Toy Ann also encourages them to volunteer and help serve others in their own ways.
"I was able to feed 500 people out of my own pocket and I've also started my own scholarship," Teri Green, another mentee of Toy Ann said. "And it was all inspired by the work ethic and passion I saw in Toy Ann."
For future plans, Toy Ann hopes to create her own nonprofit organization called Blaq Girl Magic, through which she hopes to hold sleepovers with young Black girls, ages 11-18, to help them make career plans and goals.
Mentoring dozens of young women and leading various volunteer events throughout the week on top of her demanding job as a manager at UPS seems impossible, but Toy Ann says it's worth it because while it may be hard work, it's "heart" work.
"What I get back every time is so much greater than what I give," she said. "It's hard work and it's heart work to give love and show people that somebody does care about you."
Do you want to make a difference in your community like Toy Ann? Find local volunteer opportunities.
Share this post