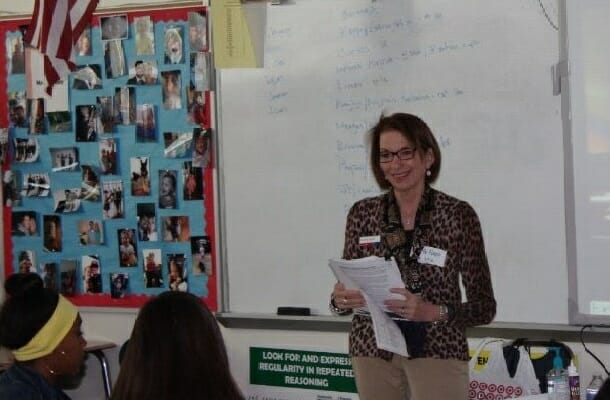 Finance expert Nanelle Napp believes in using her talents for good. As a senior marketing and product manager for Bank of America, she co-leads the Bank of America Community Volunteers, Education Focus team in Charlotte, North Carolina. Nanelle's team of volunteers help people of all ages prepare and manage their finances by supporting a variety of local organizations, including; Junior Achievement, Tutor Mate, Heart Math, Promising Pages, Discovery Place, Charlotte metro area public school systems, and adult education at McCreesh Place Public Housing.
Nanelle is today's Daily Point of Light, and she spoke with Points of Light about her commitment to service.
Describe your volunteer role.
I personally volunteer with Junior Achievement teaching smart decision making and financial education to underserved middle school and high school students; Promising Pages, a book recycling nonprofit that collects and cleans gently used books for children who don't have books at home; an adult education workshop held for those living in public housing; and with Bank of America employee networks, who are looking for financial education speakers. Also, I recruit volunteers for Junior Achievement, Tutor Mate, Promising Pages, Girl Scouts STEM programs, and Charlotte metro area public schools.
In the past few years, I have integrated Better Money Habits, which Bank of America developed in conjunction with the Khan Academy, into our financial education lessons for both middle school and high school students, as well as adults. This effort has been very successful because Better Money Habits teaches the "ins and outs" of personal finance in ways that learners of all ages and backgrounds can understand. I am a Bank of America Better Money Habits Champion, which helps me develop my personal financial instruction abilities.
What inspired you to give back?
My father has been integral to my "giving back." He was a first generation American citizen, as both his parents migrated to the United States from Italy. When I was a young person, my dad inspired me to get a good education. A key reason that I have been successful in life is because of my education. I want to share my love of learning with others, who may not have a family member motivating them to stick with getting a good education.
[After the financial crisis] in 2008, I saw how a lack of a personal finance background can devastate families. I believe it's important people of all ages get the background in personal finance so they can manage their money and make their money work for them. Volunteering gives me a way to support this goal.
What is the most important lesson you've learned through your experience as a volunteer?
Everyone has a story. I have met so many fascinating people here at Bank of America who came from very diverse backgrounds – but who have in common that no one in their family encouraged them to take school seriously and, yet, they made the personal decision to achieve in school. And, they are grateful that they took that journey, and they want to help others experience the love of learning and the benefits of education.
Why do you think it's important for other people to volunteer?
I believe that volunteering is a personal choice. I respect that many people have a challenge juggling their career and their family responsibilities. Personally, the joy I experience from helping a student see how to think about their future career, or the thanks I receive from people who better understand how to start a budget, is the gift I receive from giving.
Do you want to make a difference in your community like Nanelle? Visit All For Good to find local volunteer opportunities
Share this post