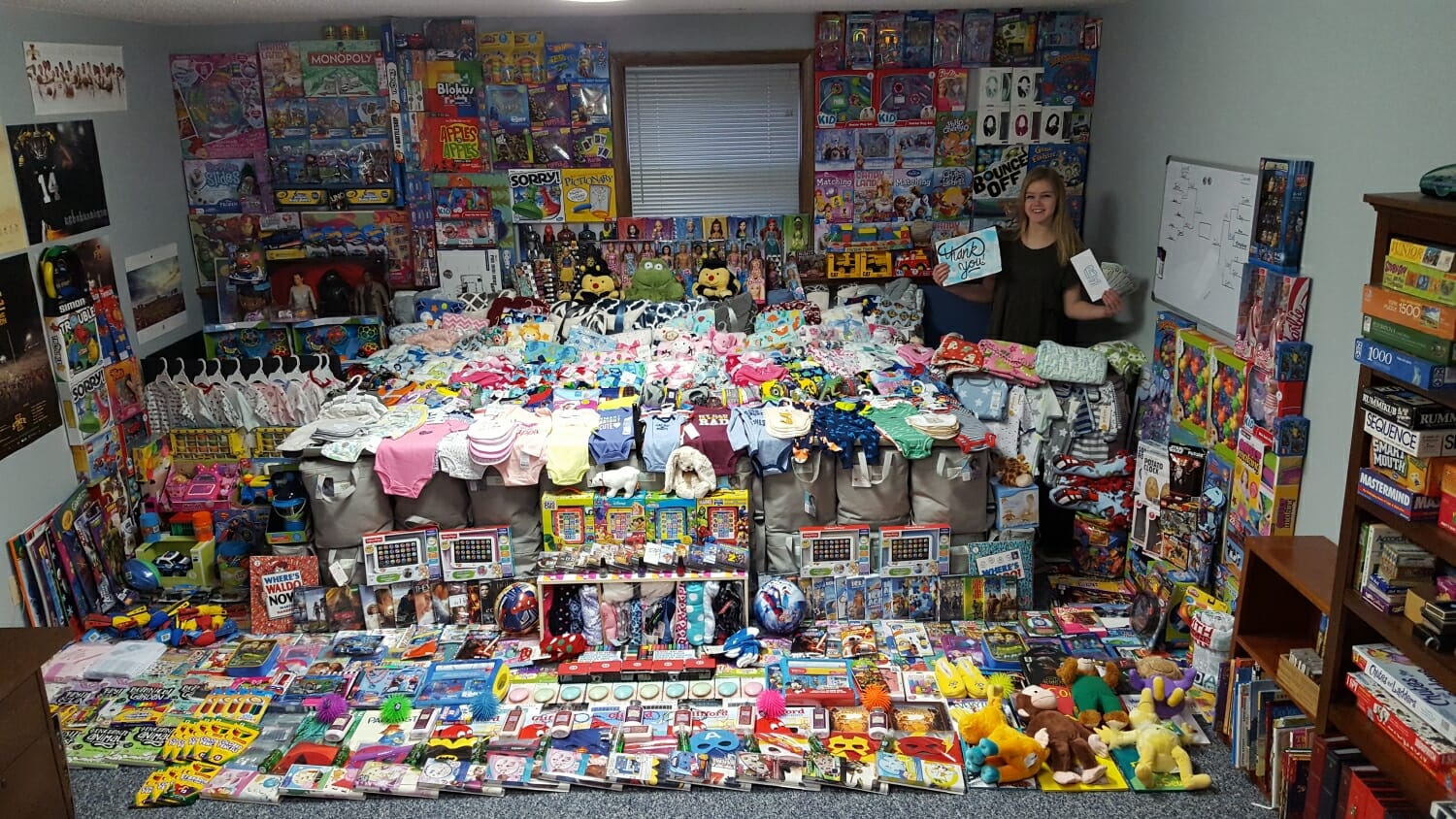 During an extended hospital stay, eighteen-year-old Natalie Tryon learned firsthand how lonely the life of a patient can be—and how important it is to give back. A small act of kindness extended to her by volunteers during her hospitalization motivated her to start her own giving program, Blessings for Blank at Blank Children's Hospital in Des Moines, Iowa.
What inspired you to create the Blessings for Blank program?
Two years ago, I was hospitalized out-of-state for a long period of time. I never realized how difficult it was to be away from home, family and friends. One day, my nurse told me two young girls had brought gifts to hand out to the children and teens in the hospital. This act of kindness put a smile on my face during some of the hardest days of my life. These two girls knew what it was like to spend lots of time in the hospital. Together, they donated gifts to hand out to kids who were fighting difficult days in the hospital just like they did (and still are). Those two kindhearted girls inspired me to help out kids who are fighting for their health.
How did your personal experience as a patient inform how you interact with patients as a volunteer?
I was never actually able to interact with the patients at Blank Children's Hospital due to HIPAA policies, but it was an amazing moment when I dropped off the gifts to the child-life specialists. They described to me how much even a small gift can [positively] impact hospital stays and make difficult days a little brighter for the kids — such as receiving a warm, fuzzy blanket to give them a taste of home or receiving different toys to distract them during their medical treatments. To this day, I still use my blanket and other items that were given to me when I was hospitalized. It helps to give a reminder to the kids and their families that there is hope, and that there are so many people thinking about them and [wishing] the best for them.
How many "blessings" have you been able to provide to patients?
I am happy to say I have been able to donate 1,800 gifts, as well as a cash donation, to the strong kiddos at Blank Children's Hospital during the second quarter of my junior and senior year [in high school]. The gifts included blankets, electronics, DVDs, board games, art materials, Barbie dolls, action figures, pajamas, and more. I was unable to deliver them [directly] to the kids due to HIPAA, but the child-life specialists shared with me how excited and happy the kids are when they receive a gift. It puts a huge smile on their face that is truly priceless.
What do you think might be one of the main barriers keeping people from volunteering, especially teens and young adults like yourself?
I think one of the main barriers that keeps teens from volunteering is all of the pressure [to be] the best you can be…in sports and academics. That really eats up a majority of your time—trying to be the best and [continually] training to become better.
In five words or less, describe how the act of giving back to others makes you feel.
My heart overflows with happiness.
Share this post