Nature Lover Volunteers to Preserve Land and Water Life
Meet Daily Point of Light Award honoree Lois Van Buren. Read her story and nominate an outstanding volunteer or family as a Daily Point of Light.
A former marina owner, 69-year-old Lois Van Buren has resided by the water for most of her life. As a resident of Santa Cruz, California, Lois' ties to the San Lorenzo River run deep, the waterway once celebrated as the heart of the city.
Dedicated to revitalizing the river and raising awareness about the importance of nature, Lois is a volunteer with Coastal Watershed Council (CWC). Alongside other volunteers, Lois has dedicated hundreds of hours of service to inspire others to explore, enhance and protect the San Lorenzo River as a critical resource.
What inspires you to volunteer?
I travel through my day with a purpose. Even before retirement, I volunteered for organizations dedicated to the outdoors. I like to feel that I've accomplished something in a day.
Why did you dedicate your time to helping the river?
Living here, the San Lorenzo River becomes a part of the scenery. Because I'd owned a business out on the wharf and have been established in the community for a long time, I wondered why there were never rowing boats out on the river. After living in a town for awhile, you start learning about the people and the community. I learned that the river had once been utilized by residents and at one time had been celebrated as the heart of the city.
Describe your role with CWC.
Initially, I helped CWC with their river survey to assess how and if people in the community were using the river. As a volunteer, I assist with their habitat restoration and water quality monitoring programs. We also gather samples from up and down the watershed, and help out at events.
You're also a leader of CWC's River Health Day program. Explain.
Through the River Heath Day program, I show people how to support the river by planting beneficial native plants on the riverbed and removing invasive species. I'll guide people as they're working: I'll point out what the native plants are that we're planting, and share how each one might attract pollinators. I'll point out a bird here and there.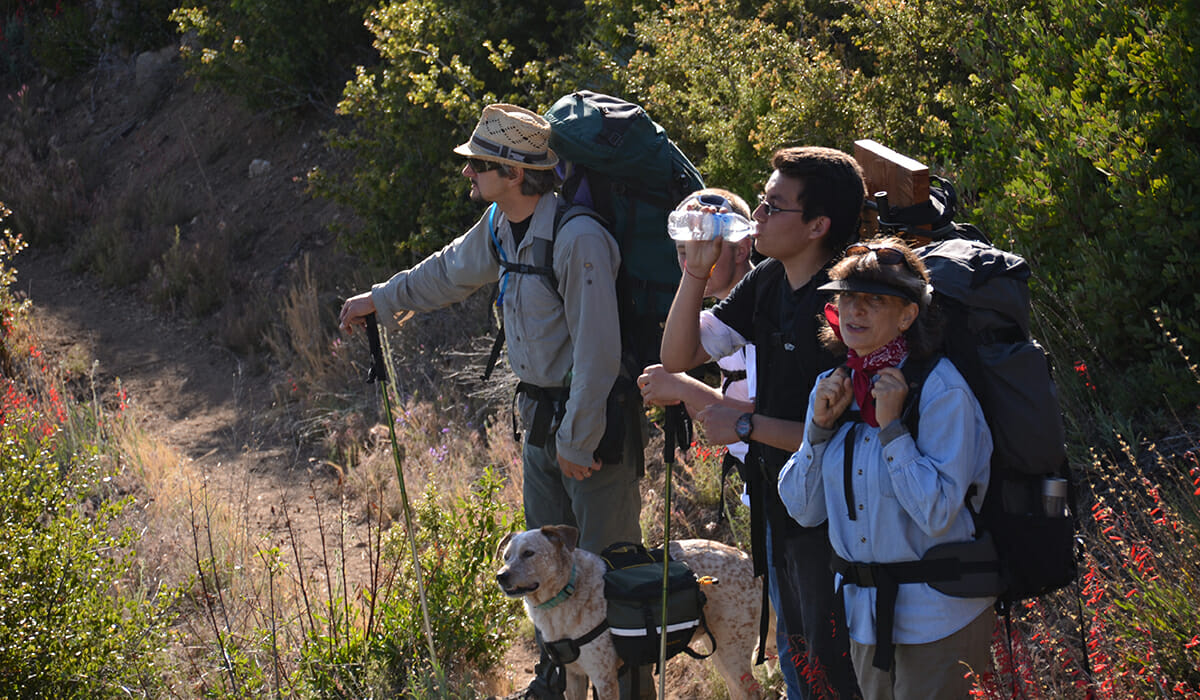 Share one personal story with me from your volunteerism.
I have been very happy to see that service is being promoted across the younger generation and is becoming a bigger part of our society.
Your volunteerism isn't limited to the river. Explain.
I'm also a California State Parks Foundation volunteer and volunteer with the Ventana Wilderness Alliance. Through VWA, I help to clear and improve the trail in the Big Sur wildlands. The beauty of nature, both Big Sur and the river, is just phenomenal. I'm lucky I get to get out and volunteer in nature.
What's been the most rewarding part of your service?
I like volunteering (laughs). I take great pleasure in helping people. Working and bonding with others has been rewarding.
In one word, what does volunteering mean to you?
Gratifying.
What have you learned through your experiences as a volunteer?
I've learned that even though the personalities of the people you're volunteering alongside can be quite varied, and in other arenas of daily life you may not have anything in common with these people whatsoever, the commonality of doing the work you're doing together is often what makes the service all worth it.
How can readers help?
Please visit the Coastal Watershed Council website for more information about how you can give back.
Do you want to make a difference in your community like Lois Van Buren? Find local volunteer opportunities.
Share this post