Seattle Teenager Combines Entrepreneurship, Art and Technology for a Unique Nonprofit Approach
Meet Daily Point of Light Award honoree Chirag Vedullapalli. Read his story and nominate an outstanding volunteer or family as a Daily Point of Light.
When he was five, Chirag Vedullapalli decided to make his own way in the world. Instead of following in his mom's steps as a basketball player, he gravitated toward art with his godmother. After moving to Washington when he was ten, he and his art teacher hosted an art expo at her house called 'Blooming Hearts'. Kids from his art class came together and created paintings that they donated to Seattle Children's Hospital. After hosting the event and seeing what a positive impact it had on not only the hospital but also the friends who participated, Chirag had a lightbulb moment.
"I realized that when you create opportunities for kids that they not only want to be part of [the event] but it allows them to be empowered to give back to the community," he says. "They more than willingly would jump in headfirst in wanting to be part of it."
Chirag wanted to provide an alternative to traditional volunteering and engage kids in something they genuinely enjoyed doing, rather than participating because they felt obligated or required.
With that incentive in mind, Chirag created Creative Children for Charity or otherwise known as 3C. Since 2010, Creative Children for Charity has worked with over 42 organizations and corporations in the Seattle area and out of state to support Creative Children for Charity's work. Initially, C3 hosted events focused on art, much like 'Blooming Hearts'. After hosting several events including a Guinness World Record event, they landed on entrepreneurship and technology as their main focus. To date, 3C has donated over 11 thousand volunteer hours, worked with more than 6,500 youth and supported over 17 nonprofits in the community.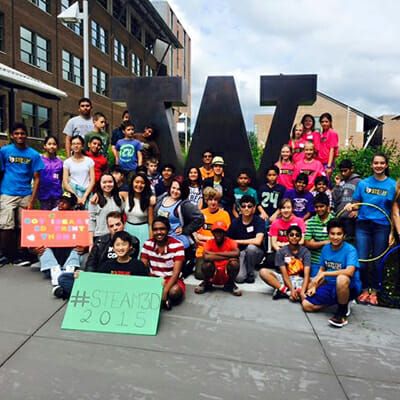 Chirag based Creative Children for Charity around three pillars: entrepreneurship, STEAM-3D and working with other nonprofits.
His first pillar, entrepreneurship, inspired him to start The Children's Business Fair, the largest entrepreneurship event for kids in North America. It's designed similarly to a farmer's market except it's for youth, by youth. Kids are given a chance at creating their product, designing their brand, practicing their pitch and pricing their products – all aspects of entrepreneurship. To achieve this goal, The Acton business fair provides a curriculum that helps them establish a business, even if it's their first time starting.
"We take whatever their interests are and build it from the ground up," says Chirag. "We help them build a product they can showcase. The fair is really exciting because it helps the participants grow as individuals, as well as provide an opportunity to donate part of, if not all of their earnings to a charity of their choice."
Chirag wants to give the kids a chance to create something that they can sell or donate beyond the Children's Business Fair.
The second pillar is STEAM-3D. Chirag believes that art is a crucial component of STEM because it allows kids to be innovative. This pillar is based on bringing together these two fields – STEAM (science, technology, engineering, art, and math). By combining STEM and art, students become more agile thinkers and provide the best option for kids to become global citizens. 3D printing was the perfect medium to introduce kids to technology while also incorporating creative ideas and thinking. STEAM-3D utilizes a structured curriculum, workbook and a web-based CAD (computer-aided design) program that allows students to optimize learning while having a great time.
"We realized there was a big opportunity gap in our community in Washington," says Chirag. "When we did some research on it, we found out according to Forbes, that 30% of engineering jobs prioritized 3D printing. But there had only been ten schools with a 3D printing curriculum in Washington. So when we discovered this huge opportunity gap we decided we were going to be the ones to solve it."
The teen instructors and advisors hail from Creative Children for Charity (3C) and have taught classes and sponsored hackathons at Coder Dojo in Bellevue and The Garage on the Microsoft campus. The registration fees from this class go to support other STEAM-hosted youth events in our community including a summer STEAM3D Hackathon.
They have seen schools K – 12 starting to adopt STEAM, and three other chapters have adopted Charity for Creative Children's 3D workshop. It's a growing operation, but it has a huge impact. Chirag wants to increase access to 3D printing design, as well as STEAM workshops. He says it's been exciting to experience that growth and watch how his STEAM-3D model has made a positive impact on the community.
The third and final pillar is engaging with other nonprofits to find opportunities for kids that are not part of the normal volunteering format.
Chirag acknowledges his team as an essential part of Creative Children for Charity's success. "In ninth grade we usually find youth leaders to get involved and they stick with us through senior year. Not only are they able to contribute to their community – to all of our communities – they're able to grow as well. They learn how to plan events, raise sponsorships, all of the skills that will help them become more successful."
At times, Chirag's age has made leaders question if he can handle projects at a certain scope. Being able to prove that he can handle large projects has been one of the most rewarding parts of growing his own nonprofit. Chirag said he had the opportunity to speak at the Women and Girl's Summit Event at the U.N.
"There aren't many of these programs happening around the world," says Chirag. "To be part of that and knowing that I'm able to do what I can for my community and then contribute to this global development of youth generation and the next generation lit a lightbulb in my head."
Chirag is continuing his efforts in all parts of the Creative Children for Charity organization.
Do you want to make a difference in your community like Chirag Vedullapalli? Find local volunteer opportunities.
Share this post