10-Year-Old Travels World to Promote Wildlife Conservation
Meet Daily Point of Light Award honoree Kate Gilman Williams. Read her story and nominate an outstanding volunteer or family as a Daily Point of Light.
Kate Gilman Williams' personal motto is "advocacy has no age limit," and in only 10 years of life, she has certainly embodied that. After going on an African safari and learning about poaching when she was seven years old, Kate was inspired to become an animal advocate. She began writing a book along with her safari's game driver, Michelle Campbell, about how kids can also advocate for animals. Since it's publication last year, 'Let's Go on a Safari' has sold over 2,000 copies, with all of the sales going to the three leading international organizations working to protect animals — the Sheldrick Wildlife Trust, the Jane Goodall Institute, and Global Wildlife Conservation.
Kate's conservation work hasn't stopped there. She's an Education Volunteer for the Sheldrick Wildlife Trust, and she runs her own website about how kids can save animals. Kate's also running a fundraising campaign at her Austin, TX school called 'Quarters for Koalas' which will donate all of its proceeds to the Adelaide Koala Rescue in order to help koalas injured in the Australia bushfires. Kate will travel to Australia in March in order to view the bushfire damage for herself. Afterward, Kate hopes to write another book about her trip, this time focused on the issues of climate change. Despite her young age, Kate knows she wants to spend her whole life as an advocate for animals, and dreams of being a game driver herself one day.
Points of Light spoke with Kate along with her mother, Lynn Gilman.
When did you first become passionate about saving wildlife?
When I went on my first safari in Africa, Michelle, my game driver, taught me so much about animals. One thing she told me is that humans were killing the animals. I was so surprised about that and I'm like, I need to do something to help. When I flew home, I had the idea to write a book, and I asked Michelle if she would write it with me and she said yes. Now I have my book called "Let's Go on a Safari".
Describe what 'Let's Go on a Safari' is about and how it helps wildlife.
It teaches kids and families how to advocate for animals. It's about my safari and you learn all about the animals in Africa. We hope you're feeling like you're in a safari. Every time a kid buys my book, they're automatically supporting conservation, because all the sales of my book go to Global Wildlife Conservation which is based in Austin, the Jane Goodall Institute and the Sheldrick Wildlife Trust.
How did you pick which conservation partners you wanted to support?
I love the Global Wildlife Conservation because they inspire kids all over to get interested in being a scientist. Jane Goodall, she actually read my book and she loved it and wanted to be a part of it so now I feature her and her Roots & Shoots Youth Service Program in my book. The Sheldrick Wildlife Trust, I visited there and I just love the elephants and I wanted to help. They rescue the elephants whose mothers have been killed by poachers, and then once they're ready to go back into the wild, they release them.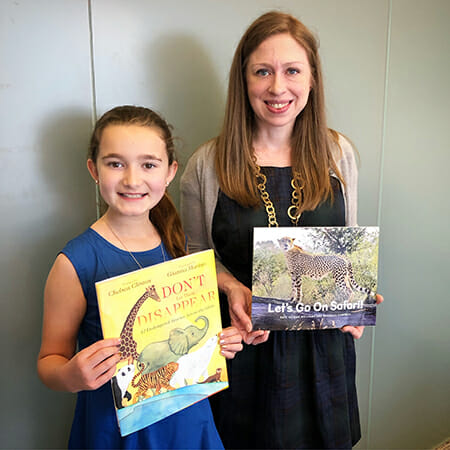 Can you describe Quarters for Koalas?
When I found out that one million animals died in Australia [due to the 2019-20 wildfires], I really wanted to do something to help, so I started this new campaign, Quarters for Koalas. It's kicking off at my school, Trinity Episcopal School, and all the kids are going to bring in quarters. I'm going fly to Australia and donate them to Adelaide Koala Rescue. It is based off of volunteers, and they rescue the koalas that were burned in the fires and rehabilitate them, and then when they're ready to go back into the wild, they release them.
My friend [actress] Debra Messing is matching my donation of the quarters I raise. Animal advocates need to stick together, so I got in contact with her. She actually endorsed my first book, so when I asked her to match my donation, she was very willing to do it.
What else are you doing when you travel to Australia?
I'm visiting Kangaroo Island. It's a perfect chance for me to experience what climate change looks like because one-third of the island was destroyed by climate change and over 25,000 koalas died. I'm going to be visiting and I'm going to be learning a lot about the island from a local expert. I'm going to be traveling around and we're going to be visiting the animals that are left there and the part of the island that was destroyed.
Aside from Quarters for Koalas, do you have any plans for the future for continuing to help wildlife?
After I go to Australia, I'm hoping to write another book about climate change. I spend five hours a week on conservation and I'm an Education Volunteer for the Sheldrick Wildlife Trust. Recently, there's a school [Crestview Elementary School] in Kansas City, Missouri, that I gifted an elephant to. My mom got contacted by the teacher [Leah Joerling] there. Their mascot was a cheetah and they told us that their kids loved animals, so I actually gifted kids third through fifth grade all a free copy of my book, and for the whole school, I adopted an elephant.
Lynn: This school has a really unique cheetah bedtime program, and the teacher reached out to me asking if Kate wanted to be a guest author. A lot of the parents in this community worked nights, and I love this story because the teacher felt so strongly that all these kids deserved to have a bedtime story. She's used Facebook as a platform so that every night if mom and dad are at work, they can log in and be read a story, so it was really neat for Kate to be asked to be the guest author. Then we just decided we had to surprise the school with books and an elephant.
What's been the most rewarding part of your work?
I think it's so great that I'm inspiring kids everywhere and they're wanting to take action.
Why do you think it's important for others to give back to the earth?
Kids have a natural love for animals so if I can unlock that, I know they're going to want to help. With my new campaign, I'm hoping that all the kids will want to donate quarters and it can make a difference.
What do you want people to learn from your story?
I want them to know that advocacy has no age limit and that they can make a difference, no matter how old you are.
Do you want to make a difference in your community like Kate? Find local volunteer opportunities.
Share this post